NIA has achieved so much over the years and our Annual Report gives us a way to share that with you.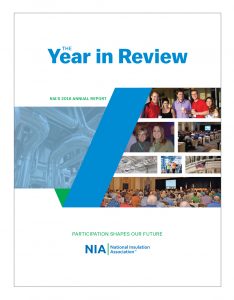 NIA thanks our members for a successful 2016. Together, we accomplished so much, including:
Debuted new website designs and updated content for www.Insulation.org and www.InsulationOutlook.com
Hosted a global industry event: NIA's 61st Annual Convention and WIACO
Gathered 9 top leaders for 2 Manufacturers VIP Panels at Convention and WIACO
Launched NIA's Vimeo On Demand Training Portal
Won 4 awards for NIA's communications
Raised $24,000 for Stand Up to Cancer and NIA's Foundation for Education, Training, and Industry Advancement
Doubled the number of Platinum winners for the Theodore H. Brodie Distinguished Safety Award
Plus so much more, all of which will be recapped in the upcoming 2016 Annual Report
We are proud of all our achievements in 2016, and we look forward to working with you and making 2017 successful and eventful for our shared goal of industry advancement.
Read Previous Annual Reports