March 2016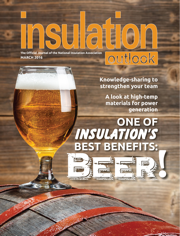 Also in the March 2016 Issue:
In March of 2015, Coast Guard veteran Casey Jones opened Fair Winds Brewing Company with one goal in mind: to create exceptional craft beers for flavor-conscious customers. One year later, Mr. Jones is proud to say that Fair Winds has made a name for itself in the craft brewing world. They have already won a regional award, a national award, and became the first large-scale packaging brewery in Fairfax County, Virginia.
A subtle hint of "if only" lurks just beneath the surface for those who desire to see all generations empowered beyond the stereotypes. If only technology was not a burden for older generations but a vital resource. If only young people learned to master the social business savvy of older generations. If only it were possible to empower both the young and the old at the same time to become more productive, engaged, and innovative in the workplace. . . you can probably guess where I am going next. . . this is possible!
Refractory has always been an integral part of boiler design. However, because it is one of the smallest of the boiler components, it sometimes does not get the attention it deserves. Paying attention to the refractory material selection on new or existing boilers can and will help ensure efficient boiler operation and contribute to energy