Mechanical Insulation Installation Videos Series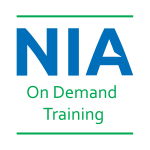 This popular video series is available in English and Spanish and contains a general overview, safety precautions, and video demonstrations of mechanical insulation applications. The series is available in DVD format (as a compilation or 7 individual DVDs) and can be streamed on NIA's Vimeo page. Click here to visit NIA's Online Store and here to visit NIA's Vimeo Training Portal.
Technical Reference Materials—Spec Guides and Glossary
Our website houses links to industry standards and NIA's technical resources.
Fundamentals of Insulation DVD and Workbook
This program is designed to teach new employees the fundamentals of all types of insulation environments through 9 modules that are 3- to 4-minutes along with the companion workbook that cover all types of insulation environments. Learn more about the DVD  and about the workbook.
NCCER—Mechanical Insulating
This standard craft training for insulation, developed by NIA and the National Center for Construction Education and Research (NCCER), provides competency-based, task-driven, modular training, which includes all training materials. An updated version is expected mid-2018. Learn more
Insulation Estimator's Handbook
A reference tool that provides data for almost every type of mechanical insulation estimate with valuable technical information for estimating insulation, as well as formulas and conversions, information on insulation accessories, and technical variables for insulation projects. Learn more 
 Safety Handbook for Contractors
A newly updated handbook that offers practical tips for maintaining a safe working environment specifically for contractors. New sections include heat-illness prevention, fall protection, and distracted driving. Learn more
Safety Handbook for Distributors/Fabricators
Offers practical tips for maintaining a safe environment for distributor and fabricator workers. Topics include general safety rules, compressed gases, hand and power tools, lockout/tagout, tar pot safety, and more. Learn more
MICA Manual
The National Commercial & Industrial Insulation Standards Manual, also known as the MICA Manual, was developed by the Midwest Insulation Contractors Association (MICA). The newly updated 8th edition is available both in printed and interactive PDF versions with 111 MICA Insulation Plates, including vapor dams and a new Cryogenic Section, and updated Materials Property Section with tables conforming to ASTM Standards. Purchase it at http://www.micainsulation.org.
Insulation Sampler
The NIA Insulation Sampler provides samples of 20 generic mechanical insulation product types and accessories. The kit is an excellent tool for your internal training and resource library, as well as external sales discussions and presentations. Learn more