NIA has achieved so much over the years and our Annual Report gives us a way to share that with you.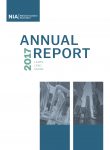 NIA thanks our members for a successful 2017. Together, we accomplished so much, including:
Began development of NIA's Thermal Insulation Inspector Program as a multi-level course for those seeking professional mechanical insulation system inspection certification
Debuted the Environmental/Pollution Liability Insurance Program
Launched the Young Professional Advisory Committee to help cultivate the next generation of leaders
Hosted NIA's 62nd Annual Convention with outstanding educational and networking opportunities in a family friendly location
Gathered top leaders for 2 popular panel discussions: a Contractor's Perspective Panel and an Engineers Panel Discussion
Plus so much more, all of which is included in the 2017 Annual Report
We are proud of all our achievements in 2017, and we look forward to working with you and making 2018 successful and eventful for our shared goal of industry advancement.
Read Previous Annual Reports