NIA has re-released a series of educational online modules to educate and promote the benefits of mechanical insulation by providing practical data and case studies outlining potential energy savings provided by mechanical insulation installation. The course is designed for both industrial and commercial markets utilizing mechanical insulation systems for piping and equipment in both hot and cold applications, refrigeration and other low-temperature piping and equipment applications, as well as Heating, Ventilation, and Air Conditioning (HVAC) applications.
NIA Members: $55
Non-Members: $155
Audience
Each of the modules was developed for the following audiences:
Corporate Executive Management
Design Professionals (General, Mechanical, and Process Engineers & Contractors)
Energy and Environmental Consultants, Service Companies, and Teaching Professionals
Facility Owners and Managers, across All Industry Segments, Including Manufacturing
Federal, State, & Local Energy and Environmental Office
HVAC Designers and Contractors
Maintenance Managers and Coordinators
Mechanical Engineering Teaching and Other Design Professionals
Mechanical Insulation Industry Participants (Manufacturers, Distributors, Contractors, etc.)
Refrigeration Designers and Contractors
Utilities/Energy Supply Companies (All types)
Mechanical Insulation Basics
Length: 2.5-2.75 hours
Register at: www.insulation.org/basics
Following is an overview of each course module: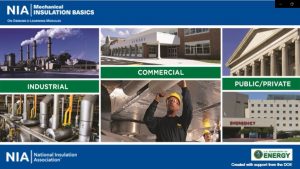 Module 1: Educational Series Introduction and Defining Mechanical Insulation
Provides an overview of the Mechanical Insulation Basics course, discusses mechanical insulation in comparison to other insulation segments, and includes demonstrations of the online simple energy, financial, condensation, safety, and other calculators available within the Insulation Design Guide.
---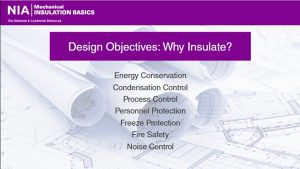 Module 2: Benefits of Mechanical Insulation
"Why insulate?" is a complex topic with multiple components. Insulation can reduce energy consumption and greenhouse gas emissions, increase available carbon credits, be an important part of sustainable design initiatives, be part of safety programs, increase manufacturing productivity, reduce corrosion under insulation, control condensation and mold growth, and provide an unrivaled return on your investment—so why is it a forgotten technology? This module provides a general overview of the power of mechanical insulation in the new construction, renovation, and maintenance arenas when designed, installed, and maintained properly.
---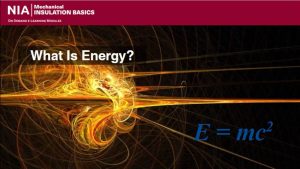 Module 3: Mechanical Insulation Science & Technology
Insulation is applied but rarely engineered. With the best intentions, but not necessarily with thorough knowledge, many specifications have evolved over the years primarily based upon the modification of old documents. This practice, combined with the lack of mechanical insulation educational and awareness programs about the value of having a properly engineered, installed, and maintained mechanical insulation system, has led to the underutilization of mechanical insulation in energy conservation, emission reduction, process and productivity improvement, life-cycle cost reduction, personnel safety, life safety, workplace improvements, and a host of other applications. This module discusses the principles of understanding energy, what insulation is, how insulation works, psychrometrics, and mechanical insulation definitions and terminology.
---
Module 4: Mechanical Insulation Design Objectives and Considerations
Most engineers, architects, specifiers, and end users are familiar with the use of insulation to reduce heating and cooling loads and control noise in building envelopes. Insulations used for pipes, ducts, tanks, and equipment are not as familiar. As a result, mechanical insulation is often overlooked, undervalued, or improperly specified and maintained in commercial and industrial construction projects. Mechanical insulation may be used to satisfy one or more of the following design objectives: condensation control; energy, economics, and the environment; fire safety; freeze protection; personnel protection; process control; and noise control. In addition, a number of design considerations may require attention when designing a mechanical insulation system: abuse resistance, corrosion under insulation, indoor air quality, maintainability, regulatory considerations, service and location, and service life. On some projects, multiple design objectives and considerations must be satisfied simultaneously. This module discusses each of these objectives and considerations.
---
Module 5: Mechanical Insulation Maintenance
Insulation systems, like all mechanical systems, require periodic inspection and maintenance. While inspection and maintenance are the responsibility of the facility owner, most insulation systems are frequently ignored. With time, insulation systems can become damaged for a variety of reasons and, if not repaired or replaced, can become ineffective. Understanding the benefit of timely and proper maintenance can provide a significant return on investment.
Educational Credit
Those who complete the Insulation Basics course are now eligible for Professional Development Hours (PDHs) credit from NIA.
Organization: NIA
Professional Development Hours: 2 PDHs
Type of Credit:  2.0 PDHs