Available only to NIA members, NIA's Safety Excellence Award™ is the association's highest industry honor for outstanding safety performance. NIA recognizes safety as a vital part of the mechanical insulation industry and created this award more than a decade ago to recognize top companies that have established structured safety programs to ensure the well-being of their employees and create safe working environments. NIA's Health and Safety Committee helps to oversee and guide the awards program. Each applicant receives a customized Safety Training Analysis Results (STAR) Report.
With input from the Health and Safety Committee, NIA's Board of Directors has changed the name of the award to NIA's Safety Excellence Award. (Formerly known as the Theodore H. Brodie Distinguished Safety Award.)
Applications for the 2022 Safety Excellence Award are available below and are due on September 1, 2022.
Schedule for NIA's 2022 Safety Excellence Award
Safety Award Applications Available: April 21, 2022
Safety Award Applications Due: September 1, 2022
Winners Announced at NIA's 66th Annual Convention: March 15–17, 2023
Apply to be a NIA Safety Star™
Throughout the judging process, applicant companies remain anonymous and winners are evaluated on the basis of their overall safety program, means of communication, and safety policy. Companies are not judged against one another, but rather, on the merits of that company's overall safety program. Since each membership category has its own safety areas, there is a separate application and evaluation for each one. The awards program honors 4 levels of excellence: Platinum, Gold, Silver, and Bronze.
2022 Applications & Instructions

Please contact membership@insulation.org with any questions.
STAR Report
All applicants receive an individualized and detailed NIA Safety Training Analysis Results (STAR) Report™. The NIA STAR Report™ is a document prepared by Gary Auman of Auman, Mahan & Furry, who is NIA's General Counsel and specializes in Occupational Safety and Health Administration (OSHA) issues. The NIA STAR Report™ contains valuable feedback and recommendations that can be implemented immediately to increase safety awareness and improve the company's safety culture.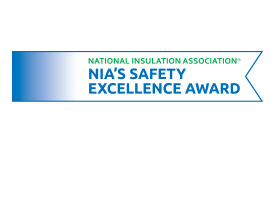 Mentor Program
The Health & Safety Committee is offering a new mentoring program that matches platinum winners with companies that would like assistance with the Safety Award program. If you would like to volunteer to be a mentor or be matched with a mentor, please contact NIA.
Safety Award Q & A
By Gary Auman
NIA's General Counsel
Auman, Mahan & Furry, Dayton, Ohio
Question: Are the applications anonymous?
Answer: The applications are all assigned a number and are graded completely anonymously with all company identifiers redacted. I do not know whose application I have reviewed nor do I have access to the applicant information. After the scores have been totaled and the process is finished, the application numbers are then reconciled to the company name by an individual who is not a part of the grading panel.
Question: Does the grading process recognize the efforts the applicants make to provide their employees with a safe place to work?
Answer: I can affirm that I make every effort to consider all relevant information from each company. I take care to consider that each applicant company has its own style for approaching safety, and evaluate this approach for effectiveness and OSHA compliance. I also work hard to balance the considerations of a well-meaning program with the expectations of OSHA. I want each participant in the NIA program to do as well as possible, but I also want them to get meaningful feedback on their program. Any critical feedback provided is meant to assist companies in providing for the safety of their employees and improving their overall safety culture.
For additional questions about the NIA Safety Award, please contact Aimee Doyle at the NIA office at 703-464-6422, ext. 113.