NIA's Thermal Insulation Inspector Program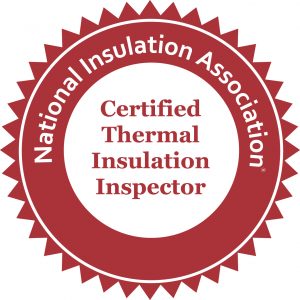 The National Insulation Association (NIA) is providing certifications through its new insulation inspector program. The program will educate and train insulation inspectors on how to evaluate installation work and determine whether it is compliant with mechanical insulation specifications.
NIA's Certified Insulation Inspectors will help improve project performance and ensure energy and specification goals are met through correct insulation system installation. Quality insulation systems help to promote employee and public safety, protect the environment, and reduce costs associated with non-compliant mechanical insulation specifications and improper or insufficient maintenance.
NIA's Thermal Insulation Inspector Program is being developed with decades of experience and knowledge from subject matter experts from all aspects of the industry: manufacturers, fabricators, contractors, engineering/design firms, and facility owners.
If you are interested in being added to the wait list to take the course, please email training@insulation.org.
Module 1: Defining Mechanical Insulation
Module 2: Benefits of Mechanical Insulation
Module 3: Mechanical Insulation Science & Technology
Module 4: Mechanical Insulation Design & Considerations
Module 5: Mechanical Insulation Maintenance
Comprehensive knowledge of the online Mechanical Insulation Design Guide
In-Person Classes

Part 1: NIA's Introduction to Mechanical Insulation

This course includes an array of topics that are important to those seeking knowledge or an enhancement of current knowledge levels about mechanical insulation. During this course, you will also learn: the role and responsibility of a mechanical insulation inspector; the definition of mechanical insulation, the purpose of mechanical insulation systems, and why that is important to the inspection process; core insulation materials and protective coverings; and the inspection objective (what you are inspecting for, comparing to, and a host of inspection-related topics).
Part 2: NIA's Thermal Insulation Inspector Certification Course
During this course, you will learn: commercial, refrigeration, HVAC, cryogenic, and industrial applications in new construction, retrofit, and maintenance projects; primary piping and equipment insulation materials and securement methods (including fabrication); what to expect when examining insulation and finishing; jacketing materials that have been in service and exposed to operating temperatures and environmental elements; and common installation occurrences, problem areas, and common occurrences by core material system.
Why choose a NIA Certified Insulation Inspector?
NIA's program provides a quality process metric for engineering/design firms, facility owners, and contractors to inspect mechanical insulation systems. The industry's knowledge base is dwindling. This—in combination with the shortage of qualified labor, compressed construction schedules, modularization, and other factors—has contributed to an increasing need for independent review by trained and certified inspectors.
NIA's Certified Insulation Inspectors dedicate their time to improving the industry by gaining their certification. They are the leaders in this area and are raising the bar for the entire industry.
NIA is the voice of the mechanical insulation industry with a proven track record of providing quality educational programs.
Interested in taking this course? Contact training@insulation.org to get on the waiting list.
First course will be held in early 2019.