Available as a digital edition for 2023, NIA News is NIA's membership publication and is produced four times per year. Available exclusively to NIA members free of charge as part of their membership dues, NIA News features the latest details on news and events, safety and OSHA updates, business advice, member activities, plus much more.
NIA members receive a detailed email with links to the mobile friendly digital version. Current and archived NIA News digital editions are also easily accessible in NIA's Member Access area.
Log into Member Access >>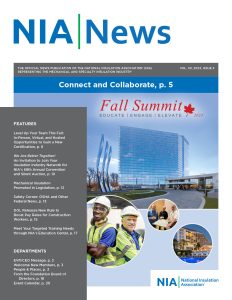 The Latest Issue
Log into Member Access >>
Members: Log in to read the latest issue
In this issue of NIA News, we are excited to share details about our upcoming Fall Summit 2023, October 25-26 at the MGM National Harbor. Learn the latest on NIA's Education Center, new mechanical insulation legislation, deadlines for certification-level courses,  and get an update from the Foundation's Board on its progress.
Regular Features and Columns
Each issue of NIA News includes a number of regular columns and features to help our members stay up to date on important topics and industry news, including:
People and Places
Features member news about new hires, staff promotions, facility news, and more.
Safety Corner
Addresses critical safety news, such as updates from the Occupational Safety and Health Administration (OSHA), new requirements, and tips and updates from NIA's Health and Safety Committee.
Contractors' Corner
Designed especially for small contractor members, this column offers practical tips for readers who fill multiple roles within their companies.
Want to Advertise?
If you are trying to reach insulation contractors, distributors, fabricators, and metal building laminators, we can help. NIA offers a number of digital and interactive advertising opportunities through the digital edition and NIA News email blast. Traditional banner ads, leaderboards, and skyscrapers are available as well as audio spots, illustrations, and videos. If you would like to reach engineers, specifiers, code officials, and insulation maintenance personnel, advertise in Insulation Outlook magazine. Multi-media packages are available and include print, web, social media, and onsite event signage. Find out how we can help your company by contacting ads@insulation.org.