The North American Commercial & Industrial Insulation Standards Manual, also known as the MICA Manual, was developed by the Midwest Insulation Contractors Association (MICA) to serve as a useful resource for commercial and industrial insulation professionals. Widely accepted as the industry standard, the manual is a must-have guide for contractors, engineers, architects, and specifiers.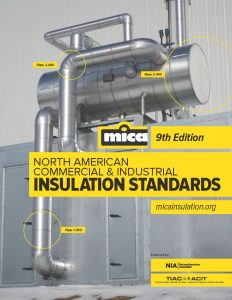 New 9th Edition
The newly updated 9th Edition is available both in printed and interactive PDF versions with 111 MICA Insulation Plates, including vapor dams and a new Cryogenic Section; updated Materials Property Section with tables conforming to ASTM Standards; a revised Glossary of Terms; and many other updates. Pricing for the electronic version includes annual updates.
Pricing
$299 printed version
$249 digital download (with annual updates and interactive insulation plates)
$499 for both the print and digital versions
For additional information and to order, visit www.micainsulation.org or call 402-342-3463.