Each month, NIA deploys one or more E-News Bulletins (ENBs) to our members and subscribers, as well as emails related to special events and programs, such as Convention and Fall Summit.
Click here to read the latest E-News Bulletin >>
Click here to subscribe to the ENB or other NIA communications >>
ENBs feature:
Association news
Meetings and events updates
Training and Education Center information
Safety and Occupational and Safety Health Administration (OSHA) updates
Quick links
A calendar of events
Special Events and Programs Email Communications feature:
Convention news and updates
Fall Summit news and updates
Thermal Insulation Inspector Certification course news and updates
Insulation Energy Appraisal Program course news and updates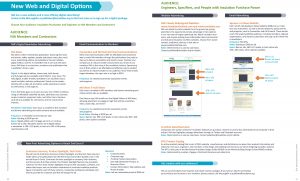 Affordable and Convenient Digital Advertising
Monthly ENBs reach the largest available audience, including members, regional organizations, and industry subscribers who sign up. NIA also offers special events and publication-related emails blast that reach NIA members who want to stay up to date on association and industry news. Position your company as an industry leader and promote your brand to our readers! Find out how we can help your company by contacting the Publisher, Julie McLaughlin, at jmclaughlin@insulation.org.
Click here to learn more about all of NIA's digital advertising options.