NIA's Foundation for Education, Training, and Industry Advancement works to uphold its role of promoting the commercial and industrial insulation industry to thousands of end users, specifiers, architects, energy managers, plant operators, building owners, facility managers, government agencies, and strategically aligned partners.
The Foundation is funded primarily through voluntary contributions and these funds are strictly used for Foundation-related initiatives and projects. Foundation programs and activities are determined by the Foundation Steering Committee and approved by the NIA Board of Directors. Our progress in the areas of legislation, strategic partner collaborations, outreach, education, communications, and training are made possible by the generous contributions of member companies and industry organizations.
To learn more, please visit the other Foundation pages, including the FAQs.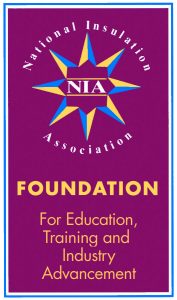 About the Foundation Steering Committee
The Foundation is a standing committee within NIA and not a separate entity. It is led by a steering committee, whose members are appointed by NIA's President, and whose activities are overseen and approved by the NIA Board of Directors. The members of the steering committee represent each NIA industry segment and include:
Six Committee Members:
Two Associate Members: Dave Cox, Owens Corning, and Mike Kozokowsky, ROCKWOOL Technical Insulation
Two Distributor, Laminator, and/or Fabricator Members: Marc Napolitano, Insulation Materials Corporation, and Dan Bofinger, Specialty Products & Insulation
Two Contractor Members: John Lamberton, Irex Contracting Group, and Jeff DeGraaf, Industrial Construction & Engineering Co.
Foundation Steering Committee Support:
One Industry Consultant: Ron King, NIA Past President & Consultant
The NIA Executive Vice President/CEO: Michele M. Jones
One NIA Staff Member: Kristin V. DiDomenico, Vice President
If you are interested in participating, contributing, or serving, please contact Kristin V. DiDomenico, at 703-464-6422, ext. 115.