With the help of our Associate (Manufacturer) members, NIA has established the Premier Industry Manufacturer Program™. This program recognizes and distinguishes exemplary companies as industry advocates and leaders. Through this program, NIA's Associate members demonstrate to customers that their company is a recognized leader amongst their peers.
Congratulations to the 2022 Premier Industry Manufacturers!

The 2022 Premier Industry Manufacturers are:
Armacell
Johns Manville
Knauf Insulation, Inc.
Owens Corning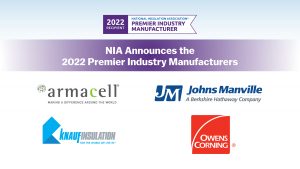 Photos of Past Winners
You can visit NIA's Facebook page to see photos of the previous Premier Industry Manufacturers.