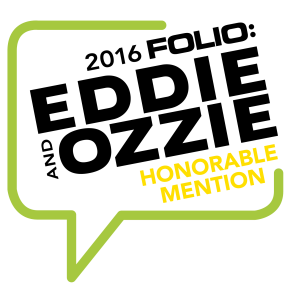 Reston, Virginia—February 14, 2017—The National Insulation Association (NIA) is pleased to announce that the organization's communications have recently received 2 national awards that honor outstanding design, content, and member engagement.
NIA's Insulation Outlook magazine was recently honored with two 2016 Folio: Ozzie Award Honorable Mentions for design excellence for both feature and cover design. For more than 20 years, the Folio Awards have recognized excellence in magazine editorial and design across all sectors of the industry. Folio is one of the most respected voices in the magazine industry. NIA submitted entries into 2 categories: Feature Design and Cover Design. These awards honor outstanding graphic design for a publication's cover, and for an individual article.
NIA received the award for the March 2016 cover, which was designed by NIA's Ashley J. Lopez, and featured a design based on a case study about the insulation systems at a Northern Virginia brewery. We also received an award for the corresponding article, which was titled "Insulation Helps Produce Award-Winning Beer at a Northern Virginia Brewery" by NIA's Caitlyn Freitas. Folio's awards are meant to showcase the best editorial content, designs, and marketing efforts. Hundreds of applicants apply for these awards every year, meaning award recipients are being recognized as leading the pack in the magazine and publishing industries.
Additionally, NIA's communications team was recently recognized by Constant Contact as a Subject Matter Expert in the area of electronic communications. Out of Constant Contact's hundreds of thousands of small business and nonprofit clients, few receive this VIP designation.
NIA recently undertook a massive website redesign process. We are happy to report that these efforts have been recognized and we are finalists for 2 awards honoring outstanding websites.
Upon receiving the awards, Julie McLaughlin, NIA's Senior Director of Publications/Publisher, noted, "We are thrilled that NIA is continuing to be recognized for its achievements in publishing and communications. Our magazine is a forum for our members to educate insulation end users, and we are proud gain more recognition for the industry." Led by Julie McLaughlin, NIA's Publications and Communications Department includes Leslie Emery, Caitlyn Freitas, and Ashley J. Lopez.
Last year, NIA also received a 2015 Folio Ozzie Award Honorable mention and won Constant Contact's All Star Award for outstanding electronic communications.
###
National Insulation Association | 703-464-6422 
 12100 Sunset Hills Road
Suite 330
Reston, VA 20190
www.Insulation.org | www.InsulationOutlook.com | www.InsulateMetalBuildings.org
NIA is a not-for-profit trade association representing both merit (open shop) and union contractors, distributors, laminators, fabricators, and manufacturers that provide thermal insulation, insulation accessories, and components to the commercial, mechanical, and industrial markets throughout the nation. Since 1953, the northern Virginia-based association has been the voice of the insulation industry and is dedicated to keeping the commercial and industrial insulation industry up to date on the latest industry trends and technologies.