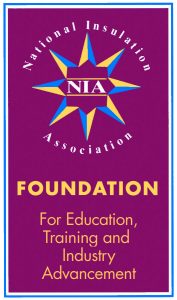 The NIA Foundation for Education, Training, and Industry Advancement is supported in part by the generous contributions made by the following NIA member companies and industry organizations:
Gold-Elite
---
Distribution International, Inc.
Johns Manville
Knauf Insulation, Inc.
Owens Corning
Performance Contracting, Inc.
Specialty Products & Insulation
Learn More About the Benefits of the Gold-Elite Sponsorship Level
GOLD-PLUS
---
GOLD
---
Alpha Engineered Composites, LLC
Armacell
Bay Insulation Systems, Inc.
Caldwell Insulation, Inc.
Eastern States Insulation Contractors Association
Insulation Contractors Association of New York City
Insulation Materials Corporation
Irex Contracting Group
Lamtec Corporation
Lewco Specialty Products, Inc.
Southwest Insulation Contractors Association
Thermal Insulation Association of Canada
SILVER
---
Insul-Therm International, Inc.
Midwest Insulation Contractors Association
R.P.R. Products, Inc.
BRONZE
---
Advanced Industrial Services, LLC
Advanced Specialty Contractors, LLC
Allied Insulation Supply
Atlantic Contracting & Specialties, LLC
CertainTeed Corp.
Delaware Valley Insulation and Abatement Contractors Association, Inc.
DKB, Inc.
Dover Insulation, Inc.
Geo. V. Hamilton, Inc.
Heat Frost and Thermal Insulation Education Fund
Hudson Bay Insulation Company
Ideal Products of America, LP
I-Star Energy Solutions
Kelco Insulation, Inc.
Kennedy Insulation Systems, Inc.
K-FLEX USA, LLC
L & C Insulation, Inc.
Luse Thermal Technologies
Midwest Materials Company
Petrin, LLC
Shook & Fletcher Insulation Co.
Southeastern Insulation Contractors Association
Western Insulation Contractors Association