Advertisers
NIA Has Exciting New Advertising Opportunities
View the Opportunities in NIA's Media Kit
Download it today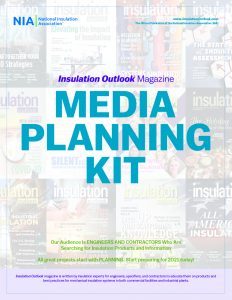 to see the new website, email, and custom package opportunities.
Contact ads@insulation.org  for an advertising insertion order form.
Mini-Product Guides: An Advertising Opportunity
American-Made Products (July issue)
Safety Products, Software, Drones, and Wearables (August issue)
Building Envelope, Acoustic, Commercial, and HVAC Insulation Products (September issue)
Industrial Insulation, Coatings, Mastics, and Scaffolding Products (November issue)
Download the submission form and email it back to editor@insulation.org
NIA's agency, The YGS Group, will help you with your 2020 marketing strategy and plans.
Companies #–L, contact Justin Wolfe at 717-430-3348 or ads@insulation.org.
Companies M–Z, contact Robert Glass at 717-430-2212 or ads@insulation.org.
Trying to Reach Engineers, Specifiers, Mechanical Contractors, and Code Officials?
They're Reading Insulation Outlook
Insulation Outlook is the only magazine in the world that focuses exclusively on mechanical insulation, its benefits, and proper design, maintenance, and best practices for thermal systems. No other publication focuses solely on these products and systems, making Insulation Outlook the best place for advertising that will yield concrete results.
Insulation Outlook has more than 11,500 loyal subscribers who look to the magazine for information on best products, practices, and installation techniques.
Our subscribers buy products advertised in the magazine. How do we know that? They told us.
According to a Recent Readership Survey:
87%  of readers said that Insulation Outlook brings product to their attention that they would not have otherwise known about
70%  plan to purchase insulation products and services in the next 12 months
73%  have used products in ads in Insulation Outlook for projects and/or specifications
Who Reads Insulation Outlook?
---
Architects
Building Inspectors
Consulting Engineers
Energy/Environmental Engineers
Insulation Contractors
Insulation Fabricators
Maintenance Engineers
Mechanical Contractors
Mechanical Engineers
Plant Managers
Plant Owners
Specifying Engineers
What Our Readers Say:
"Your magazine is an excellent source of data for products...we depend on your suppliers for material for our projects"
"I find it very useful to make decisions about the type of insulation products to be selected"
"Some articles have made me revisit past projects to make sure that we are current with materials"
"I have found several articles and new products advertised to be helpful"
"I make it 'required' reading for our PMs and Estimators. As we hire younger guys into the industry with little or no experience, Insulation Outlook is helpful tool in increasing their knowledge in our specialty industry and in the long run helps our company be considered a professional."
"It provides me with definitive information about insulation installation and maintenance issues and how to solve them"
"Our design has improved based on the information in Insulation Outlook"
What Industries Are Insulation Outlook Readers Involved In?
---
Chemical
Commercial
Food Processing
Gas Processing
Institutional
Petroleum
Power
Pulp and Paper
Utilities