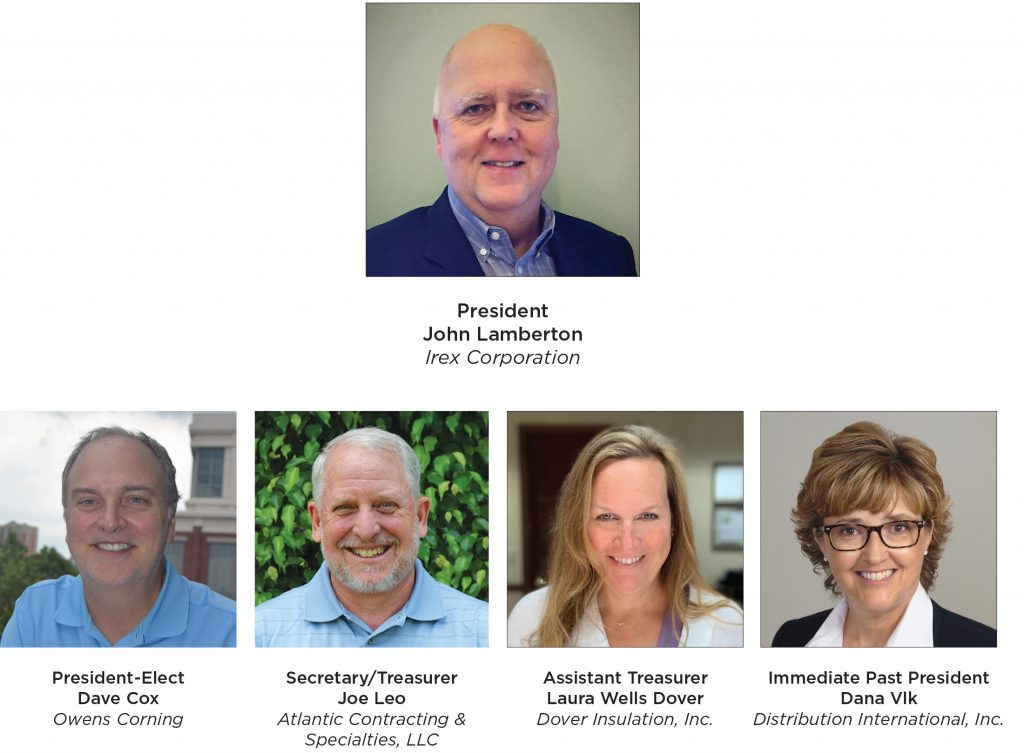 The National Insulation Association (NIA) is pleased to announce its officers for 2020–2021, led by NIA's new President, John T. Lamberton. The Executive Committee officers assumed their positions on Wednesday, May 27, in conjunction with the NIA Board of Directors meeting that took place virtually. On June 18, the full slate of officers and representatives assumed their positions following a majority vote by the NIA membership during NIA's special Business Session, which also took place virtually. NIA's Board of Directors normally assume their new roles at the conclusion of NIA's Annual Convention, which was scheduled for April and canceled due to COVID-19 safety concerns.
Mr. Lamberton is the Chief Operating Officer of the Irex Contracting Group, which is based in East Petersburg, Pennsylvania. His career at Irex has spanned nearly 40 years, since he began in 1981 as a Construction Foreman in Providence, Rhode Island. In that time span, he advanced to Branch Manager of Atlantic Contracting (a subsidiary of Irex Corporation), then to Area Manager, and President. In 2007, he was promoted to Vice President of Construction Services for Irex Corporation, then Northeast Regional Manager, and in 2018, he assumed his current role.
During his term as NIA's President, Mr. Lamberton's theme is Take the Pledge, which encourages NIA members to pledge their support, not only to NIA, but also to other NIA member companies. Now more than ever, it is important to support each other, and it will be our partnerships that will keep our companies and this industry strong. His term concludes at NIA's 66th Annual Convention, March 17–19, 2021, at the Hyatt Regency Maui Resort and Spa in Maui, Hawaii.
 The 2020–2021 Executive Committee members are:
President: John Lamberton, Irex Contracting Group
President-Elect: Dave Cox, Owens Corning
Secretary/Treasurer: Joe Leo, Atlantic Contracting & Specialties, LLC
Assistant Treasurer: Laura Wells Dover, Dover Insulation, Inc.
Immediate Past President: Dana Vlk, Distribution International, Inc.

Regional Board Members
Brian Willett, Gribbins Insulation Company, Inc., representing the Central States Insulation Association (CSIA)
Jerry McCaffrey, Thermal Solutions Contracting, Inc., representing the Eastern States Insulation Contractors Association (ESICA)
Jeffrey DeGraaf, Industrial Construction & Engineering Co., representing the Midwest Insulation Contractors Association (MICA)
Matt Caldwell, Caldwell Insulation, Inc., representing the Southeastern Insulation Contractors Association (SEICA)
Mike Feehery, Specialty Products & Insulation, representing the Southwest Insulation Contractors Association (SWICA)
Rick Sutphin, Performance Contracting, Inc., representing the Western Insulation Contractors Association (WICA)

At-Large Members
Mellanie Askew, Coverflex Manufacturing, Inc.
Vince Darder, BrandSafway Services, LLC
Jake Erickson, Armacell (Associate)
John K. Freeman, Petrin, LLC
Rudy Nigl, L & C Insulation, Inc.
John Stevens, Thermal Solutions—Ohio, Inc.
Associate Committee Appointee
Jack Bittner, Johns Manville
Mr. Lamberton has selected Dan Bofinger, Specialty Products & Insulation, and Steve Luse, Luse Thermal Technologies, as his Past President Advisors. NIA's Executive Vice President/CEO Michele M. Jones and General Counsel, Gary Auman of Auman, Mahan & Furry, will be advising and counseling the Executive Committee.