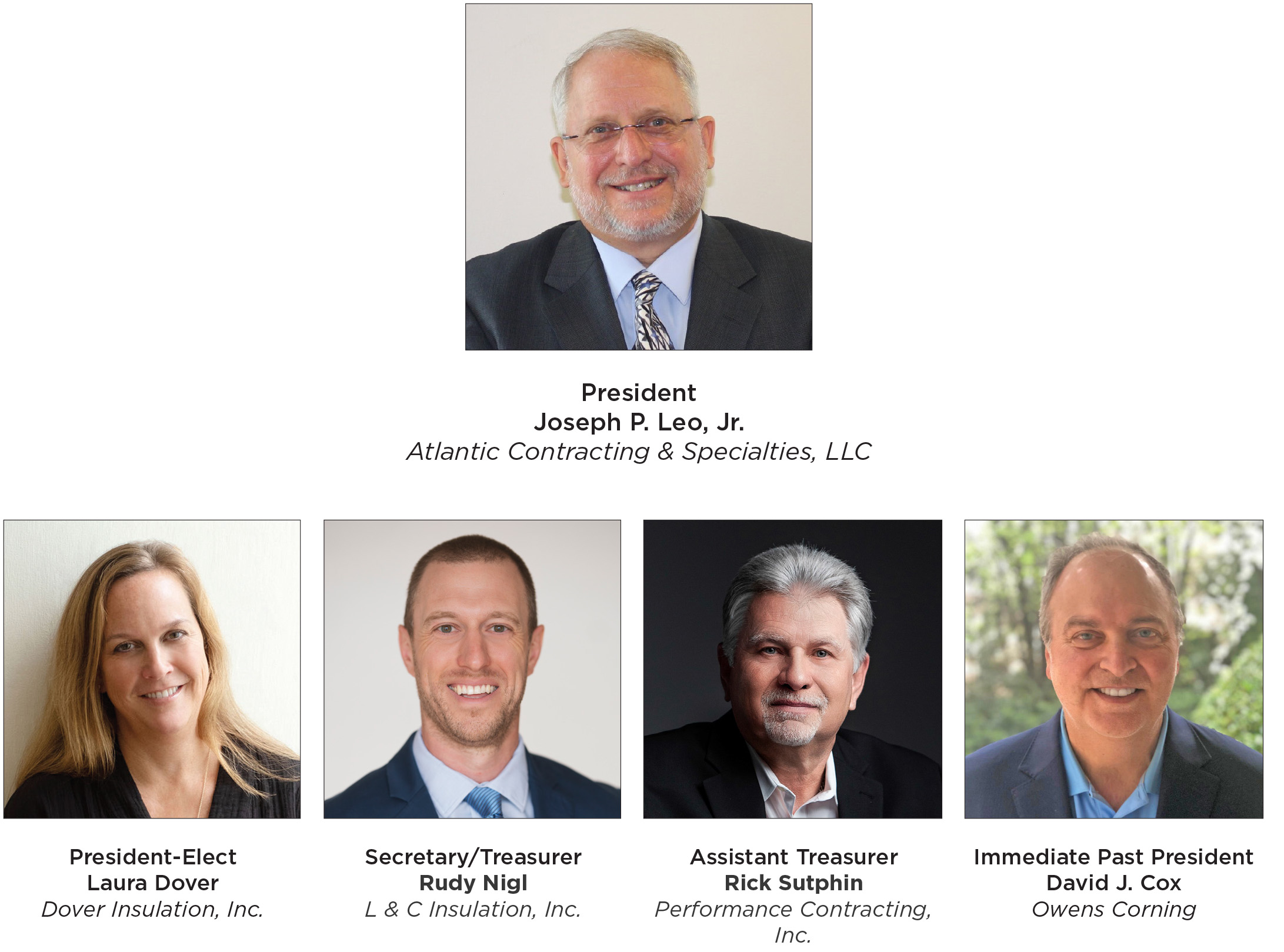 Herndon, Virginia—April 6, 2022—The National Insulation Association (NIA) is pleased to announce its officers for 2022, led by NIA's new President, Joseph P. Leo, Jr. The
Executive Committee
officers assumed their positions on Friday, April 1, during the NIA Board of Directors meeting. The full slate of officers and representatives were approved following a majority vote by NIA's Active membership during NIA's Business Session on March 31 that took place in conjunction with NIA's 66th Annual Convention, March 30–April 1, 2022.
Joe Leo is President of Atlantic Contracting & Specialties, LLC, based in Hicksville, New York, and Senior Vice President of the Eastern Region of Irex Contracting Group. His varied career began with a distribution company in Long Island City, New York, and now spans more than 40 years in the industry.
During his term as NIA's President, Joe will emphasize Progress Through Unity. He firmly believes that to get the most done we need to work collaboratively, have strong communication, and put our resources together for a common goal.
NIA's next member meeting is the Fall Summit, taking place November 2–3, 2022, at the MGM National Harbor in Maryland. Joe Leo's term concludes at NIA's 67th Annual Convention, March 15–17, 2023, at the Hyatt Regency Maui Resort and Spa in Maui, Hawaii.
The new Executive Committee member is Rick Sutphin of Performance Contracting, Inc. who has been actively participating in NIA for many years and is now the Assistant Treasurer. Shawn Reichenbach, also of Performance Contracting, Inc., is the new WICA representative on the Board of Directors. David B. Patrick of , Apache Industrial Services, Inc. is the new At-Large Member of the NIA Board.
The 2022 Executive Committee members are:
President: Joseph P. Leo, Jr., Atlantic Contracting & Specialties, LLC
President-Elect: Laura Dover, Dover Insulation, Inc.
Secretary/Treasurer: Rudy Nigl, L & C Insulation, Inc.
Assistant Treasurer: Rick Sutphin, Performance Contracting, Inc.
Immediate Past President: David J. Cox, Owens Corning
Regional Board Members*
Brian Willett, Gribbins Insulation Company, Inc., representing the Central States Insulation Association (CSIA)
Matt Hymer, Midwest Materials Company, representing the Midwest Insulation Contractors Association (MICA)
Matt Caldwell, Caldwell Insulation, Inc., representing the Southeastern Insulation Contractors Association (SEICA)
Mike Feehery, Specialty Products & Insulation, representing the Southwest Insulation Contractors Association (SWICA)
Shawn Reichenbach, Performance Contracting, Inc., representing Western Insulation Contractors Association (WICA)
At-Large Members
Mellanie Askew, Coverflex Manufacturing, Inc.
Jack Bittner, Johns Manville (Associate)
Jake Erickson, Armacell (Associate)
John K. Freeman, Petrin, LLC
Marc Napolitano Insulation Materials Corp.
David B. Patrick, Apache Industrial Services, Inc.
Jon Perry, Specialty Products & Insulation
John Stevens, Thermal Solutions—Ohio, Inc.
*The Eastern States Insulation Contractors Association (ESICA) seat will be filled at a later date.
Joe Leo has selected John Lamberton of Irex Contracting Group and Kenny Freeman of Petrin, LLC as his Past President Advisors. NIA's Executive Vice President/CEO Michele M. Jones and General Counsel, Gary Auman of Auman, Mahan & Furry, will be advising and counseling the Executive Committee.