NIA's Education Center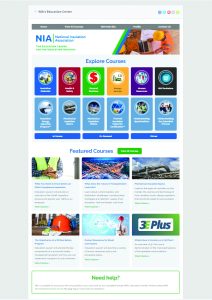 has launched and is ready for you to browse! No matter how you learn best or when you have time to squeeze the required hours of training into your busy schedule, NIA's Education Center has options for you that are on demand, targeted for the insulation industry, and essential for your business and team. Click here to read more in NIA News about all the courses that are available now!
Premier Training Subscription: How to Subscribe
The primary representative of each company is able to sign up for this service by including payment with their 2023 dues renewal or by visiting the subscription page. After signing up, your company will have access to the Premier Training Subscription service for a 12-month period (January–December 2023).
For one low annual fee, anyone employed by your company will have access to training (user registration required).
Learn more about free, members-only, and subscription content.
For questions, contact training@insulation.org or call 703-464-6422.