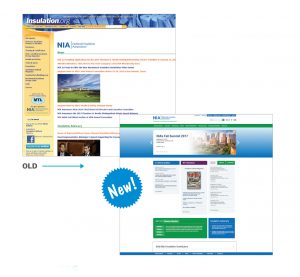 Reston, Virginia—March 21, 2017—The National Insulation Association (NIA) is pleased to announce that the organization's newly redesigned website, www.Insulation.org, was recently named the Bronze Winner for the Web Sites category in the 2016 Salute to Association Excellence All Media Contest from Association Trends. The award is one of the most respected communications contests in the association community and recognizes organizations for quality and creativity.
"We are so excited to receive this recognition that acknowledges our new design and updated content. Our objective was to present an easy-to-use site that connected members and end users with industry resources and with each other. We are also very proud of the clean design and hope it increases our website audience," said NIA Executive Vice President/CEO Michele M. Jones.
The mobile-optimized site is user-friendly with improved navigation and search functionality to deliver information and resources to NIA's audiences, including NIA members, insulation system designers and operators, and those who are looking for information about the numerous benefits of insulation for mechanical systems.
The vendor for the redesign project was Matrix Group International, a digital agency in Arlington, Virginia.
###
National Insulation Association | 703-464-6422 
 12100 Sunset Hills Road
Suite 330
Reston, VA 20190
www.Insulation.org | www.InsulationOutlook.com | www.InsulateMetalBuildings.org
NIA is a not-for-profit trade association representing both merit (open shop) and union contractors, distributors, laminators, fabricators, and manufacturers that provide thermal insulation, insulation accessories, and components to the commercial, mechanical, and industrial markets throughout the nation. Since 1953, the northern Virginia-based association has been the voice of the insulation industry and is dedicated to keeping the commercial and industrial insulation industry up to date on the latest industry trends and technologies.