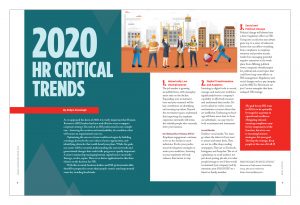 As we approach the dawn of 2020, it is vastly important that Human Resources (HR) leaders find new and effective ways to support corporate strategy. The task of an HR professional is not a simple one—fostering the creation and sustainability of a workforce that will ensure an organization's success.
Optimizing the success of your workforce begins by building a strategy, driven by the core values of your organization, and identifying obstacles that could derail your plans. While the goals you create will be essential, understanding the current trends and generational changes that could stifle progress is equally important. A source summed up managing human capital tactics succinctly: Emerge, evolve, expire. There is no better application for this than what is on the horizon for HR.
With this in mind, business leaders and HR professionals alike should be prepared to create their people-centric road map around some key trending headwinds.
Historically Low Unemployment
The job market is growing incredibly fierce, with unemployment rates on the decline. Expanding your recruitment base and your outreach will be key contributors in identifying and securing top talent. Beyond the recruitment space, understand that improving the employee experience internally will retain the valuable people who currently drive your business.
Declining Discretionary Effort
Employee engagement continues to be on the decline in most industries. Evolve your professional development strategies to retain your workforce. Investing in your employees will only enhance their intent to stay.
Digital Transformation and Analytics
Investing in digital tools to recruit, manage, and track your workforce significantly boosts a company's capability to effectively measure and understand their results. Do not be afraid to evolve current mechanisms or sunset others that are inefficient. Embracing technology will leave more time to focus on individuals—an easy win for both recruitment and retainment.
Social Media
Embrace social media. You must go where the talent is if you want to attract and retain them. They are not in coffee shops reading newspapers. They are on Facebook, Instagram, and Snapchat. The art of capitalizing on social media is not just about posting job ads; it is what people leverage to see if they would recommend your company (and by extension, your INDUSTRY) to a friend or family member.
Social and Political Change
Political change will always have a direct regulatory effect on HR. Going into an election year always gives way to a series of unknown factors that can affect everything from compliance to employee retention and positive morale. Aside from managing potential negative narratives in the workplace from differing political views, companies should prepare for political and social topics that could have long-term effects on HR management. Regulatory and social changes such as pay inequity and the #MeToo Movement are just 2 recent examples that have reshaped HR strategy.
My goal for my HR team in 2020 is to be optimally leveraged as a partner in operational excellence. Mitigating risk and ensuring compliance may be key components of the function, but at its core is executing business strategies. Set your goal. Develop the strategy. Keep people at the core of it all.
Copyright statement
This article was published in the January 2020 issue of Insulation Outlook magazine. Copyright © 2020 National Insulation Association. All rights reserved. The contents of this website and Insulation Outlook magazine may not be reproduced in any means, in whole or in part, without the prior written permission of the publisher and NIA. Any unauthorized  duplication is strictly prohibited and would violate NIA's copyright and may violate other copyright agreements that NIA has with authors and partners. Contact publisher@insulation.org to reprint or reproduce this content.
Disclaimer: Unless specifically noted at the beginning of the article, the content, calculations, and opinions expressed by the author(s) of any article in Insulation Outlook are those of the author(s) and do not necessarily reflect the views of NIA. The appearance of an article, advertisement, and/or product or service information in Insulation Outlook does not constitute an endorsement of such products or services by NIA. Every effort will be made to avoid the use or mention of specific product brand names in featured magazine articles.