2021 Economic Perspectives
As a companion piece to our Q&A with industry leaders, we offer you a roundup of economic research from allied construction organizations.

Architectural, Engineering, and Construction CEOs See Signs of Stabilization and Recovering Confidence
The Construction Industry Round Table (CIRT) is composed of approximately 120 CEOs from leading architectural, engineering, and construction (A/E/C) firms doing business in the United States, and their member CEOs serve as prime sources of information, news, and background on the design/construction industry and its activities. Each quarter, CIRT releases its Sentiment Index, which is a survey of its members conducted by FMI Research, Raleigh, North Carolina. The CIRT Sentiment Index seeks to provide timely, authoritative, and forward-looking insights into complex design and construction markets, as well as a view on the direction of the overall U.S. economy. In addition, each quarter includes topical issues of importance to the A/E/C community.
The CIRT Sentiment Index 2021 First Quarter Report shows signs of stabilization and some amount of recovering confidence for both the Sentiment Index and the Design Index. The Sentiment Index increased slightly from last quarter and the Design Index remained constant. (For historical data back to 2009, visit www.cirt.org/Sentiment-Index.) Both
suggest continued and improving demand in the future. This stability is reflective of the cautious optimism for the year ahead, especially compared to the significant economic losses experienced through 2020. Looking ahead, reduced political uncertainty, beginning phases in deployment of multiple coronavirus vaccines, a second round of government stimulus, and improved owner/client confidence will all contribute to heightened expectations.
For the first quarter 2021 report, CIRT members were polled on various internal metrics, including backlog, firm capacity, and hiring goals. Respondents were also asked to identify a variety of top economic risks and policy or regulatory concerns for the
year ahead.
Backlog responses were split almost perfectly into thirds, with 33% of participants having backlogs under 12 months, 31% with backlogs spanning the next 19 months or longer, and a slight majority (35%) having backlogs in the 12- to 18-month range.
A majority (59%) of survey participants reported capacity greater than 80%, with most (38%) estimating capacity between 81% and 90%. The remaining 41% estimate capacity at 80% or lower, with a large portion (28%) operating at 70% capacity or lower.
Hiring goals were split evenly between those increasing their hiring targets and those keeping hiring goals about the same (both groups at 36%). The remaining 28% of respondents indicate somewhat lower (19%) or significantly lower (9%) hiring goals for the new year.
The most frequently selected economic risk factors for 2021 include the ongoing slowdown (62%), project delays and cancellations (53%), uncertainty about project funding (50%) and increasing competition (43%).
The most frequently selected political or regulatory concerns include federal infrastructure funding (55%), renewed aggressive regulatory policy (50%), coronavirus response (47%), and tax policy (45%).
Design and Construction Outlook
Among the industries represented by CIRT's member base, lodging, commercial, heavy civil, and transportation, office and education work are projected to experience the biggest short-term declines across both the design and construction industries. The design industry's long-term view of project growth remains positive, with every sector tracking above 3.0. The construction industry's long-term view is similarly optimistic, with just one sector tracking below 3.0 (office).
Design Outlook
Respondents were asked how the design sector will change next quarter, 6 months from now, and 1 year from now. Each industry score is on a scale of 1 to 5, with 1 being the worst and 5 being the best. Each percentage is a reflection of the change in score in comparison to the starting average score of the next quarter period (see Figure 1).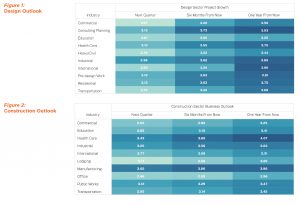 Construction Outlook
Respondents were asked how the design sector will change next quarter, 6 months from now and 1 year from now. Each industry score is on a scale of 1 to 5, with 1 being the worst and 5 being the best. Each percentage is a reflection of the change in score in comparison to the starting average score of the next quarter period (see Figure 2).
CIRT (www.cirt.org) was first organized in 1987 as the Construction Industry Presidents' Forum, and the Forum has since been incorporated as a not-for-profit association with the mission to be a leading force for positive change in the design/construction industry while helping members improve the overall performance of their individual companies. For more information, contact CIRT at 202-466-6777 or email cirt@cirt.org. This article is excerpted with permission from the CIRT Sentiment Index 2021 First Quarter Report.
---
Associated Builders and Contractors (ABC) Reports the Need to Hire 430,000 More Craft Professionals in 2021
In 2021, construction companies will need to hire 430,000 more workers than they employed in 2020, according to an analysis of U.S. Bureau of Labor Statistics data recently released by ABC. The analysis also revealed that every $1 billion in extra construction spending generates an average of at least 5,700 construction jobs.
"According to forecasts analyzed during the COVID-19 pandemic, an impressive 430,000 more construction workers still need to be hired in 2021 to meet the demand, evidence that the construction industry is powering America's recovery and economic engine," said ABC President and CEO Michael Bellaman. "ABC's annual forecast incorporates several variables that may affect the U.S. construction spending and employment demand over the next few years. These variables, which range from inflationary pressure, rising commodity costs, and other global supply-chain concerns to the regulatory and legislative trajectory of a new administration and the vaccine rollout domestically, and even globally, are considered in the ABC cone of probability.
"ABC and its contractor members are working tirelessly to recruit, educate, and upskill our nation's future construction workforce, putting our money where our mouth is by investing $1.5 billion annually in workforce development initiatives to equip our craft professionals with durable and transferable skill sets. Now is the time to consider a career in construction, a vocation that offers competitive wages and ample opportunities to both begin and advance in an industry that builds the places where we work, play, worship, learn, and heal," said Bellaman.
According to estimates from economic consulting firm Markstein Advisors, construction spending is likely to reach $1.45 trillion in 2021, up 1.3% from 2020. Under this scenario, employment demand increases by 430,000 this year from actual employment of 7,829,000 in 2020. A higher growth rate scenario could boost the number of additional construction workers needed in 2021 to nearly 1 million.
As of February, seasonally adjusted average hourly earnings in construction were 7.7% higher than total private average hourly earnings. For all of 2020, construction average hourly earnings were 7.8% higher than total private average hourly earnings.
Other key findings include analysis of construction spending and job creation in 2020. The spread of COVID-19 and efforts to limit its effect on the population had a substantial impact on construction activity and employment. Ironically, in 2020, nominal (not adjusted for inflation) construction spending rose by 4.8%, even as employment fell by 6.3%. These factors contributed to this apparent paradox:
 A spike in building materials and labor costs, which is attributed to shortages and supply-chain disruptions;
A change in the mix of construction work, with an increase in residential construction, a segment that saw some of the largest price increases due to an uptick in lumber prices;
A reduction in labor supply that encouraged builders to adopt more labor-saving technology faster than usual;
Improvement in the scheduling and logistics of building materials delivery;
Increased use of prefabrication and modularization; and
A decrease in the number of smaller, less efficient construction companies because they went out of business.
For more information, visit www.abc.org.
---
Materials Pricing News from Associated
General Contractors of America (AGC)
Another round of steep price increases and supply-chain disruptions are wreaking hardships on contractors, driving up construction costs, and slowing projects, according to an analysis by the AGC of recent government data. In addition, AGC released a new survey showing materials delays and price increases are affecting most contractors. AGC officials urged the Biden administration to end a range of trade tariffs in place, including for Canadian lumber, that are contributing to the price increases, and to help uncork supply-chain bottlenecks.
"Both today's [March 12, 2021] producer price index report and our survey results show escalating materials costs and lengthening delivery times are making life difficult for contractors and their customers, including hospitals, schools, and other facilities needed to get the economy back on track," said Ken Simonson, AGC's Chief Economist. "Project owners and budget officials should anticipate that projects will cost more and have longer—perhaps uncertain—completion times, owing to these circumstances that contractors cannot control."
Prices for materials and services used in construction and contractors' bid prices both declined at the beginning of the pandemic but have diverged sharply since last April, Simonson said. A government index that measures the selling price for materials and services used in new, nonresidential construction jumped 1.9% from January to February, and 12.8% since April 2020. Meanwhile, the producer price index for new, nonresidential construction—a measure of what contractors say they would charge to erect five types of nonresidential buildings—increased only 0.3% last month and 0.5% in the 10 months since April.
"The nearly 1,500 contractors who responded to our survey overwhelmingly reported rising costs, shortages, and delays in receiving needed materials, parts, and supplies," Simonson added. "85% of respondents said their costs for these items have risen in the past year, and a majority—58%—reported projects were taking longer than before the pandemic struck. This situation will intensify the cost squeeze apparent in the producer price index data."
AGC officials have called on the President to remove tariffs on key construction materials, including steel and lumber. They also urged Washington officials to look at ways to address supply-chain problems by making it easier for Canadian materials to enter the country and exploring regulatory measures to increase shipping capacity. They noted that construction firms are already absorbing the costs associated with protecting workers from the pandemic, and that materials price spikes and shipping delays are making it harder for firms to cope.
"Contractors are caught between a pandemic market that isn't willing to pay more for projects and materials prices that continue to spike even as delivery schedules become less reliable," said Stephen E. Sandherr, AGC's Chief Executive Officer. "Construction firms won't be able to thrive if rising materials prices continue to shrink already pressured profit margins."
For more information, visit www.agc.org.
---
National Construction Starts Update from Dodge Data & Analytics
Total construction starts fell 2% in February to a seasonally adjusted annual rate of $797.3 billion. Nonbuilding construction starts posted a solid gain after rebounding from a weak January; however, residential and nonresidential building starts declined, leading to a pullback in overall activity. The Dodge Index fell 2% in February, to 169 (2000=100) from January's 171.
"With spring just around the corner, hope is building for a strong economic recovery fueled by the growing number of vaccinated Americans," said Richard Branch, Chief Economist for Dodge Data & Analytics. "But the construction sector will be hard-pressed to take advantage of this resurgence as rapidly escalating materials prices and a supply overhang across many building sectors weighs on starts through the first half of the year."
Nonbuilding construction starts gained a robust 20% in February to a seasonally adjusted annual rate of $200.3 billion. The miscellaneous nonbuilding sector (largely pipelines and sitework) surged 76%, while environmental public works increased 26%, and highway and bridge starts moved 11% higher. By contrast, utility/gas plant starts lost 17% in February.
For the 12 months ending February 2021, total nonbuilding starts were 13% lower than the 12 months ending February 2020. Highway and bridge starts were 4% higher on a 12-month rolling sum basis, while environmental public works were up 1%. Miscellaneous nonbuilding fell 26% and utility/gas plant starts were down 37% for the 12 months ending February 2021.
The largest nonbuilding projects to break ground in February were the $2.1 billion Line 3 Replacement Program (a 337-mile pipeline in Minnesota), the $1.2 billion Red River Water
Supply Project in North Dakota, and the $950 million New England Clean Energy Connect Power Line in Maine.
Nonresidential building starts fell 7% in February to a seasonally adjusted annual rate of $208.1 billion. Institutional starts dropped 8% during the month, despite a strong pickup
in health care. Warehouse starts fell back during the month, following a robust January, offsetting gains in office and hotel starts, and dragging down the overall commercial sector by 8%.
For the 12 months ending February 2021, nonresidential building starts dropped 28% compared to the 12 months ending February 2020. Commercial starts declined 30%, institutional starts were down 19%, and manufacturing starts slid 58% in the 12 months ending February 2021.
The largest nonresidential building projects to break ground in February were Ohio State University's $1.2 billion Wexner Inpatient Hospital Tower in Columbus, Ohio; ApiJect Systems' $785 million Gigafactory in Durham, North Carolina; and Sterling EdgeCore's $450 million data center in Sterling, Virginia.
Residential building starts slipped 7% in February to a seasonally adjusted annual rate of $388.9 billion. Both single-family and multifamily starts fell during the month, with each
losing 7%. For the 12 months ending February 2021, total residential starts were 4% higher than the 12 months ending February 2020. Single-family starts gained 12%, while multifamily starts were down 15% on a 12-month sum basis.
The largest multifamily structures to break ground in February were Bronx Point's $349 million mixed-use development in The Bronx, New York; the $215 million Broadway Block mixed-use building in Long Beach, California; and the $200 million GoBroome mixed-use building in New York, New York.
Regionally, February's starts fell lower in the South Central and West regions but moved higher in the Midwest, Northeast, and South Atlantic Regions.
For more information from Dodge Data & Analytics, visit www.construction.com/news.
---
Distributor Pandemic Revenue Index from Indian River Consulting Group
For 50 weeks beginning in March 2020 and ending in March 2021, Indian River Consulting Group published a weekly Pandemic Revenue Index. Their goal was to provide a contemporaneous view on prevailing business conditions as the coronavirus began disrupting business.
The index bottomed out the week of April 6, 2020, with an average sales decline of just over 30%. During the spring of 2020, the index saw 9 straight weeks of double-digit declines. Since that 9-week period, the index has seen a grand total of 2 weeks where average declines were double-digits, the most recent being the week of September 7 (which was influenced by Labor Day). The index finishes on a high note, with a weekly sales increase of 9.1%.
For more information, visit the Indian River Consulting Group blog at http://bit.ly/3luEumq.