6 Core Competencies for Mechanical Insulation Site Foremen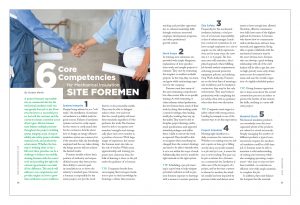 A project foreman's responsibilities on commercial sites for the mechanical insulation trade can vary greatly from job to job. However, the keys to a successful project for both the customer and the contractor remain consistent across all job types. All site foremen must balance multiple priorities throughout the project, including system integrity, scope of responsibility, site safety, project schedule, material stock, and productivity achievement. Whether the foreman is working alone or has a full crew, these priorities can be a challenge to balance successfully. Arming foremen with the correct tools and providing the right educational opportunities can make all the difference. This article will address 6 core competencies and provide insights on how to grow these attributes in your workforce.
1. System Integrity
Despite being referred to as a "soft trade," the installation of mechanical insulation is a skilled trade for good reasons. Failures of insulation systems can lead to costly repairs for the owner or costly punch lists for the contractor. Articles about how to design an energy‑efficient insulation system are common, but if the execution fails, the knowledge employed and the care taken during the design process will not achieve the desired results.
Foremen usually achieve their position of authority and responsibility because they have proven their ability to execute quality installations at or above the industry's standard pace. However, a foreman is responsible for the entire project, not just the work that he or she personally installs. They must be able to delegate tasks to their crew and trust that the overall quality will meet their standards regardless of who performs the work. The foreman must be able to recognize crew members' strengths and strategically place each crew member in a position of success. With large ranges of experience, this means the foreman must also take on the role of teacher. While many apprenticeship and training programs have classroom time, the bulk of learning is done on the job under the guidance of a foreman.
Tip: Companies benefit from encouraging their strongest insulators to pass on their knowledge by fostering a culture that promotes teaching and provides opportunities to enhance leadership skills through seminars, structured employee development programs, and other professional growth outlets.
2. Work Scope
In training, new estimators are provided with simple blueprints, explanations of how specifications work, and sample projects to estimate. They start by estimating the simplest or smallest available projects. In this way, they can learn and grow while minimizing exposure for the company.
Foremen must have many of the same estimating competencies but often receive little or no specific training. As with estimating or other industry-related professions, the site foremen learn much of their trade by doing: first working under a mentor's tutelage, then leading small jobs, working their way up the ladder. They must be able to decipher project drawings, understand specifications, read approved submittal packages, and utilize these 3 skills to execute the work as expected. They should be able to recognize when something has changed from the contract drawings and need to be able to identify what is or is not within the scope of work. Additionally, they need to install the right material on the right system.
Tip: Scheduling a pre-job meeting is a good step to help mitigate potential confusion as well as give your foremen exposure to drawings with a resource to answer questions.
3. Site Safety
Frequently, for the mechanical insulation industry, a vital portion of a foreman's responsibility is that of safety manager. Insulation contractors sometimes do not have enough employees on a site to require on-site safety representation; and in many cases, the crew size is 1 or 2 people. The foreman must still maintain a disciplined approach when fulfilling job hazard analysis requirements, enforcing personal protective equipment policies, and utilizing Stop Work Authority. Foremen are on the front lines of ensuring a safe workforce; and for insulation contractors, they may be the only enforcement. They must balance productivity with completing the job safely, often with no guidance other than their own discretion.
Tip: Companies must support a safety culture with strong actions. Leading by example is one of the clearest ways to set this expectation.
4. Project Schedule
Meeting tight deadlines is a daily occurrence for contractors. Whether it is making sure you submit a quote on time, get a billing out the door, or provide material to a job site by 6 a.m., it seems the race is never ending. This pace can be just as intense for a foreman on a commercial site. Insulation is often one of the last aspects of a project, and by the time a system is released to insulate, the schedule usually has been impacted by previous trades and almost never seems to have enough time allotted. Therefore, effective communication skills have some of the highest payback for foremen. A foreman who knows how to communicate well in all directions will save time, material, and aggravation. Being able to speak confidently with the mechanical contractor may be the most obvious, but a foreman who can develop a good working relationship with all of the craft leaders will be able to get the crew on high-priority areas early, obtain easier access for material movement, and ease the overall congestion of a tightly scheduled project.
Tip: Giving foremen opportunities to learn more about the overall construction process can reduce or prevent the burden of last-minute fire drills, resulting in a more efficient project.
5. Material Stock
Mechanical insulation products can overwhelm even the most organized jobsite if the products are ordered or stored incorrectly. Simply managing the number of different products a typical commercial site requires for mechanical insulation could be a full-time job. A foreman must be able to maintain a solid understanding of existing site inventory, while also managing upcoming components—that may or may not have been installed—to maintain an efficient crew with ample materials to complete the job.
In addition, they must balance the footprint that the material utilizes on the jobsite to avoid moving materials every other day. This is where having a well-organized foreman can pay big dividends. The default philosophy of an unorganized foreman is, when in doubt, order more. The thought process is that it can always be sent back. However, in reality, having too much material can be worse than the downtime created by running out. Too much material requires regular movement of material around the jobsite, additional delivery and pick up, and a restock fee that may be applied (if credit is even available). Frustrating things further, the surplus of what is not needed may block the path to what actually is needed, hampering project efficiency exponentially.
Tip: A solution to this worst-case scenario is to partner less experienced foremen with more seasoned employees, providing clear guidelines on what should be gained from the mentoring experience. Most of the time, simply providing a new perspective can make all the difference.
6. Productivity Achievement
An efficient crew can make the contracting business a whole lot easier. From an estimating perspective, having confidence in your field crew to meet the projections will make it easier to win more projects and provide a competitive edge in securing more work. On the execution side, being able to beat the estimated projections not only makes a project more profitable, possibly saving the customer money in turn, but it also helps meet and beat the schedule requirements. Productive foremen do not meet their targets by themselves; they make sure their crew as a whole meets the target, optimizing the strengths of each crew member by placing them in situations where their skills and abilities will have the greatest impact. Meeting all productivity requirements while also helping grow tomorrow's workforce is a major priority.
Tip: Because the bulk of any tradesman's training occurs on site, in real-world situations, helping site leaders by making sure they have clear expectations for productivity and providing them feedback when they are or are not meeting those goals is a solid investment in efficient productivity.
The Value of Quality Foremen
Quality foremen can make the difference between a successful project and a never-ending headache. The amount of influence a foreman has on the many areas of a mechanical insulation business make it imperative to invest in their growth. There are numerous programs designed to develop the leadership skills needed for effective foremen, but simply creating opportunities for your tradesmen to learn from each other is a great start.
Copyright statement
This article was published in the September 2019 issue of Insulation Outlook magazine. Copyright © 2019 National Insulation Association. All rights reserved. The contents of this website and Insulation Outlook magazine may not be reproduced in any means, in whole or in part, without the prior written permission of the publisher and NIA. Any unauthorized  duplication is strictly prohibited and would violate NIA's copyright and may violate other copyright agreements that NIA has with authors and partners. Contact publisher@insulation.org to reprint or reproduce this content.
Disclaimer: Unless specifically noted at the beginning of the article, the content, calculations, and opinions expressed by the author(s) of any article in Insulation Outlook are those of the author(s) and do not necessarily reflect the views of NIA. The appearance of an article, advertisement, and/or product or service information in Insulation Outlook does not constitute an endorsement of such products or services by NIA. Every effort will be made to avoid the use or mention of specific product brand names in featured magazine articles.