9 Reasons You Should Use Microlearning in Your Training Program
Microlearning can help you prevent problems before they happen, while reinforcing the importance of safety.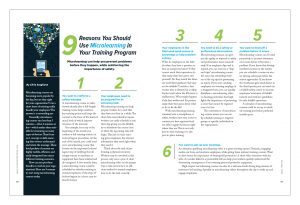 Microlearning courses are becoming more popular by the day, but are they right for your organization? Can a short burst of training really benefit your employees? The answer is a resounding yes.
Generally, microlearning courses run less than 5 minutes—often 2 minutes or less—which makes them suitable for streaming on many types of devices. They focus on 1 concept or skill, ensuring that viewers understand and retain the message. These brief packets of content are highly mobile, efficient, and easily integrated into many different training scenarios.
How can you put these benefits to work in your organization? Here are 9 reasons to start using microlearning courses today.
1. You want to reinforce a safety message.
A microlearning course or video viewed shortly after a full-length training course helps reinforce key training points and keeps the content in the front of the learner's mind, both of which improve retention of the material.
For example, let us say at the beginning of the month you conduct a full training session on lockout/tagout procedures. At the end of the month, you could send out a microlearning course that focuses on the important lockout/tagout step of verifying that all energy sources to machines or equipment have been isolated and de-energized. A few months later, a microlearning course could be scheduled as refresher training to remind employees of the steps of lockout/tagout in a short, easy-to-absorb format.
2. Your employees need to be prepared for an upcoming task.
Microlearning training can help prepare workers for a task that they have not done in a while. The short, bite-sized duration means workers can easily schedule it into their day, giving you the flexibility to distribute the course close to when the upcoming task will begin. This just-in-time training gives employees the relevant information they need right when they need it.
Think about the task of performing a physical inventory. Workers may be involved in this process only once a year. A short microlearning video on the proper way to take inventory is an efficient method to remind employees how to do the task correctly.
3. Your employees in the field need quick access to knowledge or help problem-solving.
What do employees in the field do when they have a question or face an unexpected issue? If they cannot reach their supervisor, do they make their best guess and proceed? Do they search the Internet and follow guidance that may not be reliable? Consider a line worker who is elevated in a utility bucket truck when the lift starts to malfunction. What might happen if the line worker and his partner make their best guess about what to do to fix the lift?
With microlearning training streamed over a smartphone or tablet, workers have easy access to content you have approved and are able to apply the lesson right where they are. This is not only just-in-time training, it is also just-in-place training.
4. You need to do a safety or performance intervention.
Microlearning sessions can give you the agility to respond to safety and performance issues immediately. If an employee slips and is injured, you can send out a "slips and trips" microlearning course the same day, reminding workers of the top tips for preventing an injury. If you start catching employees not wearing earplugs in a designated area, you can quickly distribute a microlearning video on hearing protection that highlights the importance of protecting a sense that cannot be regained once it is lost.
The convenience of microlearning courses means you can easily schedule training to targeted groups or specific individuals in the organization.
5. You want to head off a problem before it arises.
Microlearning courses can be used proactively to increase awareness of an issue before it becomes a problem. If you know that driving incidents increase in the winter, you can schedule a course on winter driving safety just before the season approaches. If you know the warehouse gets much busier in the third quarter, you can send out a forklift safety course to increase employees' awareness of forklift hazards and reinforce guidelines for safe forklift operations.
A calendar of microlearning courses could be set up to schedule training just before predicted trouble spots.
6. You want to jazz up your meetings.
An attention-grabbing microlearning video is a great meeting opener. Dynamic, engaging media can focus and motivate employees, while giving them relevant training content. Want to drive home the importance of wearing fall protection? A short video interview with the wife of a worker killed in a preventable fall can help your workers quickly understand the devastating consequences of not wearing personal protective equipment.
High-impact microlearning courses can also be a welcome break during long sessions of instructor-led training. Sprinkle in microlearning videos throughout the day to wake up and engage employees.
7. You have limited time to train.
Most employees have a difficult time taking even 20 minutes out of the workday to spend on training, but they can often manage to check their smartphones (sometimes dozens of times a day). Microlearning courses let you take advantage of the pervasive use of mobile phones and pass on key training points in a very short time frame.
Microlearning sessions are not meant to take the place of full-length training courses when more in-depth knowledge is required, but they can provide helpful training or awareness when you do not have the time for a full course. For instance, a breaking news story in the media about a high-profile business person accused of sexual harassment may bring the topic of unwelcome behavior in the workplace to the forefront. You may not have the time right then to do a full anti-harassment training course; but a microlearning program about respecting coworkers would be timely, relevant, and proactive.
8. You have a limited budget to train.
Due to their brevity, microlearning courses are usually priced lower than full-length training courses. Short courses are also faster and easier to create, which means you have the opportunity to develop customized microlearning courses that are specific to your facility and your work practices. Good lighting and sound are critical, but many smartphones and digital cameras can meet the challenge these days.
When you can customize your training, your learning program can keep up with your business priorities and operations, no matter how fast conditions change. For example, if your organization is hurrying out a new service to match 1 just introduced by a competitor, a short microlearning video shot with a tablet can introduce the service to your sales team quickly and with consistent messaging so that each salesperson is prepared with the same knowledge.
9. You want to enhance corporate messaging.
Microlearning training allows you to supplement the other forms of messaging you use across your organization. For example, if you are trying to improve your safety culture, regularly scheduled microlearning courses can help reinforce the message that safety is a priority in your organization. Employees not only receive a quick burst of content that is relevant to their jobs, they are also reminded that you value their health and well-being.
Beyond Traditional Training
Microlearning courses are a powerful tool to add to your training program. The short duration engages employees and helps them retain key training points. The convenience of microlearning courses allows you to transfer knowledge even in the busiest workplaces. The flexibility of bite-sized courses means you can target specific employees at specific locations.
Microlearning courses open new avenues of training beyond the traditional seminar. These expanded options help promote year-round learning, which can significantly improve your organization's operations and safety performance. By taking advantage of the widespread use of mobile devices, organizations can bring the training your workforce needs right to their fingertips.