A Lesson in Prioritizing Insulation and Powering On
Insulation, and its maintenance, pays for itself and continues to save you money, protect your equipment, and provide temperature and process control—and it might be the key difference in a crisis.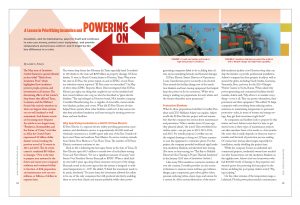 The May issue of Insulation Outlook featured a special editorial section titled "Think about Insulation First," which highlighted how insulation protects people, systems, and investments in all seasons. The devastating effects of last winter's deep freeze that affected Texas, Louisiana, and the Midwest focused the nation's attention on what can happen when systems are not well insulated or well maintained. And disaster events are becoming more frequent. An article in our August issue, "Resilience, Sustainability, and the Future of Codes," cited that in 2020, the United States experienced 22 billion-dollar disaster events, breaking the previous record of 16 events in 2011 and 2017. The 22 events caused a combined $95 billion in damages.1 Now is the time to prepare your systems for the future and ensure your company's resiliency and continued ability to function. A little preparation and maintenance now can save millions, or billions, of dollars in expenses later.
The winter deep freeze last February hit Texas especially hard: It resulted in 100 deaths in the state and $295 billion in property damage. Of those deaths, 31 were in Harris County, home to Houston, Texas. Way across the state in El Paso, the power stayed on, and as KPRC, a local Houston television station reported, "El Paso came out unscathed."2 In May of 2021, when KPRC Reporter Mario Diaz investigated what El Paso Electric got right, one thing that caught his eye on the insulated and heat-traced turbines was a tag on what he described as "giant electric blankets." The tag belonged to Houston-based, NIA member company Coverflex Manufacturing, Inc., a supplier of removable, custom insulation blankets, jackets, and covers. What did El Paso Electric do that helped them operate when other facilities could not? A key reason was that they prioritized insulation and heat tracing for existing power turbines and new facilities.
Why Specifying Insulation Is a MUST: El Paso Electric
El Paso Electric is a regional electric utility providing generation, transmission, and distribution service to approximately 444,300 retail and wholesale customers in a 10,000 square mile area of the Rio Grande valley in west Texas and southern New Mexico. Its service territory extends from Hatch, New Mexico, to Van Horn, Texas. The number of El Pasto Electric customers continues to rise.
Back in 2011, following the last major freeze in the state of Texas, El Paso Electric spent $4.5 million to retrofit two of its facilities serving Texas and New Mexico. "It's not a significant amount of money," said Senior Vice President Steven Buraczyk to KPRC. When a third facility was built 6 years ago, deep-freeze measures were part of the design. Buraczyk noted in the news report that the system is designed to withstand temperatures to -10°F. He added, "I think the investment needs to be made, absolutely." Ten years later, this investment allowed the utility to be one of the only companies that still produced electricity, enabling them to serve their clients and remain profitable while other power-generating companies failed to do so, failing their clients and accumulating lawsuits and financial damages.
El Paso Electric Senior Director of Operations Louie Guarderrama put it succinctly as he showed Diaz around the facility, taking note of the insulation blankets and heat-tracing equipment that helped keep the power on for its customers, "What we're doing is making our preparations for next winter and the winters thereafter more permanent."
Protective Blankets
What do those preparations look like? Coverflex President and CEO Mellanie Askew can explain. Askew recalls the El Paso Electric project well and remembers that the company was serious about maintenance and prevention. "After a similar storm 10 years ago, they planned ahead," she noted. They retrofitted four turbine units—one per year in 2012, 2013, 2014, and 2015. For retrofit projects, Coverflex can use the original drawings or bring out 3D laser scanners to scan the equipment to customize pieces. For this project, the company provided traditional rigid insulation, insulation blankets, and electrical heat tracing. (For more on heat tracing, see "The Key to Reliable Electrical Heat Tracing Is Proper Thermal Insulation" in the January 2015 issue of Insulation Outlook.)
Like many NIA insulation contractor members all over the country, Coverflex provides on-site service technicians to measure steam turbines, gas turbines, flanges, pipe components, gate valves, globe valves, pressure-reducing valves, steam traps, and unions for a custom fit. After custom fabrication of the removable insulation jackets at its Houston shop, they can ship the blanket or provide professional installation. Askew's company has done projects locally as well as around the globe, including Saudi Arabia, Germany, Venezuela, Peru, and even for the 2014 Olympic Winter Games in Sochi, Russia. When asked why power-generating and commercial facilities should insulate, Askew said, "My advice is to insulate everything—cover it all. They can protect themselves, their personnel, and their equipment." She added, "It helps companies with everything from reducing carbon emissions to maintaining temperature to personnel protection—plus, in terms of money and energy savings, they get their investment right back!"
As companies and facilities look to prepare for this winter and next, Askew notes that it is time to get started now, as these types of maintenance projects can take anywhere from a few weeks to a few months. She notes that it really depends on what you want to insulate and the level of protection you are seeking. Of course, heat tracing takes longer, especially for installation, nearly doubling the project time.
While her company focuses on industrial and commercial projects, residential owners have reached out after homeowners saw the insulation blankets on the nightly news. Askew cited one homeowner who had $33,000 worth of damage to his properties and wanted quotes for protecting his bare pipes for the future, including his pool pump. Askew noted, "Piping is piping."
On the other extreme of the temperature range, a Lakeland, Florida power plant needed a maintenance solution for a silicone rubber seal on a natural gas exhaust system that was hardening and breaking due to high heat. Wall seal insulation blankets provided the solution: A customized insulation blanket with a flexible accordion design that sealed and insulated inside and outside the hot wall. See Figures 1 and 2. The design allowed the wall seal blanket to move with the turbine's movement and with exhaust air flow. The insulation material's high-heat capability will resist degradation over time and contain heat loss. It also helps keep operations safe. "The sealing of that area is important because you don't want hot gas exiting and you don't want air entering the exhaust… Doing it right the first time is what we should be doing on every job site on every turbine," said
Siemens Energy's Al Abrahams.3

A Good Investment and a Call to Action
As a call to action, NIA published a series of first-hand accounts from insulation professionals who experienced the Texas deep freeze in the May 2021 issue of Insulation Outlook. NIA Past President and Consultant Ron King wrote in an editorial titled "Pipes Freezing: When Will We Ever Learn?" that it is "time that everyone in the decision chain think about mechanical insulation and all other insulation technologies differently. As facility owners, engineering design firms, companies, code bodies and regulatory agencies, federal, state, and municipal governments, standard writing organizations, contractors, and homeowners throughout the United States face the reality that severe weather events are becoming more frequent and their impact on our communities and families more destructive, it is time to develop, adopt, and enforce increased stringent insulation requirements.
"Do not wait until the next devastating climate change occurrence—act now. It is time to learn from recent events and prevent similar occurrences in the future," King continued. NIA firmly believes now is the time to view insulation as a priority, not an option.
Setting an Example
The Texas legislature took note. On June 8, Texas Governor Greg Abbott signed Senate Bills 2 and 3 into law to reform the Electric Reliability Council of Texas (ERCOT) and weatherize and improve the reliability of the state's power grid.
In a statement released by the Governor, he explained that under Senate Bills 2 and 3, Texas will now require the weatherization of power-generation facilities, natural gas facilities, and transmission facilities to handle extreme weather. The Texas Railroad Commission (RRC) and ERCOT will be required to inspect these facilities, and failure to weatherize these facilities can result in a penalty of up to $1 million. The bills also create a "Power Outage Alert," whereby Texans will receive an emergency alert whenever the power supply in the state may be inadequate to meet demand. Additionally, the legislation establishes the Texas Energy Reliability Council (which is made up of leaders from the RRC, ERCOT, the Public Utility Commission of Texas, and members of the natural gas industry4) to improve coordination between state agencies and industry during extreme weather emergencies and extended power outages. Finally, the legislation makes significant reforms to ERCOT, including having 8 fully independent members of the 11-member board and requiring board members to be residents of Texas.5
"During the winter storm, too many Texans were left without heat or power for days on end, and I immediately made reforming ERCOT and weatherizing the power system emergency items," said Governor Abbott. "We promised not to leave session until we fixed these problems, and I am proud to say that we kept that promise. These laws will improve the reliability of the electric grid and help ensure these problems never happen again."
Now Is the Time to Start!
How does this one El Paso Electric example show the benefits for other power-generating companies? It is proof that insulation works and is worth the cost. Insulation maintenance projects should be started now to protect Americans from the collapse of crucial services during extreme weather events. It is not just the energy sector that should consider insulation maintenance, retrofits, and freeze protection, but life services such as water treatment plants, utilities, hospitals, and schools.
In looking back on the El Paso Electric project, Askew says, "Kudos to them… They were thinking ahead and looking at what the needs are. In general, this is what everyone needs to be looking at. What do we need to do to take care of our people, our companies, and our community?"
References
1. www.climate.gov/news-features/blogs/beyond-data/2020-us-billion-dollar-weather-and-climate-disasters-historical
2. www.click2houston.com/news/investigates/2021/05/15/inside-look-at-texas-electric-company-that-prepared-for-februarys-deep-freeze-years-ago-houston-ties-to-all-its-insulation
3. www.youtube.com/watch?v=YtP0fQAdbcM&t=79s
4. www.rrc.texas.gov/gas-services/texas-energy-reliability-council
5. https://gov.texas.gov/news/post/governor-abbott-signs-ercot-reforms-power-grid-weatherization-legislation-into-law