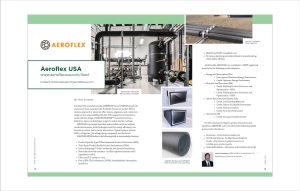 Contact: technicalsupport@aeroflexusa.com
Aeroflex USA manufactures the AEROFLEX® brand of EPDM closed-cell elastomeric foam insulation for the North American market. With a systems approach in mind, we offer owners, engineers, and contractors single-source responsibility with low-VOC-engineered accessories to assist with the design of AEROFLEX EPDM™ insulation systems—adhesives, tapes, insulated pipe supports, and protective coatings.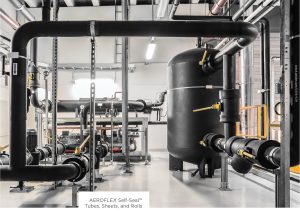 AEROFLEX is primarily specified and installed on below-ambient mechanical systems, with the design intent for energy efficiency, condensation control, and acoustic attenuation. Typical systems include HVAC, refrigerant, plumbing piping, equipment, and ductwork. AEROFLEX EPDM delivers the following built-in sustainability features:
Product-Specific Type III Environmental Product Declaration (EPD);
Third Party-Verified Health Product Declarations (HPDs);
Indoor Advantage™ Gold Certified for low chemical emissions;
Naturally microbial-resistant—no EPA-registered antimicrobial ingredients added;
Ultra-low PVC content (< 1%);
Free of EPA TSCA substances, PBDEs, formaldehyde, nitrosamine, and fibers;
REACH and RoHS-compliant; and
No ozone-depleting materials utilized in manufacturing (CFCs, HFCs, HCFCs).
Additionally, AEROFLEX can contribute to LEED®-registered projects for the following credit categories:
Energy and Atmosphere (EA)
Prerequisite: Minimum Energy Performance
Credit: Optimize Energy Performance
Materials and Resources (MR)
Credit: Building Product Disclosure and Optimization – EPDs
Credit: Building Product Disclosure and Optimization – HPDs
Indoor Environmental Quality (EQ)
Credit: Low-Emitting Materials
Credit: Indoor Air Quality Assessment
Credit: Thermal Comfort
Credit: Acoustic Performance
Innovation (IN)
Credit: Occupant Comfort Survey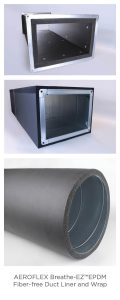 For the convenience of green project researchers and specifiers, AEROFLEX can be located on the following online green product databases: