An Edge over the Competition: Selecting the Right Insulation Machine for Your Project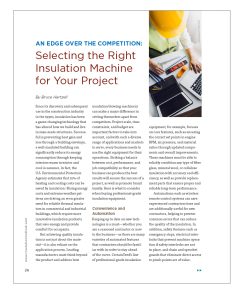 Since its discovery and subsequent use in the construction industry in the 1930s, insulation has been a game-changing technology that has altered how we build and live in man made structures. Successful in preventing heat gain and loss through a building envelope, a well-insulated building can significantly reduce its energy consumption through keeping interiors warm in winter and cool in summer. In fact, the U.S. Environmental Protection Agency estimates that 15% of heating and cooling costs can be saved by insulation.1 Rising energy costs and extreme weather patterns are driving an even greater need for reliable thermal insulators in commercial and industrial buildings, which require more innovative insulation products that save energy and provide comfort for occupants.
But achieving quality insulation is not just about the material—it is also reliant on the application process. Leading manufacturers must think beyond the product and address how insulation blowing machinery can make a major difference in setting themselves apart from competitors. Project scale, time constraints, and budget are important factors to take into account, and with such a diverse range of applications and markets to serve, every business needs to use the right equipment for their operations. Striking a balance between cost, performance, and job compatibility so that your business can produce the best results will ensure the success of a project, as well as promote brand loyalty. Here is what to consider when buying professional-grade insulation equipment.
Convenience and Automation
Keeping up to date on new technologies is a must—whether you are a seasoned contractor or new to the business—as there are many varieties of automated features that contractors should be familiar with in order to stay ahead of the curve. CertainTeed's line of professional-grade insulation equipment, for example, focuses on core features, such as ensuring the correct set points in engine RPM, air pressure, and material ratios through updated components and overall improvements. These machines must be able to reliably condition any type of fiber glass, mineral wool, or cellulose insulation with accuracy and efficiency, as well as provide replacement parts that ensure proper and reliable long-term performance.
Automations such as wireless remote control systems can save experienced contractors time and are additionally useful for new contractors, helping to prevent common errors that can reduce the quality of the insulation. In addition, safety features such as emergency stops, electrical interlocks that prevent machine operation if safety interlocks are not in place, and chain and sprocket guards that eliminate direct access to pinch points are of value.
Mobility and Size
Your project will always determine the size and mobility requirements of your machine. Urban projects with smaller footprints will require smaller, more compact units; whereas larger commercial job sites will need a larger, high-performance solution that is up for the task. Thankfully, insulation machines come in a wide range of sizes and portability options so they can be arranged in the most ergonomic setup to boost efficiency and speed. Project requirements, such as a power generator for off-grid job sites, are also important to consider, though some manufacturers offer electrical versions for in-plant applications.
Lifetime Value vs. Cost
When considering cost, it is pivotal to think of pricing in terms of the equipment's remaining lifetime value. Even the best equipment has its limitations when used regularly; but overall, good quality insulation machinery can last between 20 and 25 years with regular maintenance. These machines are a long-term investment, and most seasoned professionals know that high-quality machinery can last well beyond its expected lifetime if partnered with a credible manufacturer.
Looking Ahead
As the need for insulation installation grows alongside the industry's labor shortages, it is now more important than ever to make sure you are partnering with the right insulation machine building company that can help you save time, cost, and a lot of headaches on site.
References
1. https://www.energystar.gov/campaign/seal_insulate/methodology