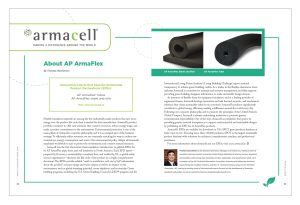 About AP ArmaFlex
Armacell products that have Environmental Product Declarations (EPDs):
AP ArmaFlex® tubes
AP ArmaFlex sheet and rolls
Visit: www.armacell.us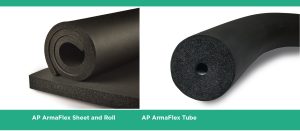 Flexible insulation materials are among the few industrially made products that save more energy over the product life cycle than is needed for their manufacture. Armacell's product portfolio continues to offer new solutions that conserve resources, reduce energy usage, and make a positive commitment to the environment. Environmental protection is one of the main pillars of Armacell's corporate philosophy, and it is an integral part of the business strategy. To efficiently utilize resources, we are constantly searching for ways to reduce raw material use, energy consumption, and waste. Our environmental policy obliges all Armacell employees worldwide to aim to protect the environment and conserve natural resources.
Armacell was the first elastomeric foam insulation manufacturer to publish EPDs for its AP ArmaFlex pipe, sheet, and roll insulation in North America. Each EPD report—prepared by Ecovane, a sustainability consultant firm, and verified by UL, a global safety science organization—discloses the life cycle of the product in a single, comprehensive document. The EPDs provide reliable "cradle to installation with end-of-life" information about the product's resource usage and waste output, as well as its impact on the environment, such as global warming potential, ozone depletion, and ecotoxicity. Green building programs, including the U.S. Green Building Council's LEED® program and the International Living Future Institute's Living Building Challenge, expect material transparency to achieve green building credits. As a leader in the flexible elastomeric foam industry, Armacell is committed to material and resource transparency, and fully supports providing green building designers information to make sustainable design choices.
As inventors of flexible foam for equipment insulation, and as a leading provider of engineered foams, Armacell develops innovative and safe thermal, acoustic, and mechanical solutions that create sustainable value for its customers. Armacell's products significantly contribute to global energy efficiency, making a difference around the world every day. Following our corporate philosophy, and to promote the principles of the United Nation's Global Compact, Armacell is always undertaking initiatives to promote greater environmental responsibility. One of the ways Armacell accomplishes that goal is by providing greater material transparency to support environmental and sustainable designs by publishing an EPD for its ArmaFlex products.
Armacell's EPDs are available for download on UL's SPOT green products database at https://spot.ul.com/. Housing more than 130,000 products, SPOT is the largest sustainable product database with solutions for architects, manufacturers, retailers, and professional purchasers.
For more information about Armacell and our EPDs, visit www.armacell.us.