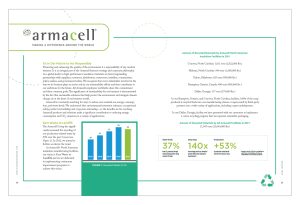 It's in Our Nature to Act Responsibly
Preserving and enhancing the quality of the environment is a responsibility of any modern business. It is an integral part of the Armacell business strategy and corporate philosophy. As a global leader in high-performance insulation materials, we have longstanding partnerships with suppliers, customers, distributors, contractors, installers, communities, policy makers, and government bodies. We recognize that every stakeholder involved in the way we do business plays an active role in our sustainability efforts and thus contributes to our ambitions for the future. All Armacell employees worldwide share this commitment and these common goals. The significance of sustainability for our business is demonstrated by the fact that sustainable solutions that help protect the environment and mitigate climate change are at the heart of our business model.
Armacell is constantly searching for ways to reduce raw material use, energy consumption, and waste levels. We understand that environmental awareness enhances occupational safety, product stewardship, and corporate citizenship—so the benefits are far-reaching. Armacell products and solutions make a significant contribution to reducing energy consumption and CO2 emissions in a variety of applications.
Zero Waste to Landfill
The Armacell Group has significantly increased the recycling of our production-related waste by 53% over the past 5 years (see Figure 1). In 2022, we intend to further accelerate the trend.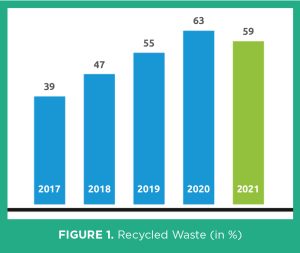 At Armacell's North American insulation manufacturing facilities, our vision is Zero Waste to Landfill, and we are dedicated to implementing continuous improvement programs to achieve this vision.
Amount of Recycled Materials by Armacell North American Insulation Facilities in 2021
Conover, North Carolina: 1,011 tons (2,022,000 lbs.)
Mebane, North Carolina: 840 tons (1,680,000 lbs.)
Yukon, Oklahoma: 425 tons (850,000 lbs.)
Brampton, Ontario, Canada: 400 tons (800,000 lbs.)
Dallas, Georgia: 137 tons (274,000 lbs.)
In our Brampton, Ontario, and Conover, North Carolina, facilities, 100% of the scrap produced is recycled back into our manufacturing stream or reprocessed by third-party partners into a wide variety of applications, including carpet underlayment.
In our Dallas, Georgia, facility, we have partnered with our customers to implement a carton recycling program that incorporates returnable packaging.
Amount of Recycled Materials by All Armacell Facilities in 2021:
11,047 tons (22,094,000 lbs.)

Reusing Recycled PET Bottles
Armacell is a pioneer in the field of polyethylene terephthalate (PET) technology and initiated the breakthrough of PET-based foam cores in the composite industry in 2005. Ever since then, Armacell has invested significantly in the research and development of this state-of-the-art technology and developed a process that enables production of PET foam products using post-consumer PET beverage bottles. We aim to contribute to a zero-waste approach by reusing recycled PET (rPET) bottles. After collection, the PET bottles are sorted and then crushed into flakes. This is followed by an in-house granulation process and, finally, extrusion foaming. In this way, used plastic bottles are converted into long-lifetime, high-value foam core materials for composite sandwich structures. (See Figure 2.)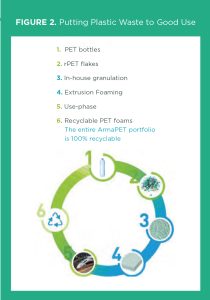 Accelerating Our Journey Toward a Circular Economy
More than 2 billion post-consumer PET bottles have been reused in the manufacturing of our ArmaPET® products, which contain 100% recycled PET. Together with our partners, we have saved over 90,432 metric tons of CO2 emissions—the equivalent of more than 94,693 flights from Brussels to New York; 35,464 10-day trips on a cruise liner; 19,702 mid-sized cars running 12,500 miles (20,000 km) per year; or 173,908 motorcycle trips along Route 66! (See Figure 3.)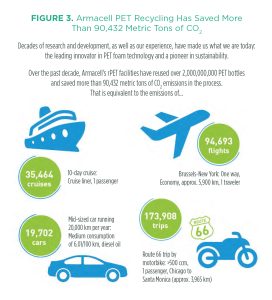 Armacell's PET is used in North America in many applications, most prevalently in mechanical insulation applications through the use of the structural and lightweight designedArmaFix® EcoLight Pipe Support product (Figure 4).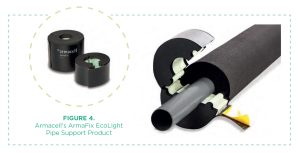 Armacell has also partnered with JD Composites to build a 2,000 square foot prototype eco-friendly house in Nova Scotia, Canada. It is made of 170 panels of Armacell's low density ArmaPET® Struct that utilized 612,000 recycled PET bottles (Figure 5).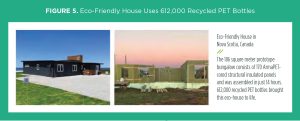 Waste plastic bottles are given a new life using Armacell's unique recycled PET foam technology. Going forward, we will create partnerships and enter global networks to increase our PET recycling efforts.
---
From recycled insulation and throw-away bottles to creating lasting value, Armacell is making a difference around the world.
PROTECTING OUR PLANET
Contributing to the transition to a low-carbon economy and reducing
CO2 emissions
Designing solutions that preserve natural resources
Promoting recycling and accelerating our journey towards a circular economy
---
Going Beyond Better to Minimize Waste
As a company processing plastic, we have a clear responsibility to play our part in accelerating the transition to a circular economy. Armacell essentially has two levers that enable and support our path to that circular economy. On the one hand, we are increasing the recycling volume of our production-related waste and, at the same time, further expanding the use of rPET for our new products. In addition, through initiatives such as recovering wastewater or implementing a pallet return policy for customers, we avoid generating waste at our own production sites, reduce negative waste impacts, and support the circular economy in our upstream value chain.
For more information regarding Armacell's sustainability efforts, visit: www.armacell.com/sustainability.
About Armacell
Sandy Shattles is the Business Manager for the Advanced Insulation & Energy businesses for the US, Mexico and Central America regions at Armacell, LLC. Armacell is the inventor of flexible elastomeric foams for equipment insulation. At Armacell, we develop innovative and safe thermal, acoustic, and mechanical solutions that create sustainable value for our customers. Our product focus is on insulation materials that enhance the energy efficiency of technical equipment, high-performance foams for lightweight applications, and products made from rPET and next-generation aerogel technology. For more information, visit www.armacell.us. All images provided by Armacell.