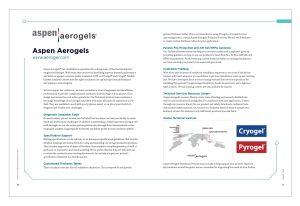 Aspen Aerogels® has established a reputation for solving some of thermal insulation's toughest challenges. With more than 20 years of providing superior thermal performance and defense against corrosion under insulation (CUI), our Pyrogel® and Cryogel® flexible blanket insulation shows how the right insulation can optimize process performance
and enhance asset integrity.
To best support our customers, we have assembled a team of engineers and installation professionals to provide complementary assistance at every stage of your project, from design to construction and active operations. Our Technical Services team combines a thorough knowledge of our aerogel insulation with years of hands-on experience in the field. They are available to work with you by phone, email, or on site at your facility to diagnose and resolve your challenges.
Diagnostic Insulation Audit
No matter where you are located, our Technical Services team can visit your facility to understand and address your challenges. In addition to performing a visual inspection during a unit walk-through, we can also assess system performance through direct measurement or thermographic analysis, if appropriate, to identify any failure points in your insulation system.
Specification Support
Writing specifications can be tedious, so we developed specification guidelines that contain detailed drawings and instructions for using and installing our aerogel insulation products. This includes support for all types of facilities, from simple to complex geometry, as well as guidance on accessories and metal jacketing. If you prefer editorial help, we will mark up or create the content in your existing documents. Let us help you get your project's specifications finalized in a timely manner.
Customized Thickness Tables
There is truly no one-size-fits-all solution to insulation. That is why we do not provide generic thickness tables. If you are interested in using Pyrogel or Cryogel for your upcoming project, contact Aspen Aerogels Technical Services. We will work with you to create custom thickness tables for your application.
Passive Fire Protection and API 521/NFPA Guidance
Our Technical Services team can help you meet your safety and compliance goals by providing guidance on how to use our products to meet Pool Fire, Jet Fire, API 521, and NFPA requirements. From reviewing custom thickness tables to running simulations, our team can help you protect your assets and personnel.
Contractor Training
With more than 50 years of combined installation experience, our team of insulation trainers will travel wherever you need them to get your installation team up and running fast. We have developed short, 2-hour training sessions that cover best practices for installing Pyrogel and Cryogel aerogel insulation, hands-on exercises, and a rigorous Q&A session. Virtual training courses are also available by request.
Technical Services Resource Library
Aspen Aerogels' resource library covers years of testing and research distilled into easy-to-use technical tools and guides. For assistance with your application, browse through our resource library for our product and safety data sheets, technical tools, and product install manuals. Or, contact our Technical Services team at aerogel.com/technical-services for answers to any additional questions you may have.
Global Technical Services

Aspen Aerogels Technical Services team is ready to help support your projects. Based in key locations around the globe, we are committed to supporting the needs of your facility.