Basic, Intermediate, and Advanced: Mechanical Insulation Education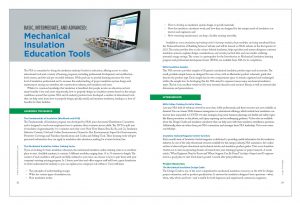 The NIA is committed to being the insulation industry's leader in education, offering access to online educational tools and a variety of learning programs, including professional development and certification-level courses, and live and pre-recorded webinars. NIA's goals are to provide learning resources for every level of insulation professional and to increase the understanding of proper insulation system design and maintenance among our members, the construction industry, and insulation end users.
While it is common knowledge that insulation is beneficial, few people receive an education on how many benefits it has and, more importantly, how to properly design an insulation system based on the unique conditions around that system. NIA and its industry partners have developed a number of educational tools that can help users learn how to properly design, specify, install, and maintain insulation, leading to a host of benefits for their facilities.
Learning the Basics
The Fundamentals of Insulation (Workbook and DVD)
The Fundamentals of Insulation program was developed by NIA's joint Associates/Distribution Committee and is designed to teach new employees how to optimize their customer service skills. The DVD is split into 10 modules of approximately 3 to 4 minutes each that cover Heat Flow Basics; Btu; Ks, Rs, and Cs; Insulation Selection Criteria; Cold and Colder Environments; Normal to Hot Environments; Super Hot Environments; Protective Coverings and Finishes; Specifications and Codes; and Selling Tools. These learning tools will give personnel information they can apply in insulation sales situations, making for a better bottom line.
The Mechanical Insulation Basics Online Training Series
If you are looking for basic insulation education, the mechanical insulation online training series is an excellent place to start. Available anytime, it contains 5 different modules, ranging from 15 to 35 minutes in length. The content of each module is self-paced and fully outlined so your team can choose to how to pair them with your company's existing training program. In 2 hours, new hires and office support staff will have a great foundation to better understand the industry so you can explain your company's role within it. Users will learn:
The principles of understanding energy;
What the various types of insulation are;
How insulation works;
How to develop an insulation system design or specify materials;
How the insulation calculators work, and how they are designed for the unique needs of insulation contractors and engineers; and
How overseeing maintenance can keep a facility running smoothly.
Available at www.insulation.org/training-tools/e-learning-modules, these modules are being transferred from the National Institute of Building Sciences' website and will be housed on NIA's website later in 2021 at www.insulation.org/basics. The series provides data on the science behind insulation, helps specifiers and system designers construct insulation systems, explains design considerations, and reveals practical data and case studies outlining potential energy savings. The course is a prerequisite for the Introduction to Mechanical Insulation learning program and professional development hours (PDHs) are available from NIA for its completion.
NIA's Insulation Sampler
This NIA resource provides samples of 20 generic mechanical insulation product types and accessories. The small, portable sample boxes are designed for ease of use, with an illustrative product schematic guide that denotes the product type. Each sample has its own compartment space to remain organized and undamaged within the sample box. In developing this kit, NIA aimed to represent many major mechanical insulation types. The kit is an excellent visual tool for your internal education and resource library, as well as external sales discussions and presentations.
Intermediate
NIA's Online Training Portal at Vimeo
Last year NIA held 20 webinars viewed by more than 3,000 professionals, and these resources are now available on demand. You can stream NIA's business management or educational offerings, which include how insulation contractors have responded to COVID-19; sales strategies; long-term business planning; and health and safety topics like illness prevention on the jobsite, and injury reporting and recordkeeping guidance. Videos also are available about the Design Guide and insulation calculators that can help users with their insulation installation questions. Additionally, there are videos from past NIA conventions and messages from NIA leadership. Visit www.vimeo.com/NIAinfo.
Insulation Outlook Magazine Article Archives
Each month's issue of Insulation Outlook magazine is dedicated to providing useful information for the insulation industry. As one of the only educational resources available for this unique industry, NIA maintains a free online archive of almost all past educational and technical articles, and insulation product guides. Visit www.InsulationOutlook.com to start incorporating decades of research into your training programs or project research. A recent article, "What Engineers Need to Know and Where Support Can Be Found" (at https://tinyurl.com/IO-engineer-tools) is a good place to start. Each issue is posted 1 month after print publication.
Project Resources
The Mechanical Insulation Design Guide
The Design Guide is one of the most comprehensive mechanical insulation resources on the web for design, project estimation, and/or product specifications. It answers the insulation designer's basic questions—what, when, why, where, and how—and is useful for both beginners and experienced contractors, engineers, specifiers, and other professionals in the construction, design, specification, maintenance, and management fields. This advanced, detailed tool walks users through the steps to build an insulation system correctly, providing everything you need to know about the design, selection, specification, installation, and maintenance of mechanical insulation. The guide is being updated and will be posted on NIA's website later in 2021 at www.insulation.org/designguide.
Insulation Simple Calculators
These eight free calculators are uniquely designed to make common mechanical insulation calculations straightforward for users of all levels. The tools make it easy to discover proper insulation thickness, financial and energy savings, and the ideal insulation design.
Mechanical Insulation Financial Calculator: Determines the simple payback period, the annualized rate of return, and the net present value for an insulation project.
Personnel Protection Calculator for Horizontal Piping: Estimates maximum contact exposure times on the outer surface of a horizontal pipe with and without an insulation system to help avoid the potential for contact burn injuries.
Condensation Control Calculator for Horizontal Pipe: Estimates the thickness of insulation required to prevent condensation on the outer surface of an insulation system.
Energy Calculator for Equipment (Vertical Flat Surfaces): Estimates the performance of an insulated vertical flat surface, given the operating temperature, the ambient temperature, and other system details.
Energy Calculator for Horizontal Piping: Estimates the performance of an insulated horizontal piping system, given the operating temperature, ambient temperature, and other system details.
Estimate Time to Freezing for Water in an Insulated Pipe Calculator: Estimates the time for a long, water-filled pipe or tube (with no flow) to reach the freezing temperature.
Temperature Drop Calculator for Air Ducts: Estimates the temperature drop (or rise) of air flowing in a duct.
Temperature Drop Calculator for Hydronic Piping: Estimates the temperature drop (or rise) of water flowing in a pipe.
Visit www.insulation.org/calculators to start utilizing these tools for your project.
Installing Insulation
NIA's Mechanical Insulation Installation Video Series
(available in English and Spanish on the Vimeo site) provides a general product overview, safety information, and how-to guide for installing mechanical insulation for various applications. Each video incorporates consensus recommendations from the sponsoring manufacturers, and the applications demonstrated are completed by experienced field mechanics on piping and equipment mock-ups representing project applications. The videos are a great industry resource to supplement existing craft training programs, use as educational programs for new or existing sales or insulation service employees, and for indirect users to obtain an overview of application practices for the respective insulation materials.
Visit www.vimeo.com/niainfo to see all of NIA's resources available for streaming.
Advanced Skills and Expanded Services
NIA offers four distinct learning programs to fit the needs of industry members at various career levels: NIA's Introduction to Mechanical Insulation; Thermal Insulation Inspector Certification™ Program; Insulation Energy Appraisal Program (IEAP); and NIA's newest offering, Understanding Specifications for Insulation course.
NIA's new Understanding Specifications for Insulation Course has been designed to benefit multiple audience segments involved in the design, application, and use of mechanical insulation in both the commercial/building and industrial markets for new construction and maintenance. In the course, participants will learn how a specification is developed; how to identify challenges and opportunities created by specifications; how codes, standards, regulations, and guidelines are intertwined in specifications; how conflicting information in specifications may be problematic; how to understand and overcome the consequences of a "bad" specification; and how increased knowledge of mechanical insulation and insulation inspections can improve specifications.
NIA's Introduction to Mechanical Insulation includes a review of the insulation industry market segments; the need and importance of inspection; the purpose of mechanical insulation systems and why that is important to the inspection process; primary insulation materials and protective coverings; the importance of Safety Data Sheets; and codes, standards, regulations, and guidelines, and how they are intertwined.
NIA's Thermal Insulation Inspector Certification™ Program is a 4-day, 2-part course that educates participants on how to inspect and verify that the materials and the insulation system have been installed in accordance with the mechanical insulation specifications. The course is of primary benefit to those in the industry who have responsibility in the areas of contracts, maintenance, business development, quality assurance/quality control, project oversight, estimating, safety, management, product development, mechanical insulation system design, specifications, and inspections. To become certified, participants must complete both parts of the course (i.e., this course and the Introduction to Mechanical Insulation) and pass the associated exams.
NIA's Insulation Energy Appraisal Program™ (IEAP) is focused on energy, insulation, and a project's return on investment. This 2-day course teaches participants how to determine the optimal insulation thickness and corresponding energy and dollar savings for a project. Via the facility walkthrough and the use of the 3E Plus® software and infrared cameras, Certified Insulation Energy Appraisers can provide facility managers a better understanding of the true dollar and performance value of their insulated systems.
NIA's next offering will be a course on project submittals, with more details available later this year.
NIA Is Your One-Stop Shop for Insulation Knowledge
NIA is committed to helping insulation users expand their knowledge and learn more about the benefits insulation can offer their systems. Insulation is a proven means for saving energy, reducing greenhouse gas emissions, increasing process productivity, providing a safer and more productive work environment, controlling condensation (which can lead to mold growth and corrosion), supporting sustainable design technology, and a host of other benefits. The resources described can expand your and your employees' understanding of all the benefits insulation offers, going through the design process to ensure insulation is properly installed and maintained in your systems, leading to tremendous financial and energy savings, increased safety, and lower environment impact. NIA's website also offers updates on other NIA programs, events, and insulation-related activities. Visit www.Insulation.org to learn more.