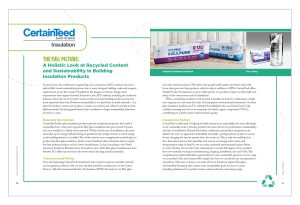 The Full Picture: A Holistic Look at Recycled Content and Sustainability in Building Insulation Products
In recent years, the architecture, engineering, and construction (AEC) industry has seen a radical shift toward sustainable practices due to more stringent building codes and program requirements across the country. Propelled by the dangers of climate change, these requirements have impacted several branches in the AEC industry, including the insulation business, where the use of recycled content in this necessary building product has become more important than ever. However, sustainability is not just about recycled materials—it is about the holistic systems put in place to ensure our products are utilized correctly, to their fullest potential, for lasting performance that contributes to larger sustainability initiatives for years to come.
Renewable Raw Materials
CertainTeed's fiber glass insulation products present exceptional properties that make it sustainable from a long-term approach: fiber glass insulation's life span exceeds 50 years; and once installed, it is likely never removed. Within its first year of installation, the material makes up for energy utilized during its production by saving 12 times as much energy in the building where it is installed. Part of the solution was to supplement recycled glass to produce the fiber glass insulation, which in turn benefited other industries reliant on glass for their primary product, such as bottle manufacturers. In fact, according to the North American Insulation Manufacturers Association, since 1992, fiber glass manufacturers have diverted 58.2 billion pounds from the waste stream by using recycled materials.

Transparency and Testing
From the beginning, CertainTeed brands have been rooted in rigorous scientific research and transparency, which is why we were the first insulation manufacturer in the United States to offer Environmental Product Declarations (EPDs) for many of our fiber glass and other interior products. We believe that people build smarter and better when they know what goes into their products, which is why, in addition to EPDs, CertainTeed offers Health Product Declarations to give a fuller picture of a product's impact on the health and safety of the environment and its inhabitants.
When considering insulation with recycled materials, we look for certifications outside our company, as is necessary for a fair and transparent environmental assessment. Our fiber glass insulation products are UL-validated formaldehyde-free and GreenGuard Gold certified, meaning very low or no emissions of volatile organic compounds (VOCs), contributing to positive indoor environmental quality.
Changing Our Systems
CertainTeed is dedicated to helping to build cleaner, more responsibly, and more efficiently, as we continually work to develop products that raise the bar on performance, sustainability, and ease of installation. Beyond third-party certification and product transparency, we address the ways we approach sustainability internally—putting systems in place to ensure we are changing the way we operate from the inside out. This is why we established an Eco-Innovation process that quantifies and assesses our energy, water, waste, and transportation usage in detail so we can reduce potential environmental impact before it occurs. Further, we use Life Cycle Assessments to see the full impact of our products, from raw material sourcing to manufacturing, shipping, installation, and end of life. This comprehensive method identifies opportunities for more sustainable practices at every stage of our product's life cycle and provides insight into how we can elevate our next generation of products. Moreover, to keep us on track, all of our brands are aligned through a Sustainability Roadmap that outlines clear sustainability goals for years to come,
including milestones for recycled content, carbon reduction, and energy usage.
What to Look For
Nowadays, we have options for more sustainable insulation products. As an example, CertainTeed's high-performance fiber glass insulation products InsulPure Building Insulation and InsulPure Duct Wrap hit all the marks when it comes to responsible recycled-content insulation options. InsulPure features a non-toxic, formaldehyde-free binder, further checking third-party certification boxes with GreenCircle® certification for recycled content. It is validated by UL formaldehyde free and has received UL GreenGuard GOLD for VOC emissions.
Our Metal Building Insulation 202-96 and Metal Building Filler Blanket also provide an insulation alternative for the roofs and sidewalls of pre-engineered metal buildings and post-frame construction. Metal Building Insulation contains recycled content that meets the EPA minimum Recovered Material Guideline for fiber glass products consisting of pre- and post-consumer glass cullet. This product is also UL GreenGuard Gold Certified for low VOC emissions into indoor air during product usage.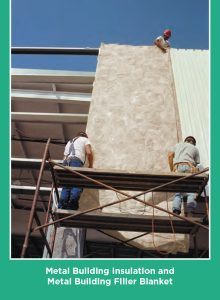 What Lies Ahead
While tremendous advancements have been made in integrating recycled or reused content in our insulation product portfolio, we still have a long way to go. We are passionate about spearheading this initiative through our offerings, manufacturing advancements to further increase the recycled content used in insulation as well as evaluating ways to extend the life cycle of our products through post-consumer uses—reversing the supply chain so that we can take charge of responsibly reclaiming and repurposing our products.
That said, the largest impact we can have right now is to continue to provide an informed suite of products, tools, and resources to our end users, who will then be able to make smart, sustainable decisions for their projects. Our success relies on building science and technology, and keeping one another accountable to the facts. It is our strong belief that this holistic approach will guide us into a more sustainable and healthier future.
About CertainTeed
Elyse Inglese is Technical Product Manager and Ted Winslow is Insulation Product Manager at CertainTeed. Through the responsible development of innovative and sustainable building products, CertainTeed has helped shape the building products industry for more than 110 years. Founded in 1904 as General Roofing Manufacturing Company, today, CertainTeed® is North America's leading brand of exterior and interior building products, including roofing, siding, fence, decking, railing, trim, insulation, gypsum and ceilings. A subsidiary of Saint-Gobain, one of the world's largest and oldest building products companies, CertainTeed and its affiliates have more than 6,300 employees and more than 60 manufacturing facilities throughout the United States and Canada. For more information, visit certainteed.com/sustainable-building. All images provided by CertainTeed.