Checklist for Specifying Insulation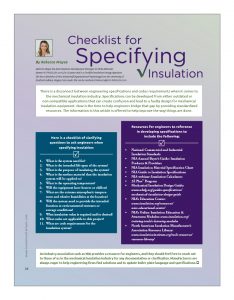 There is a disconnect between engineering specifications and codes requirements when it comes to the mechanical insulation industry. Specifications can be developed from either outdated or non-compatible applications that can create confusion and lead to a faulty design for mechanical insulation equipment. Now is the time to help engineers bridge that gap by providing standardized resources. The information in this article is offered to help improve the way things are done.
Here is a checklist of clarifying questions to ask engineers when specifying insulation:
What is the system used for?
What is the intended life span of the system?
What is the purpose of insulating the system?
What is the surface material that the insulation system will be applied to?
What is the operating temperature?
Will the equipment have heaters or chillers?
What are the extreme atmospheric temperatures and relative humidities at the location?
Will the system need to provide the intended function at environmental extremes or average conditions?
What insulation value is required and/or desired?
What codes are applicable to this project?
What are code requirements for the insulation system?
Resources for engineers to reference in developing specifications to include the following:
National Commercial and Industrial Insulation Standards
NIA Annual Buyer's Guide: Insulation Products & Providers
NIA Insulation Material Specification Chart
NIA Guide to Insulation Specifications
NIA webinar: Insulation Calculators
3E Plus® Program
Mechanical Insulation Design Guide: www.wbdg.org/guides-specifications/mechanical-insulation-design-guide
NIA's Education Center: www.insulation.org/resources/nias-educational-center/
NIA's Online Insulation Education & Awareness Modules: www.insulation.org/training-tools/e-learning-modules
North American Insulation Manufacturer's Association Resource Library: www.insulationinstitute.org/tools-resources/resource-library/
An industry association such as NIA provides a resource for engineers, and they should feel free to reach out to those of us in the mechanical insulation industry for any documentation or clarification. Manufacturers are always eager to help engineering firms find solutions and to update boiler plate language and specifications.
Copyright statement
This article was published in the January 2020 issue of Insulation Outlook magazine. Copyright © 2020 National Insulation Association. All rights reserved. The contents of this website and Insulation Outlook magazine may not be reproduced in any means, in whole or in part, without the prior written permission of the publisher and NIA. Any unauthorized  duplication is strictly prohibited and would violate NIA's copyright and may violate other copyright agreements that NIA has with authors and partners. Contact publisher@insulation.org to reprint or reproduce this content.
Disclaimer: Unless specifically noted at the beginning of the article, the content, calculations, and opinions expressed by the author(s) of any article in Insulation Outlook are those of the author(s) and do not necessarily reflect the views of NIA. The appearance of an article, advertisement, and/or product or service information in Insulation Outlook does not constitute an endorsement of such products or services by NIA. Every effort will be made to avoid the use or mention of specific product brand names in featured magazine articles.