Commercial Case Study: Insulation Is Insurance That Pays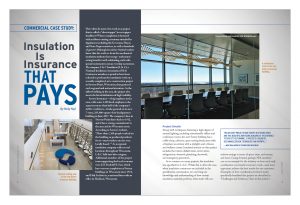 How often do most of us work on a project that is called a "showstopper" in newspaper headlines? Whose completion is honored with a ribbon-cutting ceremony attended by dignitaries including the Governor, Mayor, and State Representatives, as well as hundreds of guests? Although Insulation Outlook readers know that the work we do in the mechanical insulation industry has energy- and money-saving benefits worth celebrating, such widespread excitement is not an everyday occurrence. My company, L & C Insulation (L & C), a National Insulation Association (NIA) Contractor member, is proud to have been selected to perform the insulation work on a recently completed, new construction project in Stevens Point, Wisconsin, that garnered such regional and national attention. As the tallest building in the area, the project also meets the literal definition of high visibility.
Sentry Insurance—a big employer in the area, with some 2,500 local employees who represent more than half of the company's 4,000+ workforce—broke ground on its new 7-story, 285,000-square-foot headquarters building in June 2017. The company's base in Stevens Point dates back to 1912, and it has a strong commitment to the area and its Wisconsin roots. According to Sentry's website, "More than 1,100 people worked on the building or produced products for it—most workers on site were locally based." 1 As a regional insulation company with several locations throughout Wisconsin, L & C falls into this category. Additional members of the project team supporting the local economy were J.H. Findorff & Son, which has overseen completion of Sentry buildings in Wisconsin since 1974, and Flad Architects, a national firm with an office in Madison, Wisconsin.
Project Details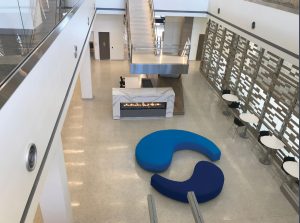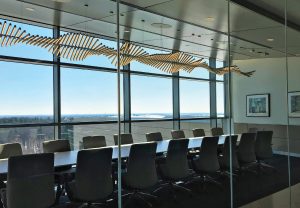 Along with workspaces featuring a high degree of natural lighting, including customizable offices and conference rooms, the new Sentry building has a coffee shop; cafeteria; open-seating break areas with a fireplace; an atrium with a skylight; and a fitness and wellness center. Insulated systems on this project included hot water, chilled water, tower water, refrigeration, domestic plumbing, ductwork, and emergency generators.
As is common on many projects, the insulation was specified for L & C. While this is often the case, when insulation contractors are included in the specification conversation, we can bring our knowledge and understanding of how certain insulation materials perform; what trade-offs can achieve savings in terms of space, time, and money; and more. Going forward, perhaps NIA members can set an example for the industry on how such early coordination can benefit everyone's work—and, most important, achieve the best results for our customers. (Examples of how coordination between trades specifically benefited this project are described in "Challenges and Solutions," later in this article.)
On this project, we used fiber glass pipe insulation (Johns Manville Micro-lok), duct wrap (Johns Manville Microlite), duct board (Johns Manville 814 rigid board), and elastomeric insulation (Aeroflex). The installation process for the fiber glass insulation and duct wrap and board was fairly straightforward, although we did use scissor lifts to reach certain parts of the system, which requires another level of expertise. (See Scaffolding 101 on page 22 for more details about scaffolding safety.)
Vapor barrier mastics (Childers CP-33, CP-35) were used on the piping systems, as well as some aluminum jacketing on exterior piping. Overall, approximately 70,000 feet of fiber glass pipe insulation, 150,000 sq. ft. of duct wrap, and 16,000 sq. ft. of rigid board were used on the project.
Challenges and Solutions
All new construction projects present challenges, and this one was no exception. One common issue insulation contractors experience is insufficient clearance around piping that needs to be insulated. This can result from any number of causes—for example, when the design does not leave sufficient room for the specified amount or type of insulation to be installed, when mechanical contractors do not consider the insulation specification, or when various trades simply do not coordinate with the other systems being installed in a given space. In a worst-case scenario, a quick-fix solution is to decrease insulation thickness, which may endanger the system. To mitigate the risk of this scenario, L & C foremen are trained to watch for this problem developing before it gets too far along, so that all trades can work together and coordinate any changes due to clearance trouble with the engineer prior to moving forward. L & C experienced some clearance issues in the new Sentry building, with piping that needed to be insulated, but close project oversight and coordination between members of the team allowed us to meet the requirements without compromising quality.
Another common issue that can be mitigated by coordination between members of the project team concerns timing: If piping is not tested until a large portion is installed, it can throw off the schedule for insulation installation, for example. This can have a ripple effect on the insulation contractor's schedules for other projects, as personnel may need to be pulled from other jobs to compensate and make up the time. Because the nature of our business requires that we adapt to constantly changing conditions, L & C was able to reassign workers to what was a large project for us without compromising progress on our other job sites. It is hoped, though, that by making closer coordination among all members of the construction team more of the norm in the future, we will be able to make this a less-common scenario.
On the Sentry project, a solid example of how inter-trade coordination was beneficial involved L & C coordinating with the mechanical contractor and getting permission to insulate system elements prior to installation. Most of the insulated systems were located indoors, and L & C was able to insulate some ductwork and variable air volume (VAV) units at the mechanical contractor's warehouse prior to installation. This saved substantial time and money when compared to doing the insulation work later off a ladder or man-lift on site.
Conclusion
The new Sentry building project represented not only an important job for L & C, but also a showpiece for the customer, and a boon for the greater Wisconsin economy. Supporting the customer's goals for the building, the properly installed insulation products will provide ongoing efficiency and a good return on investment, in addition to preventing damage that can be costly to repair, such as damage from condensation on the chilled water system. How well did the project succeed in meeting the customer's goals? As reported by Managing Editor/Senior Reporter Ben Meyer of local NBC affiliate NewsWatch 12, Sentry Chairman of the Board, CEO, and President Pete McPartland said the building exceeded expectations "beyond my wildest dreams."2
As Insulation Outlook readers know, proper insulation is a good investment for a business that is all about preparing for a rainy day.
Sources:
1. www.sentry.com/about-us/company-news-and-events/new-sentry-office
2 www.wjfw.com/storydetails/20190311183845/new_sentry_insurance_office_in_stevens_point_opens_company_claims_its_the_best_building_in_region