Construction Cost Data Shows Effect of Trade Disputes as Aluminum and Steel Costs Increase
Rate of Cost Increases Hits Recent High
Construction costs accelerated again in June, with steep increases for a wide range of building and road construction materials as tariffs against foreign goods come into effect, according to an analysis by the Associated General Contractors (AGC) of America of new Labor Department data. Association officials say that contractors will have to assume much of the costs as tariffs increase the costs of many key construction materials.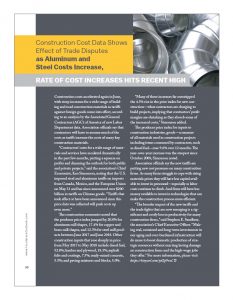 "Contractors' costs for a wide range of materials and services have escalated dramatically in the past few months, putting a squeeze on profits and dimming the outlook for both public and private projects," said the association's Chief Economist, Ken Simonson, noting that the U.S. imposed steel and aluminum tariffs on imports from Canada, Mexico, and the European Union on May 31 and has since announced over $200 billion in tariffs on Chinese goods. "Tariffs that took effect or have been announced since this price data was collected will push costs up even more."
The construction economist noted that the producer price index jumped by 20.0% for aluminum mill shapes, 17.4% for copper and brass mill shapes, and 12.3% for steel mill products between June 2017 and June 2018. Other construction inputs that rose sharply in price from May 2017 to May 2018 include diesel fuel, 52.8%; lumber and plywood, 18.3%; asphalt felts and coatings, 7.5%; ready-mixed concrete, 5.5%; and paving mixtures and blocks, 5.0%.
"Many of these increases far outstripped the 4.3% rise in the price index for new construction—what contractors are charging to build projects, implying that contractors' profit margins are shrinking as they absorb some of the increased costs," Simonson added.
The producer price index for inputs to construction industries, goods—a measure of all materials used in construction projects including items consumed by contractors, such as diesel fuel—rose 9.6% over 12 months. The year-over-year increase was the steepest since October 2008, Simonson noted.
Association officials say the new tariffs are putting new cost pressures on many construction firms. As many firms struggle to cope with rising materials prices they will have less capital available to invest in personnel—especially as labor costs continue to climb. And firms will have less money available to invest in technologies that can make the construction process more efficient.
"The broader impact of the new tariffs and the trade fights that are now emerging is a significant and costly loss in productivity for many construction firms," said Stephen E. Sandherr, the association's Chief Executive Officer. "Making real, sustained and long-term investments in our aging and over-burdened infrastructure will do more to boost domestic production of strategic resources without exacting lasting damage on construction firms and the high-wage jobs they offer." For more information, please visit https://tinyurl.com/yd2p9vel.
Copyright Statement
This article was published in the August 2018 issue of Insulation Outlook magazine. Copyright © 2018 National Insulation Association. All rights reserved. The contents of this website and Insulation Outlook magazine may not be reproduced in any means, in whole or in part, without the prior written permission of the publisher and NIA. Any unauthorized duplication is strictly prohibited and would violate NIA's copyright and may violate other copyright agreements that NIA has with authors and partners. Contact publisher@insulation.org to reprint or reproduce this content.