Crisis Communications
How You Can Instill Trust and Confidence through Your Employee Communications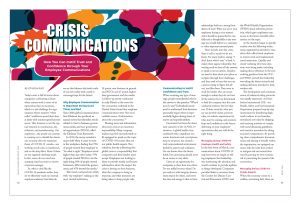 Today's news is full of stories about companies confronting a future where remote work is more of an expectation than an exception, which is a real challenge for organizations whose majority "white collar" workforces spend their days at desks with uninterrupted Internet access. This, however, is not the typical situation in construction, distribution, and manufacturing. Our employees—the people our country is counting on to rebuild the American economy after the imminent threat of COVID-19 recedes—are working on job sites, in warehouses, and on the shop floor. Most of them are not regularly checking email. In fact, many do not even have company email accounts to receive corporate messages.
So, when a crisis like the COVID-19 pandemic strikes, how do we effectively reach our internal employee audience? And what do we say that balances the harsh truths of our new reality with a need to encourage hope for the future?
Why Employee Communication Is Important during Good Times and Bad
Since 2000, global communications firm Edelman has produced an annual survey that identifies trends related to trust in business, government, media, and non-governmental organizations (NGOs) called the Edelman Trust Barometer.
In 2019, the survey revealed a major shift when it came to trust in the workplace, finding that 75% of people trusted their employer to "do what is right." Employers rated higher than any other entity: 57% of people trusted NGOs to do the right thing, 56% of people trusted businesses, 48% trusted the government, and 47% trusted the media.1
This trend continued into 2020, with "my employer" ranking as the most trusted institution, 18 points over business in general and NGOs, and 27 points higher than government and the media. A follow-up survey conducted in early March at the onset for the coronavirus outbreak in the United States found that employer communications were "the most credible source of information about the coronavirus."2
Sharing news and information about any crisis is an enormous responsibility. Many company leaders may feel uncomfortable or ill-equipped to speak on the topic of COVID-19 because they are not public health experts. Nevertheless, directly addressing this global crisis is a responsibility that companies and their leaders must accept. Employees are looking to them to provide timely and honest information about the impact the crisis is having on their business, what the company is doing in response, and what measures are being taken to keep people safe.
Communicating to Instill Confidence and Trust
When receiving any type of message, people immediately look for the answer to the question "What's in it for me?" Individuals' innate need to understand how decisions personally impact them is exponentially higher during times of unrest and unpredictability.
Uncertainty has been the dominant narrative of the COVID-19 situation. A global health crisis, combined with a significant economic downturn and a precipitous drop in oil prices, has created a truly unprecedented environment fueled by anxiety and confusion. No one knows what the future holds, but uncertainty should never be an excuse to stay silent.
Crises are an opportunity for companies to show their true colors. Do you really live your values? Do you truly act with integrity, demonstrate respect for others, and invest the time and energy it takes to form relationships built on a strong foundation of trust? What you say to your employees during a crisis matters, and it should be approached as carefully and as thoughtfully as any message you would deliver to a customer or other important external party.
Three months into this crisis, there is still so much we do not know. For many leaders, saying "I don't know what's next" is hard. It makes them appear vulnerable. But waiting until we have all the answers to speak is not an option. Employees need to hear about your plans to navigate through these challenges, and they need to hear that you are a person trying to figure this all out, just like them. They want to work for leaders who are secure enough to admit they do not have all the answers but are determined to lead the company into this new, uncharted territory the best they can. If done correctly, what you say can provide clarity, promote calm, set realistic expectations for what may be coming, and promote hope and confidence in the future, delivering on your employees' expectations that you will do the right thing.
Messaging during COVID-19: Employee Health and Safety
In the first week of March, communications about COVID-19 may have been as simple as telling employees that leadership was monitoring the situation and would continue to provide updates as things developed. Companies provided links to resources from the Centers for Disease Control and Prevention (CDC) and the World Health Organization (WHO) about infection prevention, which gave employees easy access to the latest scientific information on the topic.
As the situation began to quickly escalate over the following weeks, many organizations decided to transition their office-based employees to remote work and implemented travel restrictions. Quickly and clearly outlining why these decisions were being made, including making direct references to the ever-evolving guidance from the CDC and WHO, proved that leadership was taking the threat seriously and making decisions intended to keep workers safe.
The development and communication of enhanced safety protocols was equally important. At Distribution International (DI), our Health, Safety, and Environmental Department prepared step-by-step instructions for disinfecting high-touch surfaces in our branches, introduced new rules for shipping and receiving activities to comply with social distancing guidelines, and created a procedure for taking associates' temperatures. By providing clear, comprehensive documentation and sharing it broadly within the organization, we equipped our teams with the tools they needed to mitigate risk and earned their trust by proving we were committed to preventing the spread of the coronavirus.
Messaging during COVID-19: People Impacts
When the economy comes to a sudden, screeching halt, there are widespread impacts to business. These impacts, unfortunately, translate to significant impacts to people in the form of pay reductions, furloughs, and layoffs.
When this happens, the most important thing you can do is be honest about the impact the crisis is having on your business. You cannot hide from the fact that orders are not coming in, permits are not being pulled, or that your job site has been shut down by the state. Never lie to your employees to prevent panic. Instead, lean into the new reality and be honest about the business outlook. Admit that you do not know what the future holds. If workforce reductions or any sort of people impacts are necessary to keep the business going, tell them. Do not mislead. False assurances may seem like a good idea, because you want to give people hope, but the truth always comes out. Telling people everything is fine and then following up with layoffs a week or 2 later erodes trust and credibility, which leads to disengagement, poor performance, and low levels of job satisfaction. Once trust is lost, it is nearly impossible to get it back.
It is possible to relay confidence in your future and your ability to overcome adversity while still confronting the immense obstacles in your immediate path. If you do have to let people go, approach the messaging with honesty and empathy. Talk about how making these kinds of decisions is not easy but is what is required for the current state of the business. Having to let colleagues go is something no one ever wants to talk about, but operating in the shadows is the worst thing you can do. Your employees may not agree with the decisions being made, but they will respect and appreciate you being direct and candid about what is happening. Uncertainty is not going away any time soon, so leaders must consistently and candidly communicate to demonstrate their respect for their employees and establish the trust and loyalty that is critical for companies to successfully navigate through whatever is coming next.
How to Share Your Messages
Once you know what you want and need to say, how do you get it to your audience?
It is no wonder email has become the dominant communication tool in most businesses. It is a quick, free, and relatively painless way to send messages to your workforce. But the mere sending of an email does not mean your communication mission has been accomplished. If no one reads it, either because your workforce does not have consistent email access or it did not grab their attention, was it effective? It is a bit like the thought experiment, "if a tree falls in a forest and no one is around to hear it, does it make a sound?"
This is especially important when you have to communicate about difficult topics like workforce reductions. These topics require empathy and explanation, which often do not translate well via email.
It has always been difficult to effectively deliver corporate messages to workforces who spend most, if not all, of their workday without access to corporate email. Reaching these internal audiences requires companies to get more creative in their selection of communication channels. Making sure messages reach everyone, especially in times of crisis, is something companies must focus on if they are to successfully address concerns, outline plans to overcome immediate challenges, and share tempered optimism about the future.
Luckily, there are several options to supplement your existing email communications to ensure your important messages are reaching all employees, regardless of their work location.
Podcasting
At DI, CEO Steve Margolius has used podcasts to communicate with the company's 1,200 associates since the start of the COVID-19 crisis. On March 24, he spoke candidly to employees for 14 minutes about adjusting to our new reality. Difficult decisions were on the immediate horizon, and the impending impact on employees could not be ignored. Workforce reductions were coming. But rather than trying to soften the blow or make false assurances, he told the truth.
Mr. Margolius continues to use audio communication every week because it captures the tone and human aspect of decisions that are being made in a way email never could. Associates consistently comment that they can hear the weight of these decisions and genuine empathy in his voice, lending credibility to both the message and the messenger. Being able to hear someone talk through the complex, nuanced topics leaders are being asked to tackle every single day in a crisis is much more personal than scanning the text of an email, and it gives leaders the opportunity to have their unique style captured and reflected in the story they tell through audio.
Recording a podcast does not require expensive, sophisticated equipment. You can record podcasts on any iPhone using the Voice Memos app that comes preloaded. If you want or need to edit the file, you can use software that comes preinstalled on computers, such as GarageBand, or you can find an inexpensive freelance resource to assist.
Text Messaging
A text messaging platform is an important tool for any mid-size or larger company to have in case of emergency. On the Gulf Coast, text messaging systems are essential for gathering information about employees' well-being and safety during hurricanes. They allow you to reach employees quickly anywhere, anytime.
Text messaging has also proven to be an effective way to reach employees who do not have consistent access to email. While we still use email to distribute our CEO's weekly podcast to associates, we also use a text messaging platform offered by our phone service provider to deliver the podcast directly to associates' cell phones. The text message includes a link to the recording on YouTube, which also allows us to get metrics on how many of our associates are accessing the file and receiving the message.
Inclusion in Crisis
While emails can be easily translated into other languages using Google Translate, audio files for non-English speakers present a challenge. For pre-COVID-19 podcasts, DI had been providing written translations in Spanish and French for our associates in the United States and Canada. But, recognizing the impact of audio versus the written word in the midst of this crisis, we knew we needed to take the translation further. We contracted translators through the freelancing site Upwork who can more quickly and affordably translate our podcast transcripts than larger, more traditional translation firms can. We then use 2 employees to record Spanish and French versions of the podcast, and send them out to all
associates to ensure language is not a barrier to receiving the latest messages about our company health and our plans for the future.
Effectively Communicating with Confidence in Crisis
When it comes to communicating during a crisis, honesty is the best policy. No matter how difficult the message, honesty is how you demonstrate genuine respect for others, and it is a prerequisite for building and maintaining trust with your employees. Whether they work remotely, in a warehouse, or on a construction site, they need to see you consistently demonstrating respect for them by delivering the latest information via multiple channels and, if applicable, multiple languages. We cannot control what is happening in the world right now, but we can control what we say and how we say it to the people who work tirelessly to help our companies achieve their goals. They are depending on us to do the right thing, and we should not disappoint them. By communicating openly, honestly, and consistently, leaders can show their employees they are ready to do whatever it takes to overcome today's challenges and lead employees toward a brighter, more successful future.
References:
1. https://www.edelman.com/sites/g/files/aatuss191/files/2019-02/2019_Edelman_Trust_Barometer_Global_Report.pdf
2. https://www.edelman.com/research/edelman-trust-covid-19-demonstrates-essential-role-of-private-sector
Copyright statement
This article was published in the July 2020 issue of Insulation Outlook magazine. Copyright © 2020 National Insulation Association. All rights reserved. The contents of this website and Insulation Outlook magazine may not be reproduced in any means, in whole or in part, without the prior written permission of the publisher and NIA. Any unauthorized  duplication is strictly prohibited and would violate NIA's copyright and may violate other copyright agreements that NIA has with authors and partners. Contact publisher@insulation.org to reprint or reproduce this content.