Eliminate Insulation Design Confusion
The new 9th edition of the North American Commercial and Industrial Insulation Standards manual is a design tool that clarifies the insulation materials and installation before you start your project.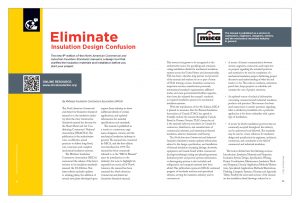 The North American Commercial and Industrial Insulation Standards manual is to the insulation industry what the Duct Construction Standards manual has become for the Sheet Metal and Air Conditioning Contractors' National Association (SMACNA). The publication is the authoritative voice on effective, sound practices to deliver long-lived, cost-conscious, and complete mechanical insulation systems.
The Midwest Insulation Contractors Association (MICA) announced the release of the latest revision to its insulation standards manual: the 9th Edition. This latest edition includes updates to existing plates, the addition of several new plates developed upon request from industry to show additional details of certain applications, and updated information for material specifications and standards.
The manual is published as a service to contractors, engineers, designers, owners, and the mechanical insulation industry in general. The manual was conceived by MICA, and the first edition was introduced in 1979. The manual has been commonly referred to as the "MICA Manual" since its introduction to the industry; but now, to highlight its expanded use across all of North America, the manual has been renamed the North American Commercial and Industrial Insulation Standards manual. This resource has grown to be recognized as the authoritative source for specifying and communicating installation details for mechanical insulation systems across the United States and internationally. NIA has been a decades-long partner and promoter of the manual and teaches its use as part of some of NIA's training courses. Insulation contractors, inspection services, manufacturer personnel, international standards organizations, affiliated trades, and some governmental facilities organizations have also adopted the manual's standards as required installation practice for mechanical insulation systems.
With the introduction of the 9th Edition, MICA is pleased to announce that the Thermal Insulation Association of Canada (TIAC) has agreed to formally endorse the manual throughout Canada. Based in Ottawa, Ontario, TIAC (www.tiac.ca) is the national industry association in Canada for contractors, distributors, and manufacturers of commercial, industrial, and institutional thermal insulation, asbestos abatement, and firestop.
The North American Commercial and Industrial Insulation Standards contains updated information related to the design, specification, and installation of thermal insulation on piping, fittings, ductwork, equipment, and vessels found within commercial heating/ventilating/cooling and plumbing systems. Industrial power and process systems information on firestopping systems is also included, and refrigeration and cryogenic systems have been added. This publication represents MICA's continued program of standards revisions and specialized editions, serving the insulation industry and its customers as:
A means of clearer communication between owners, engineers, contractors, and inspectors on projects regarding the intended practices and materials to be used in completion of a mechanical insulation project, facilitating project discussion and understanding of what the end result is to be. This reduces confusion, minimizes punch lists, keeps projects on schedule, and contains the cost of project execution.
An updated source of technical information concerning commercial and industrial insulation products and practices. This resource has been used many times to answer questions regarding what a satisfactory installation for a particular application is for those unfamiliar with a given type of installation.
A means by which installation practices that are commonly accepted throughout the industry can be understood and followed. The standards may be used as a basic reference for insulation design and specification by engineers, architects, contractors, and consultants in the field of commercial and industrial insulation.
The book is divided into the following sections: Introduction, Insulation Materials and Properties, Insulation System Design, Specification Writing, Project Coordination, Maintenance, Insulation Thickness Programs, General Application Methods/Illustrations, Specialized Applications Methods/Illustrations, Flashing, Cryogenic Systems, Glossary, and Appendix Tables. Possibly the most used sections of the manual are the installation detail drawings, referred to as plates, and the Appendix Tables, which are some of the most needed and sought-after points of data when considering a mechanical insulation system.
Installation detail plates included are Piping, Fittings, Valves, Flanges, Mechanical Couplings, Ducts, Plenums, Housings, Vessels, Tanks and Equipment, a Power section including breechings and boiler walls, and Specialized Applications to include Noise, Refrigeration, Removable and Reusable Insulation Blankets or Pads, and Cryogenic. The detail plates are intentionally shown without specifics of dimensions or kinds of materials so that users can include this information relative to their particular desires for the specific project, without predetermined information unduly influencing details or causing unsatisfactory results. Leaving these details to the discretion and needs of the user ensures that the specifics will be relevant to the situation at hand. This open format also has the benefit of accommodating new materials in the market, for any function—insulation, fastening/attachment, sealing, or finishing. An installation practice detailed in a plate can apply, without the need to develop completely new details specifically for the given material, if the producer is accepting of the plate details. Some material producers specifically refer to the standards as acceptable installation practice details.
The 9th Edition is available for purchase in print and electronic formats, along with a bundled package that allows the purchaser to buy both at a discounted rate. To purchase the manual, visit www.micainsulation.org, email mica@micainsulation.org, or call 1-800-747-6422.