Fighting Supply Chain Disruptions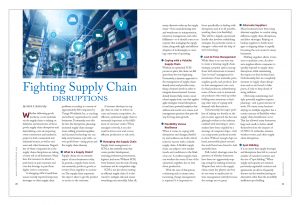 Whether delivering goods, products, or raw materials via the supply chain or relying on deliveries and inventories of those goods, supply chain disruptions and skyrocketing costs are impacting every construction and insulation project in both commercial and industrial sectors, as well as end users and other businesses. Regardless of where companies lie in the supply chain, disruptions are taking a heavy toll on all businesses. Many have few resources to absorb or push back on price increases and even less leverage to pass those higher costs to customers.
A whopping 44% of small businesses recently reported temporary shortages or other supply chain problems, according to a survey of approximately 800 companies by Vistage Worldwide Inc., a coaching and advisory organization for small businesses. Fortunately, even this far into the disruptions, planning, increased supply chain management, adding potential suppliers, and increased technology use can help every business cope with—or even profit from—rising prices and the supply chain disarray.
What Is a Supply Chain?
Supply chains are an essential aspect of most businesses today. In general, a supply chain moves raw materials, products, goods, or services from suppliers to customers. The supply chain represents the steps it takes to get the product or service to the customer. A business develops its supply chain in order to reduce its costs and remain competitive. An efficient, optimized supply chain is extremely important in the fulfilment of customer orders. When managed correctly, it can also result in lower costs and a more efficient production or sale cycle.
Managing the Supply Chain
Supply chain management, or SCM, is the umbrella term that covers product development, sourcing, production, procurement, logistics, and more. Without SCM, every business runs the risk of losing customers and its competitive edge.
SCM is not just about creating an efficient supply chain. It is also crucial to mitigate risk and ensure everything runs smoothly. After all, many elements make up the supply chain—from manufacturing sites and warehouses to transportation, inventory management, and order fulfilment—so it should come as no surprise that managing the supply chain, along with agile and efficient adoption of technologies, is creating a new way of operating.
Coping with a Volatile Supply Chain
Without an optimized SCM process in place, the chain can fall apart from the very beginning. Fortunately, a dynamic approach to the management of supply chains already exists and provides everything a business needs in order to integrate lessons learned. Lessons already learned help create a more robust supply chain: one that applies agile strategies toward disruptions in real time, powerful analytics that address and resolve root causes, and management practices that pave the way for long-term growth.
Flexibility Versus Resilience
When it comes to coping with disruptions and changes, flexibility and resilience are both critical traits for success with a volatile supply chain. A flexible supply chain can adapt to new market trends and conditions in the blink of an eye. A resilient supply chain can weather the storm if one of the operation's suppliers has to shut down production.
With the rate of disruptions continuing and, in many cases, increasing, change management is required. It is important to focus specifically on dealing with disruptions and, if at all possible, avoiding them (via flexibility). This will be a largely operational hurdle that involves establishing strategies for particular events or changes—often with the help of new technology.
Just-In-Time Management
While there is no one best way to create a winning supply chain strategy, a popular option among those with inventories is termed "just-in-time" management for inventories of raw materials, parts, supplies, goods, and products. Just-in-time management cuts costs for final producers, redistributing some of those costs to intermediate producers who wind up either holding extra inventory or finding other ways of coping with demand-side fluctuations.
Unfortunately, the major problem of relying too heavily on the just-in-time approach has become glaringly evident in the industry credited with inventing it. Automakers have been crippled by a shortage of computer chips—vital car components produced mostly in Asia. Without enough chips on hand, automobile plants around the world have been forced to halt assembly lines.
Still, today's shortages raise the question of whether businesses have been too aggressively reaping savings by slashing inventory. Despite their role in the supply chain, many key players say they do not want to replace just-in-time management entirely because the savings are too great.
Alternate Suppliers
Many businesses have been using alternate suppliers to combat rising inflation, supply chain disruptions, and labor shortages. Relying on backup suppliers to battle shortages or shipping delays is rapidly becoming the new norm for many businesses.
Shifting suppliers allows a business to optimize costs. An alternate supplier allows companies to quickly respond to supply chain disruptions while minimizing the impact on their bottom lines. Unfortunately, few are completely immune to supply chain disruptions and so are forced to hike prices, if only to keep ahead of rising inflation.
Obviously, maintaining multiple potential suppliers requires planning—and a great amount of work. Of course, every business relying on multiple suppliers has a certain amount of flexibility when supply chain breakdowns occur. That has allowed many businesses, large and small, to better shield themselves from the impacts of COVID-19 outbreaks, extreme weather events, and other supply chain disruptions.
Spot Bidding
It is no secret that supply shortages and disruptions have led to a record number of canceled contracts and the rise of "spot bidding." When supply and capacity are strained, previously negotiated contracts and agreements are all too frequently thrown out the window, leaving no alternative other than the incredibly inefficient spot bidding.
Spot bidding requires many of the same time-consuming, repetitive steps as the original bid process to reach out to potential carriers or suppliers, collect data, and make new award declarations.
Far too many contractors, managers, and business executives failed to anticipate the sheer volume of canceled contracts or the rise of spot bidding, among other economic challenges. Complicating matters today, when an outsourcing need arises, many are turning to what is familiar and ignoring the impact of new problems with old, outdated processes and technology.
Because it is often conducted outside of a formal sourcing process, spot bidding frequently introduces bias, where a business favors certain suppliers in the interest of speed, reducing the competitive tension that might have resulted in better offers. In order to remain competitive and guard against disruptions, integrating new suppliers—and identifying which supply lines no longer hold value—is imperative. A business that overlooks emerging suppliers to preserve incumbent relationships does so at the expense of innovation and resiliency.
Optimization and Automation
According to many experts, the lack of a cohesive strategy and technology are the biggest hurdles to building future-ready supply chains. Fortunately, in an effort to upgrade methods, many businesses are overhauling their old systems and attempting to streamline processes using optimization and automation technology for a more modernized supply chain.
A key way of achieving the necessary level of preparedness is to optimize processes wherever possible—especially in the procurement function. With optimization, it is possible to balance cost and speed objectives, give suppliers flexible bidding options, and eliminate "lowest price wins" awards.
With the right solution, the business has the capability to handle everything from spot bids to large-scale requests for proposals with a supplier-friendly interface that improves the operation's direct materials, supplies, or service award decisions. One such solution involves automation.
A computerized sourcing process can establish spot bidding and mini-tender events within minutes, managing and automating everything from inviting carriers and collecting bid data to generating award recommendations based on a set of criteria. A computerized system goes beyond cost-savings, creating more efficiency.
By reducing time-consuming, monotonous tasks, optimization and automation technology allow businesses to do what they do best—focus on supplier relationships, accomplish broader goals for the operation, and drive innovation.
A Problem Without a Solution
With price hikes already common, inflation expectations are posing potential problems for businesses. Pandemic buying and supply shortages exposed flaws in many supply chains that will continue to be exploited in the months ahead.
Although many contractors, managers, and executives learned how to cope with on-the-fly solutions (duct tape and chewing gum?), most postponed long-term investments while grappling with more immedite issues.
Today, everyone in business can utilize past lessons and move forward. For some, that will mean stockpiling more inventory and forging relationships with additional suppliers. Unfortunately, for far too many, lessons have not been learned, and the pursuit of cost savings will once again trump other considerations.
Disruptions in the supply chain are not going away anytime soon. The bottom line is that there is no one single best way to create a winning supply chain strategy. However, by leveraging optimization and automation to create a future-ready supply chain, both insulation contractors and end users can leave antiquated approaches behind and progress to modernity. Their operation's future may depend on it.