Finding Opportunity during Disruption: Strategies to Boost Backlog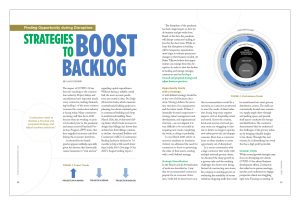 The impact of COVID-19 has been far-reaching to the construction industry. Project delays and cancellations have impacted nearly every contractor, making diminishing backlog 1 of the most common concerns the construction industry is facing today. Many contractors are faring well thus far in 2020 because they are working on projects booked prior to the pandemic, and many received Paycheck Protection Program (PPP) loans that have supplied necessary cash flow during the economic slowdown.
A rebound by the fourth quarter appears unlikely, especially given the election that historically causes businesses to "wait and see" regarding capital expenditures. Without having a reliable crystal ball, the most accurate predictions are rooted in data. The Dodge Momentum Index, which measures nonresidential building projects in planning, has shown minimal gains in commercial building and drops in institutional building. Since March 2020, the Architectural Billing Index, which tracks increases in design firm billings, has shown that architecture firm billings continue to decline. Associated Builders and Contractors' (ABC's) Construction Backlog Indicator declined to 7.8 months in July, a full month lower than in July 2019.

The disruption of the pandemic has had a huge impact on how we do business and get work done. Based on the data, the pandemic will disrupt contractor backlog, at least for the short term. While we hope this disruption in backlog will be temporary, organizations must begin to evaluate permanent changes to their business models. At Baker Tilly, we believe that opportunities can emerge from this disruption. In order to slow the decline in backlog and emerge stronger, contractors need to develop a focused and prepared strategy and adjust business practices.
Opportunity Starts with a Strategy
A well-defined strategy should be at the core of all business decisions. Strategy defines the necessary structure of an organization and the talent needs. If these 3 internally-focused components—strategy, talent management and development, and organizational structure—are not aligned, it is very difficult to be successful in acquiring new work, completing the work, or doing so profitably.
In our March 2020 article on recession readiness in Insulation Outlook, we addressed the need for contractors to focus on protecting the value of their assets, starting with a well-defined strategy.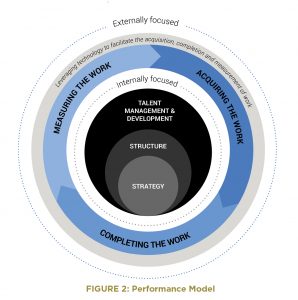 Strategic Diversification
In the March article, diversification of work was described as 1 way that we recommended contractors prepare for an economic downturn. Little did we know how soon this recommendation would be a necessity, as contractors positioned to meet the needs of client industries facing long-term negative impacts, such as hospitality, retail, and travel. Across the country, brick-and-mortar retail and grocery stores are struggling to exist due to limits on shopper capacity, new safety protocols, and shopper concerns. How does a contractor focus on these markets to create opportunity out of disruption?
In a recent conversation with a large contractor that works with multiple national grocery chains, we discussed the sharp growth in e-grocery sales and the resulting challenges his clients were facing. Instead of constructing new stores, his company is assisting grocers in evaluating the suitability of vacant suburban shopping malls that could be transformed into mini-grocery distribution centers. The malls are conveniently located near consumers, supply ample drive-through and parking space, and provide shell spaces conducive for storage and distribution. The contractor demonstrated that he understood the challenges of the grocery industry by bringing valuable insight to his clients. Through this new venture, he is diversifying into work that has a high profit potential.
Strategic Clients
While normal growth strategies may focus on developing new clients, COVID-19 has altered business development efforts. Contractors that relied on in-person meetings, lunches, and conferences to engage prospective clients are struggling right now. Focusing on existing clients, not the pursuit of new clients, is 1 strategy proving popular today.
Investing time on a regular basis to understand your clients' business challenges and responding with problem-solving recommendations may prove more successful than landing a new client, especially one that does not know your company or prior track record.
One sector of the industry that had been experiencing tremendous growth prior to the pandemic was education. As state and local government revenues have declined, many education projects entering the planning phase are being put on hold. Although it may sound like bad news for contractors already vested in this market segment, there is an opportunity. Contractors already active in the education market should be connecting with the educators they have worked with in the past to discuss COVID-19 building needs. While new facilities may be on pause, schools have immediate needs to reconfigure space to accommodate smaller class sizes and meet new safety standards, such as air quality requirements. The likelihood of securing new work from existing clients is much greater than hoping to build new relationships during a time when in-person business development is so limited.
Volume or Profit Driven
Economic recovery is clouded by the uncertainty of a COVID-19 vaccine, the presidential election, and workforce stability. Looking back over the last 10 years of strong construction growth, the average pre-tax net profit is at shockingly low percentages: 1.4 to 2.4% for general contractors, and 2.2 to 3.5% for specialty contractors, according to Construction Financial Management Association Benchmarker data. With construction margins so low, 1 bad project can inflict serious damage on a company. Few contractors are willing to pass on a project when backlog is dwindling. Given the amount of risk that the construction industry carries, contractors need to establish the profit margin they want to make. Any bid that does not meet that threshold is likely not worth the risk.
Easier said than done, right? Turning away a potential new project with dwindling backlog is a risky proposition when you do not see much else in the pipeline. But is it riskier than taking a project at 1.2% profit and hoping for the best, only to have a key subcontractor go under or the project owner lose financing? Does that 1.2% margin allow you to cover costs, or will you be relying on revenue from other projects? It is easy to think "we will bid at this low margin just this 1 time," but it only takes 1 bad project to impact the other projects in the pipeline. If you are the gambling type, make sure to put other precautions in place, such as:
Verifying owner financing,
Requalifying subcontractors and suppliers,
Diversifying subcontractors and suppliers to minimize reliance, and
Informally monitoring performance of all project partners to recognize warning signs as early as possible.
There has to be a better way. Fragile economic times require a focus on increasing profitability, not volume. If you have actively measured past project performance, you should be able to identify the exact type of project in which you are most profitable. Common criteria measured by contractors include:
Project size,
Project type,
Geographic location,
Project manager/estimator,
New construction versus remodel, and
Self-performance of select trades or subcontractor performance.
If you have used data from past performance to provide this insight, you are in a better place than most, because you have the knowledge that allows you to focus on bottom-line, not top-line, growth.
Putting Action behind the Strategy
The purpose of this strategy discussion is to help you redefine post-pandemic targets for:
Projects,
Clients, and
Profit margin.
Once you have defined this strategy, it is crucial to align organizational structure and your talent to support the strategy (hence strategy at the core of the performance model graphic in Figure 2). The disruption of the pandemic forced many organizations, not just contractors, to adjust their business model. Business processes that allowed you to be successful in the past have likely modified during the last 6 months to adjust to conditions caused by COVID-19. Which of these changes will you permanently embrace? Remote workers and social distancing requirements forced many companies to embrace technologies they had not used in the past. In particular, we have seen an increased use of project collaboration and communication tools. Have you evaluated how your company will leverage these technologies moving forward?
Components of organizational structure needed to align with strategy include:
Value-added business systems and process,
Implementation of technology,
Standardized execution, and
Measurable outcomes.
Having a well-defined, standardized process and procedure for every area of your business is always a recommended best practice. Now is the time to review what you have documented to ensure it reflects the adaptations and improvements your company has made during the disruption caused by COVID-19.
Engaging Your Talent
It is frequently said that cash flow is the lifeblood of contracting. If that cash is the lifeblood, then your employees are the beating heart that makes all things possible in your company. Employees are your most valuable asset; and today, more than ever, companies need to be focused on ensuring they retain key talent. Just 9 months ago, we were focused on recruiting and retention as our industry has struggled for the last 10 years to find enough employees. This is not a time to forgo efforts to develop and retain employees.
While furloughs and layoffs were necessary for some companies, many contractors put substantial effort into maintaining strong communication and relations with employees. Autodesk and Associated General Contractors of America's 2020 Workforce Survey Analysis found that the pandemic has "contributed to conditions that make it difficult for a majority of firms to find craft workers."
Construction was deemed essential in many parts of the country. This was great news for the construction industry, but left many workers fearing for their health and safety. Contractors responded with enhanced safety plans, technology to enhance remote working, and a focus on maintaining employee engagement and culture. As return-to-work plans are in place, many organizations are struggling with employees unwilling or unable to leave their remote workplace due to the need to care for children attending school virtually or for health reasons. Transparent communication and flexibility for employees with return-to-work scenarios can ensure both the company and the employee have their needs met.
As company process and procedures have modified over the pandemic, it is also important to update position descriptions to reflect these new roles and align the roles with performance management. As you define the metrics that your company is striving to meet, incent role-specific performance through compensation. You cannot afford to lose key employees during uncertain economic times. Continued investment in competitive compensation and benefits, and a commitment to employee development, are still important to retaining valuable employees.
Although we are not able to go back in time to change the disruption COVID-19 has caused for the construction industry, among many others, we can choose to create a proactive approach. Demonstrating resilience, developing a focused and prepared strategy, and adjusting business practices will help contractors emerge stronger post COVID-19.