Free Services Offered for Insulation Projects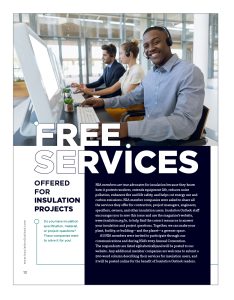 Do you have insulation specification, material, or project questions? These companies want to solve it for you!
NIA members are true advocates for insulation because they know how it protects workers, extends equipment life, reduces noise pollution, enhances fire and life safety, and helps cut energy use and carbon emissions. NIA member companies were asked to share all the services they offer for contractors, project managers, engineers, specifiers, owners, and other insulation users. Insulation Outlook staff encourages you to save this issue and use the magazine's website, www.insulation.org/io, to help find the correct resources to answer your insulation and project questions. Together, we can make your plant, facility, or building—and the planet—a greener space.
All NIA members were invited to participate through our communications and during NIA's 2023 Annual Convention. The respondents are listed alphabetically and will be posted to our website. Any additional member companies are welcome to submit a 500-word column describing their services for insulation users, and it will be posted online for the benefit of Insulation Outlook readers.