Gazing into the Crystal Ball
Now that you've read insights from the National Insulation Association's (NIA's) industry leaders, here is a curated collection of forecasts from top industry sources to help you plan for 2020 and beyond.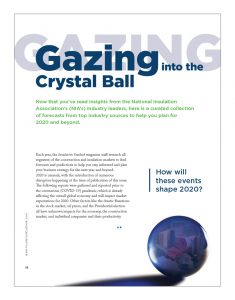 Each year, the Insulation Outlook magazine staff research all segments of the construction and insulation markets to find forecasts and predictions to help you stay informed and plan your business strategy for the next year and beyond. 2020 is unusual, with the introduction of numerous disruptors happening at the time of publication of this issue.
The following reports were gathered and reported prior to the coronavirus (COVID-19) pandemic, which is already affecting the overall global economy and will impact market
expectations for 2020. Other factors like the drastic fluxations in the stock market, oil prices, and the Presidential election all have unknown impacts for the economy, the construction market, and individual companies and their productivity.
How will these events shape 2020?
---
A Look at the Workforce
The Changing Face of Leadership
According to the Pew Research Center, the U.S. labor force is de­clining by about 5,900 Baby Boomers daily on average.1
By Chris Daum
As these Baby Boomer employees exit the workforce, empty seats will increasingly be filled by Millennials and Generation Z workers, both of which bring their own set of values, requirements and capabilities to the leadership table. Today's engineering and construction (E&C) leaders must keep these realities in mind as they prepare their firms for long-term success, under­standing that a significant generational transformation is already underway.
Both the Millennials and Generation Z are giving very clear, global signals around their demands of society, government, and the economy. These values are going to shape the priorities and the environment in which the global construction and infrastructure industry operate. For example, issues like diversity, inclusion, transpar­ency, sustainability, and environmental responsibility will all be fundamental hallmarks of the next generation of leadership's priorities and values.
These values will also show up in other political,social, governmental, and regulatory fronts, all of which significantly impact the built environment. Smart companies realize this and are examining how they attract new talent, how they steward their resources, and how they design and build new structures differently. As the handoff among the Baby Boomers, Generation X, and the 2 younger generations continues to accelerate, this forward thinking will help create an industry that is more adaptable, sustainable, and responsive to change.
Flexibility will only become more critical as we move further into 2020 (and beyond). Put simply, the industry is going to need agile leaders who can play across several different functions and/or at least be com­petent and conversant within those functions. Additionally, attaining this flexibility will require an investment of time and energy into recognizing the needs of the new generation of leadership and then responding with thorough leadership development, nurturing, and training. Absent these initiatives, even today's largest and most influential E&C companies could quickly find themselves falling behind the industry curve.
"Millennials have now surpassed Generation X to become the largest generation in the American workforce. This group's preferences for sustainability, wellness, and business
transparency are expected to be major influences on building design."
Greg Powell
Managing Director
FMI Capital Advisors
Source:
1. Richard Fry. "Baby Boomers are staying in the labor force at rates not seen in generations for people their age." Pew Research Center. July 24, 2019.
Chris Daum is the President and Chief Executive Officer of FMI Corporation (www.fminet.com). Excerpted with permission from "2020 FMI Overview," https://tinyurl.com/uc4jybh. He oversees the management of all FMI businesses and services, and leads the firm's strategic growth efforts. He may be reached at cdaum@fminet.com.
Attracting and Retaining Millennial Talent
By Ashley Luse
The Millennial generation (born between approximately 1977 and 1995 in North America) comprises the largest generation in today's workforce. As highlighted in several recent Insulation Outlook articles, engineering and construction companies continue to feel challenged in recruiting and retaining Millennial workers. We see headlines that stereotype Millennials as entitled, difficult to motivate, and not contributing to the workforce. Is the "entitled Millennial" who wants a promotion after the first week on the job a fair stereotype, or can Millennials indeed be loyal, hard-working, problem-solving employees? As we enter a new decade, will we finally be able to crack the code to figure out this generation?
"Me-llennials" versus "Mega-llennials"
At a recent Global Leadership Summit, faculty member Jason Dorsey, Co-Founder and President of the Center for Generational Kinetics and #1-rated Millennial speaker, identified that the Millennial generation is splitting in 2 (see Figure 1). He coined 2 terms to describe the cohorts. The first, the "Me-llennials," have struggled to gain traction and may feel lost in life. Many are floundering financially. On the other hand, the "Mega-llennials" are ahead of the game, having achieved success by traditional means and setting long-term goals. Mr. Dorsey pointed out that the group most offended by "entitled Millennials" is not Baby Boomers, but other Millennials!
So how can our industry attract and retain these so-called "Mega-llennials," as well as Generation Z high-performers who are now entering the workforce? What would human resource practices designed by Millennials, for Millennials, look like? Like Mr. Dorsey, I propose that a company's success engaging the next generation comes down to how it recruits, develops, and communicates with employees.
Authenticity
Advertising and branding professionals will tell you that Millennials respond to a sense of genuineness and authenticity. This theme is just as relevant when introducing job candidates to an employer brand. For example, during the recruiting process, tell your company's story and articulate your unique culture. The use of visual aids such as video can easily communicate a company's core values and can feature a cross-section of your employees. I suggest you have several rounds of interviews and introduce candidates to as many members of your "work family" as possible. Be upfront and candid with the candidate about your company's culture. For example, we readily admit that we are still on a journey toward creating the culture we seek, and we invite them to be an active participant in our culture.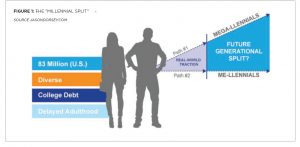 Growth
Unlike loyal Baby Boomers who are often employed by the same company for the duration of their careers, the Millennial generation is often characterized by perceived disloyalty and job switching. But do we have to settle for this narrative? Highly motivated Millennial and Gen Z workers begin seeking outside employment when they no longer feel that they are being challenged in their current role and have tapped out on opportunities for growth. In a recent global survey conducted by PWC, 52% of Millennials identify career progression as the main attraction in an employer. According to PWC, "Millennials are looking for more in life than 'just a job' or a steady climb up the corporate ranks. They want to do something that feels worthwhile, they take into account the values of a company when considering a job, and they are motivated by much more than money."1
During the interview process, and throughout an employee's tenure, what can be helpful to a prospect is to map out his or her career path within your organization. The goal of this exercise is to show the individual that the road does not necessarily end with mastery of one trade and to provide them with a visualization of what they are working toward. Use examples of how current employees have moved on to different roles; more specifically, an example would be to show a case study of a successful Project Manager who has gone on to other leadership roles within the organization, such as managing a division, opening a new office, integrating an acquisition, or incubating a new business concept. Once a new employee is on board, consider providing co-created professional development plans, opportunities to work on strategic and special projects, as well as access to third-party executive coaching.
Trust and Clarity
Harvard Business Review surveyed over 400,000 U.S. workers in 2017 and found that when employees believe promotions are managed clearly, fairly, and transparently, they are more than twice as likely to give extra effort at work and to envision a long-term future with their company.2 I believe this is especially true of Millennials, as well as the incoming Gen Z population, and that the highest performers in these generations have little patience for lack of transparency. This means that it is critical to articulate clearly what strong performance in a job position looks like and what criteria are required for promotions and bonuses. Distribute the performance expectations, required skills, and characteristics with the entry-level Project Managers early on so that they can understand their goals and work to achieve recognition or promotion to a senior-level position.
How to Avoid Hiring a "Me-llennial"
Now that you are convinced of the generational split and have an idea of how to attract and develop Millennial talent, how can you avoid mistakenly hiring a "Me-llennial?"
My first recommendation circles back to communicating with authenticity. Do not oversell the job opportunity and compensation upside. Make sure that the candidate has accurate expectations of the job duties and responsibilities. Most importantly, do not sugar-coat the less glamorous, more administrative parts of the job. Hopefully, this will encourage entitled employees to self-select out of the interview process if they feel that they are above the job.
My second recommendation deals with the interview itself. When it comes to determining cultural fit, I am convinced that there is no better tool than behavioral interview questions—i.e., those that request examples of how a candidate's past behavior matches the values your company is looking for. To avoid canned interview responses, do not just accept the first answer; ask for 2 or 3 examples, and ask follow-up questions. This interview technique is valuable in all settings and with all candidates, not just with Millennials. Also, be sure to consult with your HR expert or legal counsel to make sure you and your staff understand what you can and cannot legally ask in an interview.
Suggested interview questions/discussion points:
Tell me about a mistake that you made in a work environment and what you learned from it.
What is some constructive feedback you received in the past, and what actions are you taking to grow in this area?
What about yourself would you like to improve most? How about a second thing? A third?
Tell me about a time when you had to deal with stress or conflict at work. What did you do?
How do you set goals? Tell me about a time when you set a goal and what you did to
achieve it.
Also, observe these behaviors:
Does the candidate speak negatively of former employers or others? This could be an indicator of toxicity, entitlement, and/or inability to work on teams.
Does the candidate take responsibility for behaviors, results, and outcomes; or do they blame others? Entitled employees will avoid taking ownership of mistakes.
Is the candidate currently unemployed? Take the time to understand why he or she left the last job. Entitled employees would rather be unemployed than have a job they perceive as beneath them.
Conclusion
The only absolute truth about members of any generation is that each is a unique individual. However, successful companies in the mechanical insulation industry, as well as in the greater engineering and design community, have applied careful screening techniques in their interview processes to identify the most skilled, qualified, and motivated candidates. Tailoring those techniques at the front end to resonate with high-potential Millennial and Gen Z candidates, and implementing similarly honed long-term strategies to retain these valued employees, can ensure your company benefits from a workforce that evolves not through turnover, but through continual personnel growth.
Sources:
1. https://www.shrm.org/hr-today/news/hr-magazine/Documents/millennials-at-work.pdf
2. https://hbr.org/2018/01/how-you-promote-people-can-make-or-break-company-culture
Ashley Luse is President of Construction at Luse Holdings, Inc. (www.luse.com), a multifaceted construction, distribution, and safety services provider that has been family-owned and operated since 1923. Luse's Midwest-based mechanical insulation contracting business, Luse Thermal Technologies, LLC, is a NIA member union contractor. Ms. Luse holds a B.A. from Calvin University and an M.B.A. from Northwestern University's Kellogg School of Management. She can be reached at aluse@luse.com.
---
Technology
Five Manufacturing Trends to Watch in 2020
Both the immediate and long-term future of the manufacturing industry will be defined by the development of several ever-evolving and cutting-edge trends and technologies, according to the Association of Equipment Manufacturers. Many of these trends and technologies are poised to have a significant impact in 2020 and beyond, so it is critically important for manufacturers to develop a keen understanding of what they are, how they will grow over time, and how they will impact those within the industry—both this year and in the future.
Wearable Technology: The rise of the Internet of Things (IoT) in industrial applications has given way to the increased prevalence of wearable technology in the manufacturing industry. Manufacturers of all types and sizes are increasingly looking into and investing in wearable devices with different sensors that can be used by their workforce. Employers are now readily capable of collecting valuable information, tracking activities, and providing customized experiences depending on needs and desires. Plus, improvements in bio-sensing now allow for health parameters such as body temperature, heart rate, and blood oxygen levels to be monitored.Factors leading to the increased adoption of wearable technology include portability, convenience, operational efficiency, and much more. The business world has taken notice, and wearable technology is quickly becoming
a fixture in manufacturing.
Predictive Maintenance: Effective equipment maintenance is central to the success of any manufacturer, so it goes without saying that the ability to predict impending failures and mitigate downtime is incredibly valuable. Predictive maintenance offers that and much more. Ultimately, it gives manufacturers the means to optimize maintenance tasks in real time, extending the life of their machinery and avoiding disruption to their operations.Predictive maintenance for Industry 4.0 is a method of preventing asset failure by analyzing production data to identify patterns and predict issues before they happen. It is absolutely critical for organizations to possess knowledge about each specific machine and a strong data set of previous failures they can review. Manufacturers also have to make decisions around lead time, as the closer to failure the machine is allowed to go, the more accurate the prediction.
Fifth-generation (5G)/Smart Manufacturing: Smart factories are becoming the norm in manufacturing, and they rely on connected devices to leverage technologies like automation, artificial intelligence (AI), IoT, and more. In addition, these devices are capable of sensing their environments and interacting with one another.The factories of tomorrow will rely greatly on sensor technology, and they will prominently feature connected tools, utilizing data to guide the tasks of the workforce. According to AT&T, 5G's high capacity, wireless flexibility, and low-latency performance make it the perfect choice to support manufacturers in these efforts.
Virtual Reality (VR) and Augmented Reality (AR): When it comes to using AR
and VR in manufacturing, the possibilities are endless. Whether it is helping make processes more efficient, improving product design and development, or maintaining machinery more effectively, these technologies are capable of becoming game-changers in the coming years.According to an article from PWC, manufacturers are becoming more adept at finding ways to incorporate these technologies within their organizations in an effort to drive a future defined by digital connectivity, and 1 in 3 manufacturers have adopted or will adopt VR and AR in the next 3 years.
Cybersecurity: The importance of cybersecurity in manufacturing cannot be overstated. More and more connected devices are being integrated into organizational processes each day, so it almost goes without saying that the manufacturing industry needs to develop a keen understanding of how to best deal with them.Cybersecurity is and will remain a major concern for companies of all types and sizes. With malware attacks on the rise and many organizations negatively affected by the increased prevalence of ransomware, companies cannot afford to overlook cybersecurity as a top priority in 2020 and beyond.
For more information, visit www.aem.org/think. Reprinted with permission from the March 2020 issue of BIC Magazine.
High Degree of Building Information Modeling (BIM) Use by Mechanical Contractors Leads to Multiple Benefits
New study shows that most mechanical contractors that use BIM experience benefits such as improved cost and schedule performance, lower labor costs, and greater productivity.
A new study of mechanical and HVAC contractors using BIM reveals the degree to which these contractors are engaged with BIM, the benefits that they experience from its use, and the challenges they face in expanding the use of BIM. The Business Value of BIM for Mechanical and HVAC Construction SmartMarket Report, released by Dodge Data & Analytics in partnership with the Mechanical Contractors Association of America (MCAA) and Pinnacle Infotech, and with the support of Autodesk, the Air Conditioning & Mechanical Contractors' Association, and Innovative Construction Technology, demonstrates that mechanical contractors are sophisticated users of BIM software who have seen the benefits from that use. However, the study also demonstrates that the ability of these contractors to fully leverage the value of modeling technologies is hampered by training and manpower issues, along with the challenge of getting other project stakeholders equally engaged in BIM.
"Virtual construction has come a long way in a very short time," says Scott Pittman, Vice President of Pinnacle Infotech. "The days of the chalk line and paper documents are decreasing and we are seeing more laser scanners and layout tools to help with modular construction and premanufactured assemblies."
One of the biggest benefits reported by contractors is the ability of BIM to improve the fabrication process. Many mechanical contractors are frequent users of off-site fabrication for their systems, and the study shows that nearly half use BIM on 50% or more of the assemblies they prefabricate, demonstrating that BIM is an essential tool for this process. Benefits from using BIM to aid prefabrication are widely reported, with over 80% of mechanical contractors who use it to prefabricate reporting that they see improvements in the amount of material waste generated, labor costs, quality of installed work, avoiding the purchase of extra pipes and fittings. and schedule performance.
Other top benefits reported by contractors using BIM in general are increased labor productivity, increased profitability, better utilization of resources, and improved cost performance.
"BIM is an increasingly important and incredibly complex part of the building process," says Sean McGuire, Director, Innovative Technologies, at MCAA. "It requires additional coordination, planning, and design expertise, and MCAA members are embracing the tools and technology to rise to the challenge. This new process is still in its infancy, and mechanical contractors—especially those that are already using BIM—have a lot to learn from this report."
By using BIM, mechanical contractors have also been able to leverage the technology to conduct more analysis on their projects.
Over 70% report that they use BIM for shop drawings and spatial coordination on half or more of their projects.
Nearly 2/3 (61%) report using BIM for constructability evaluation on more than half of their projects.
"Use of BIM for spatial coordination and constructability evaluation provides these contractors with a clear advantage," says Steve Jones, Senior Director of Industry Insights at Dodge Data & Analytics. "They can address issues before construction begins, which saves both time and money, and can even help improve safety by avoiding rework."
However, there are still challenges that prevent these contractors from fully leveraging the use of BIM. The biggest challenges include training needs for employees and lack of available manpower to create BIM models. In addition, these contractors struggle with full engagement with BIM across the project team, with lack of support for BIM from other important trades, the issue of other stakeholders on their projects not using BIM, and poor-quality BIM use by other stakeholders also presenting significant challenges. Addressing these issues will allow even more contractors to more fully experience the benefits of using BIM collaboratively on their projects.
To learn more, The Business Value of BIM for Mechanical and HVAC Construction SmartMarket Report is available for free download at: www.construction.com/toolkit/reports.
---
Construction Forecasts
American Institute of Architects' Consensus  Construction Forecast
Construction market showed disappointing performance last year, but growth is expected to continue into this year and next.
By Kermit Baker
Construction spending last year was surprisingly weak, with current estimates suggesting that the industry eked out only a very modest increase. This year and next look to be more of the same. AIA's Consensus Construction forecast panel is projecting just a 1.5% increase in spending on nonresidential buildings this year, and less than a 1% increase in 2021, according to recently released results. Once inflation in building materials and construction labor are factored in, this suggests a modest decline in actual construction activity. However, given that the current and upcoming period is expected to be the low point for this extended construction cycle, such a result would produce an extremely mild construction trough by historical standards.
As recently as last summer, construction forecasters were projecting growth of almost 4% in construction spending for nonresidential structures for 2019, with the economy humming along at a solid growth pace and producing healthy gains in business payrolls.
However, beginning in the second quarter, business investment began to decline, and the second half of the year saw the nonresidential construction market slow significantly.
A few building sectors were responsible for much of this unexpected weakness. On the commercial side, the retail and other commercial facilities market was expected to be an underperformer in 2019, but not to see the double-digit percentage decline that is currently estimated. On the institutional side, the huge education construction market was projected to see its long-anticipated acceleration in construction activity. Instead, there was almost no improvement in spending levels for these facilities last year. While these sectors dramatically underperformed compared to expectations, there were a few that outperformed expectations, or at least generated the expected increases. Office and hotel construction activity continued to see solid gains, and the modest growth in health-care construction effectively matched projections.
Economic Outlook Beginning to Look Less Volatile
Though the broader economy is expected to see slower growth this year, the number of potential trouble spots seems to be diminishing. Overall growth in gross domestic product is estimated to have approached 2.5% last year and is expected to drop closer to 2% this year. Still, the prospects for a national economic recession in 2020 or 2021 have significantly diminished, as many of the downside risks have eased. The list of upside factors also has lengthened, to include:
Favorable interest rates—Generally, late in a business cycle, the economy begins to overheat, pushing up inflation and interest rates. This time, inflation remains tame, and long-term rates in particular have been edging down for more than a year. With recent cuts in short-term rates by the Federal Reserve, we now have a more normal yield curve for interest rates, not the inverted yield curve of last summer that was signaling a recession.
Strengthening housing market—Lower interest rates have had a particularly positive effect on the housing market. Housing starts trended up throughout 2019, ending the year with the highest monthly figure since late 2006. While the December housing starts figure is not likely to be duplicated anytime soon, the general upward drift looks to continue into this year. Of particular significance are the recent positive trends in the production of affordable homes, a segment that has underperformed so far during this cycle.
Employment trends—The job markets continue to remain strong. About 2.1 million net new payroll positions were added last year, below the almost 2.5 million added in 2018 but still an extremely strong performance for this late in the business cycle. The national unemployment rate remains low, ending the year at 3.5%. All this points to a solid foundation for consumers, so it is no surprise that consumer sentiment scores remain healthy.
Trade agreements—Tariffs and trade have been one of the biggest concerns for the economic outlook in recent months, however, even this situation has seen improvement. The recently passed United States-Mexico-Canada trade agreement has been widely applauded, while the agreement on an initial trade deal with China lowers the temperature for the time being.
Still, there remain several downside risks to the economic outlook.
Weakening manufacturing sector—Topping the list of concerns is that manufacturing production has been gently easing over the past year. The Purchasing Managers Index for manufacturing companies has been below the significant 50 level—indicating a monthly decline—for 5 straight months, suggesting that this sector will continue to trend down. Trade and tariff uncertainty have contributed to this manufacturing weakness, so there may be an easing to the slowdown in coming months.
Declining business investment levels—Many U.S. businesses have seen increased global competition limit their ability to generate pricing power. However, a tight labor market has forced employers to raise wages, putting pressure on their ability to generate profits. Even though stock prices have remained near record levels, domestic corporate profits have been flat at best over the past year, suggesting that international operations may be generating a disproportionate share of overall corporate profits.
International tensions—International unease continues, from the nuclear threat in North Korea to tensions boiling over in the Middle East, protests in Hong Kong, and discord in Great Britain over Brexit. While most of these concerns are just simmering at present, any one has the potential to boil over into something more serious.
Election year politics—Conventional wisdom has it that presidential election years are generally good years for the economy. Deficit spending is often used as a strategy to prime the economy. However, the growing federal government debt limits options on this front. Furthermore, intensely partisan politics make it unlikely that any bipartisan fiscal program—such as an infrastructure investment program—will emerge anytime soon. And finally, the Federal Reserve has limited ability to lower short-term interest rates to help boost the economy should a lift be needed, given how low they are already.
Design Trends Point to Modest Gains in the Construction Outlook
Revenue trends at architecture firms underscore the recent overall weakness in the economy's construction sector. The AIA's Architecture Billings Index bounced between positive and negative monthly readings for most of the year, with 4 negative monthly numbers, producing the worst year for revenue growth at architecture firms since 2012. However, the fourth quarter (Q4) was the strongest of the year, suggesting reasonably healthy conditions for the design professions heading into 2020. Project backlogs at firms eased somewhat as the year progressed, averaging 6.5 months through the first half of the year before falling to 6.2 months in Q3, and partially recovering to 6.3 months in Q4.
Regionally, weak business conditions have been confined to architecture firms in the Northeast, as firms in the other 3 major U.S. Census regions on average reported billings growth each month during Q4. Firms specializing in the multifamily residential and the commercial/industrial sectors saw healthy upturns in business conditions during the fourth quarter of last year, while institutional firms saw only modest gains over this period.
In spite of the ongoing volatility in billings at U.S. architecture firms, new design work continued to expand through most of last year. Architecture firms indicated that new project activity declined in only 2 months in 2019. As with billings, Q4 saw the strongest growth in new work coming to firms. This end-of-year strength in new-project activity suggests that architecture firm billings should continue to grow moving into 2020.
Outlook Cautious, But Reasonably Optimistic
With the fear of a construction downturn looming, the disappointing levels of construction activity during the second half of last year might be interpreted as the construction sector heading into an earlier and deeper recession than expected. However, recently there have been several positive trends. The overall economy has stabilized, and most forecasters have lowered their odds of a national economic recession beginning over the coming 2 years. Fear of escalating tariffs and an emerging trade war with China have been reduced recently. The residential markets, a traditional leading indicator of nonresidential building activity, have seen some unexpected strength recently. Finally, design activity at architecture firms, historically an accurate leading indicator of future construction activity, showed unexpected weakness earlier in 2019. However, design billings improved during Q4, and new projects in architecture firms saw strong growth toward the end of the year. So, while 2020 and 2021 are expected to see only modest gains in construction spending nationally, the prospects of a more significant downturn over this period have dimmed recently.
Kermit Baker, Hon. AIA, is AIA's Chief Economist and part of the AIA Economics and Market Research Group, which provides AIA members with insights and analysis of the economic factors that shape the business of architecture. This article is reprinted with permission from AIA, January 27, 2020, www.aia.org.
Navigating a Maturing Cycle in Uncertain Times
As we head into 2020, we find ourselves at the top of an extended economic cycle, confronted with polarizing geopolitical tensions and increasing uncertainty. Add to that another seismic event—the U.S. election in November—and we have a recipe for an interesting year ahead.
By Chris Daum
Having benefited from an unprecedented period of economic expansion and sweeping economic prosperity, the U.S.-built environment (along with the companies operating within it) has experienced a long run rate. With the domestic economy beginning to send mixed messages and indicating decelerating growth—and with the global economy flashing red through 2019 in certain pockets (e.g., China and the Eurozone)—in what direction things will turn remains to be seen.

The high levels of domestic and international uncertainty are also playing out in the built environment: In 2020, FMI Corporation (FMI) predicts only a small increase (1%) in engineering and construction (E&C) spending levels over 2019.
Through 2019, year-end actuals are anticipated to remain flat or slightly down, at 0% overall growth, with leading growth segments expected to include a mix of public infrastructure (e.g., power, highway and street, sewage and waste disposal, water supply, and conservation and development), alongside a small number of mixed public and private nonresidential building segments (e.g., public safety, transportation, lodging, and office), all with growth rates of 5% or higher. Additionally, as shown in Figure 1, construction spending is concentrated in fewer markets.
However, we saw a softening across all residential segments of the industry through 2019 year-end, and we expect further declines through 2020 in multifamily residential, residential improvements, commercial, religious, amusement and recreation, and manufacturing sectors.
Still, it is encouraging that the latest Nonresidential Construction Index (NRCI) feedback suggests increased optimism heading into the first quarter (Q1) of 2020, at 53.9. This index score is up considerably from a neutral reading of 50.4 last quarter and is the highest score reported since Q4 2018.
No matter how you dissect the situation, it is impossible to predict how these market and geopolitical dynamics will impact the built environment in the near- and midterm. Therefore, E&C leaders need to ask themselves: How do I create a coherent and flexible strategy that allows my company to take advantage of the strong operating environment we are in today (in terms of backlog and available work) while also keeping a firm eye on the horizon? This is critical, because any external factors could have a swift impact on today's operating environment.
The Strategy Imperative
Planning for the future can seem overwhelming in today's volatile, uncertain, complex, and ambiguous world, particularly since many firms have been lulled into complacency after operating in a strong market for more than a decade.
Many E&C executives do not realize that their markets have shifted dramatically over the past few years, influenced by ever-increasing urbanization that has led to more complex and concentrated building activities. In fact, according to FMI's latest research, annual nonresidential megaproject construction put in place is expected to increase more than 400% over the next 5 years, growing from $47 billion to just over $247 billion.
Given this backdrop, it is time to take a step back and a deep look both within and outside of your organization. The U.S. economy has ebbed and flowed so many times over the last few decades that we now have historical information, data, strategies, and insights needed to make smart decisions before, during, and after a downturn.
Here at FMI, we like to point out the 4 pillars of good strategy that all E&C firms should consider at this time of the market cycle. They are:
Pillar #1: Focus. At any economic stage, companies should be able to answer the critical "where to play" and "how to win" questions by identifying the right combination of markets, segments, and delivery methods to outperform industry peers. This is about more than picking the right strategies and hoping they work. It also involves understanding what drives value across different markets and segments. From there, you can determine how to deliver and compete on value. Focus on what you do best and stay true to yourself.
Pillar #2: Choice. Even in challenging economic times, companies that make conscientious decisions about whom to work with (and why) fare best. Clearly frame your company's choices around future direction, knowing that good strategy depends just as much on deciding what not to do as it does on what to do. For best results, focus on reconciling the tyranny of the urgent (i.e., today's fire drill) with the truly important (e.g., initiatives to create tomorrow's future). Remember: One poor decision in today's strong market can be devastating in a downturn.
Pillar #3: Systems. Even if your project backlog is overflowing and your finances are healthy, it is time to prepare for the next downturn. Look closely at how governance, corporate structure, rewards and incentives, and leadership accountability mechanisms (to name a few) align with your firm's overall strategy. Without this alignment, decisions often can lead to tension within 1 or more of these systems. For example, if management wants to explore new geographic markets, but governance is not on board with the idea, the initiative may create friction among those stakeholders. To avoid such issues, evaluate the business for alignment between systems and strategy.
Pillar #4: Impact. Strategy must be impactful for the organization as a whole, and it must have a positive impact on the company's bottom line. Your strategy is not what you say it is; it is a sum product of the day-to-day actions, decisions, and behaviors of your people. That means every employee must be able to articulate the strategy, understand his or her role in it, and clearly understand how it impacts organizational success. Without these valued stakeholders on board, strategy quickly falls by the wayside as employees go back to doing things the way they always have.
No one can predict the future. By placing energy into the factors that you can control and taking the right actions, your firm will be able to successfully navigate whatever comes its way.
U.S. Engineering and Construction Outlook— Key Takeaways
Total E&C spending for the United States is forecast to end 2019 flat, with 0% growth compared to 2018.
Looking ahead to 2020, FMI forecasts a 1% increase in E&C spending levels over 2019.
Primary growth segments in 2019 are expected to include a majority of the public infrastructure segments (including power, highway and street, sewage and waste disposal, water supply, and conservation and development), alongside a small number of mixed public and private nonresidential building segments (public safety, transportation, lodging, and office), all with growth rates of 5% or higher (see Figure 2).
Most other nonresidential building segments (health care, education, amusement and recreation, communication, and manufacturing) are expected to end the year with growth roughly in line with the rate of inflation and therefore be considered stable.
All residential segments (single-family, multifamily, and improvements), along with commercial and religious, are expected to end 2019 in decline. Multifamily residential, residential improvements, commercial, religious, amusement and recreation, and manufacturing are anticipated to experience declines in 2020.
The latest NRCI feedback suggests increased optimism heading into Q1 2020, at 53.9. The score is up considerably from a neutral reading of 50.4 last quarter and is the highest score since Q4 2018.
"In his book Lords of Strategy, Walter Kiechel says, 'It's easy to conflate strategy with strategic planning, but it's also dangerous.' We would agree. Our experience is that many firms have a strategic plan, but far fewer have a clear strategy. With almost half of all construction spending to occur in just 20 metropolitan markets AND megaprojects projected to explode from less than 2% 5 years ago to 20% of total construction volume over the next 3 to 5 years, it's clear the cheese has moved…and having a clear strategy has never been more critical."
Scott Winstead
President,
FMI Consulting
Chris Daum is the President and CEO of FMI Corporation (www.fminet.com). Chris oversees the management of all FMI businesses and services, and he leads the firm's strategic growth efforts. He may be reached at cdaum@fminet.com. This article is excerpted with
permission from "2020 FMI Overview" https://tinyurl.com/uc4jybh.
2020 Construction Outlook
Strong Demand for Work and Stronger Demand for Workers
By Debra Wood
Construction firms expect continued high demand for projects while remaining concerned about their ability to find and keep qualified workers, according to a new survey, "Strong Demand for Work Amid Stronger Demand for Workers: The 2020 Construction Hiring and Business Outlook Report."
"Contractors are very optimistic about the demand for construction in 2020, and as a result, three-quarters of them plan to expand their head count," said Stephen E. Sandherr, Chief Executive Officer of Associated General Contractors of America (AGC) of America, during a press conference. At the same time, "many construction executives remain troubled by labor shortages and the impact those shortages are having on operations, training and safety programs, and bottom lines."
AGC and Sage Construction and Real Estate conducted the survey in November and December of 2019. A broad cross-section of 956 firms from 48 states participated.
An Expanding Market
Although the overall economy may be headed for a slowdown, contractors remain bullish.
"The percentage of respondents who expect a market segment to expand exceeds the percentage who expect it to contract for all 13 categories included in the survey," said Ken Simonson, the association's Chief Economist. "For most of these segments, respondents were more upbeat about market prospects than in last year's survey."
Mike Tuohy, Senior Vice President—Operations with McCarthy Building Companies in Newport Beach, California, a member of multiple AGC chapters, reported continued growth in all markets it serves across the country in 2020 and beyond. The markets include airports, stadiums, health care, and higher education.
"Revenue growth in 2020 is mostly fueled by sales in 2018 and 2019," Tuohy said. "Our backlog extends 2 to 4 years."
Contractors responding to the survey were most optimistic about water and sewer construction, followed by K through 12 schools, hospital, bridge/highway, and other transportation—such as transit, rail, port, and airport—construction. Although still anticipating growth in private office construction projects, that segment had the smallest net-positive reading.
"We anticipate a slight increase in our projects for the upcoming season," said Jim O'Brien, founder of Bothar Construction, a highway contractor in Binghamton, New York, and a member of AGC of New York State.
The findings are mostly similar by region, with a few exceptions. In the Northeast, contractors had a net-negative outlook for 7 of the 13 project categories, including K through 12 schools, public buildings, water and sewer, bridge and highway, retail and lodging, multifamily residential, and private office.
Southern construction firms were the most upbeat, especially about water and sewer projects. Contractors in the West and Midwest were slightly less optimistic than firms in other areas.
Hiring Expectations
75% of responding firms said they plan to increase head count in 2020; and half said the new hiring will expand the size of their firm by 10% or fewer. 19% plan to increase their head count by 11% to 25%, the same percentage as those who do not anticipate a change. Only 5% of the firms expected to decrease head count.
Larger companies are more bullish about expansion, with 30% of firms with more than $500 million in revenue planning to increase head count this year by more than 10%.
Most construction firms have raised pay and added benefits and bonuses to address labor shortages. Companies also are investing in training programs and revamping initiatives to recruit new employees.
"McCarthy is focusing on hiring and training staff," Tuohy said. "We are looking for skilled workers, trades, and salaried employees."
Looming Labor Shortages
Contractors' greatest concerns were worker shortages and worker quality: 81% of responding firms reported having a hard time filling salaried and hourly craft positions, 43% expect a continued struggle to hire, and 22% think it will become even more difficult; and 75% cited worker quality as the biggest concern, followed by worker shortages at 72%.
Labor shortages "often lead to projects taking longer and costing more in the process," said Dustin Anderson with Sage Construction in Arizona. "At the same time, projects are becoming more complex. As less experienced workers take on increasingly more complex projects, it increases the firm's risk."
Participating firms reported significant changes to operations due to the labor shortages, including pricing projects. 44% indicated staffing challenges drove costs higher than anticipated; therefore, 41% priced new bids higher.
40% reported projects are taking longer than expected, and 23% have added longer completion times into bids. Firms also are reducing waste through lean construction methods, and improving efficiencies with offsite fabrication.
O'Brien said Bothar Construction is using lean methods, and the company has experienced labor shortages affecting schedules.
"The workforce shortage is our biggest challenge," O'Brien added.
Investing in Technology
"Many firms clearly see technology as a key answer to coping with labor shortages and becoming more efficient," Simonson said.
The outlook found 48% of contractors have a formal information technology (IT) plan supporting their objectives, and 10% are planning to create such a plan in 2020. Contractors also are spending more on IT, with 42% reporting spending 1% or more of their revenue on IT; and 46% of firms expect to increase their IT investment in 2020.
"The technology areas with the largest planned increased investment are project management software, document management software, fleet tracking/management software, and estimating software," Anderson said.
Additionally, 84% of responding firms outsource IT or a business function, including 45% outsourcing backup and disaster recovery, and 36% outsourcing phone service over the Internet.
Firms report investing in technology, such as drones, robots, laser-guided equipment, and 3D printers, to improve efficiencies and production.
"Technology can be strategically applied to increase productivity of current staff," Anderson added.
Nearly half of the respondents reported using project collaboration software. Anderson said he expects "the adoption of cloud-based collaborative tools to increase as greater collaboration among teams helps reduce errors and improve efficiencies."
Building information modeling (BIM) offers another way to collaborate. 18% of firms expected more projects will use BIM in 2020, and 39% expect it to remain about the same.
Contractors also are embracing more cloud-hosted technologies, including for project management, accounting, and field operations. For instance, 68% of responding companies said they plan to use mobile software for daily field reports; 61% for employee time tracking and approval; and 55% to access job and customer information, and to share photos, drawings, or other documents.
Despite all the time- and cost-saving opportunities technology offers, firms report several IT challenges. For example, 43% of contractors report having difficulty finding time for implementation and training on new technology, 38% indicate employee resistance, 36% worry about field and office communication, and 35% indicate a lack of connectivity as an issue.
Contractors responding to the survey were most optimistic about water and sewer construction, followed by K through 12 schools, hospital, bridge/highway, and other transportation, such as transit, rail, port, and airport construction.
Concerning Federal Programs
Construction executives surveyed expect current pro-growth federal policies to mitigate a slowing global economy, with the Republican tax cuts and regulatory reform offsetting immigration policies, Sandherr said.
Sandherr encouraged Congress to pass the Jumpstart Our Business Startups Act (also known as the JOBS Act); double funding for career and technical education; reform immigration policies to enable more people to enter the country legally; and invest in infrastructure, including waterways, ports, highways, transit systems, and airports. He thought the infrastructure bills have the best chance of passage, since a general understanding exists that these are issues that need to be addressed, and both parties will be able to take credit for funded projects.
"There is bipartisan support," Sandherr said. However, "no one wants their fingerprints on a tax increase."
Additionally, some support for technical educational training exists. But immigration continues to be a topic of contention. A strong economy will support construction.
"A thriving, successful and diverse construction industry is the essential foundation for America's continued economic prosperity, security and well-being," Sandherr said.
Debra Wood is a Writer and Registered Nurse living in Orlando, Florida. She has received the International Nursing Honor Society Sigma Theta Tau's media award for excellence in journalism, as well as Writer's Association honors for her creative work. This article was reprinted with permission from Constructor, March/April 2020, a publication of the Associated General Contractors of America.
Industrial Insulation Forecast to Grow More Than 3% Annually through 2030
By Freedonia Group
Through 2023, demand for industrial and OEM insulation is expected to grow 3.1% per annum, to 5.6 million metric tons.
Foamed plastic is expected to be the fastest-growing major insulation material through 2023, supported by:
Continued growth in refrigerator and freezer production,
Consumer preferences for quieter vehicles and appliances, and
Increasing commercial HVAC equipment production.
Mineral wool will retain its second-leading position in the industrial and OEM insulation market through 2023, supported by:
Growth in industrial machinery and pipe production;
Increasingly stringent worker safety and noise pollution regulations in developed countries; and
Growth in power generation, chemical manufacturing, and petroleum refining activity.
Demand for both thermal and acoustic insulation is projected to rise through 2023, driven by:
Growth in appliance shipments, supporting thermal insulation demand in refrigerators and freezers;
Consumer demand for quieter appliances and automobiles; and
Increasingly stringent noise pollution and worker safety laws.
Rising oil and gas and petroleum refining activity will support demand for thermal insulation going forward.
The Freedonia Group, a division of MarketResearch.com, is an international industrial research company, which publishes more than 100 studies annually. Global Industrial & OEM Insulation (published February 2020) is available for purchase at https://tinyurl.com/wo9heo6. For further details, please contact Corinne Gangloff by phone 440-684-9600, fax 440-646-0484, or e-mail pr@freedoniagroup.com. Information may also be obtained through www.freedoniagroup.com.
---
Distributors
The State of the Wholesale Supply Chain Industry in 2020
By Blue Ridge Solutions
Executive Summary
The wholesale supply chain industry continues to look for ways to solve challenges around predicting shifting consumer preferences, volatility with suppliers, long lead times, and e-commerce growth that is increasing price transparency. Despite these obstacles, the industry collectively posted year-over-year sales growth of 8% in 2019, similar to the prior year.
This increased revenue has not brought corresponding margin growth. Why? Organizations struggle with managing disruptions from economic trends, cost pressure, new competition, and not having the right systems and processes in place to manage uncertainty.
The industry is still holding more inventory than necessary in response to shifting customer demands and economic trends, with more than 70% of wholesalers keeping more than 1 month of inventory on hand. This strategy holds even if businesses are worried about issues such as tying up working capital in inventory, expanding assortments to address customer needs, and maintaining market differentiation, ensuring high service levels to support customer retention and other financial effects of inventory investments.
Many companies do not meet their business goals because they have a difficult time planning and managing slow-selling, low-demand, obsolete, and seasonal items. The industry also struggles with pricing in an environment where costs are increasing, tariffs are unpredictable, and companies have scant ability to pass those increases on to the end consumers.
For the third straight year, Blue Ridge Solutions asked wholesale supply industry leaders about their challenges, how they are thinking about solving them, and how they are dealing with the pace of technological change. The survey of 155 Blue Ridge customers and National Association of Wholesale-Distributors NAW SmartBrief readers touched on many of the same topics as previous years, as well as a few new ones, to capture the changing industry landscape.
Key Findings for 2020
Wholesale distributors continue to struggle with inventory planning and understanding how to optimize what they hold to meet shifting consumer demands. How to best manage products on hand continues to be complicated by trends in the economy, such as rising transportation costs, supplier and labor constraints, tariffs, and inflation.
No matter what the challenge or cause for concern, the typical response is to hold more inventory and then discount the excess, which can hinder companies from achieving their business goals. In particular, seasonal items and those that are slow, low-moving, or obsolete continue to be significant roadblocks for the majority of distributors.
Advanced supply chain analytics and technologies, such as artificial intelligence and machine learning, are gaining traction. The 2020 survey revealed an increase in companies using these tools as well as those interested in implementing them for forecasting and supply chain planning.
Volatility in economic conditions and customer demand makes using tools, such as price optimization, scenario evaluation, and forecast reconciliation, a critical way for distributors to gain an advantage over the competition.
Survey Details
Wholesale distributors continue to hold more inventory to try and meet consumer demands, especially as e-commerce rapidly changes what and how people are buying. These companies struggle to find the right tools to manage these challenges and meet business goals.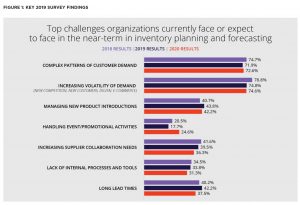 The top 3 challenges cited in the 2020 survey were similar to those of 2019, with slight variation:
Increasing volatility of demand from new customers and competition, including e-commerce (74.63%).
Complex patterns of consumer demand (72.58%).
Managing new product introductions (42.19%).
See Figure 1 for more details.
While these responses have been similar over the past 3 years, companies now consider it more challenging to introduce new products than to manage long lead times, which fell to the fourth spot on the list.
Blue Ridge provides supply chain planning and price optimization solutions that empower distributors and retailers to tap into undiscovered margin through enterprise-wide inventory intelligence, automation, and synchronization. Blue Ridge combines demand forecasting, supply planning, and supply chain analytics with robust pricing tools so that businesses can proactively understand the unpredictable and allocate the right inventory to accelerate top- and bottom-line results. Learn more at www.BlueRidgeGlobal.com. © 2020 Blue Ridge Solutions. All rights reserved.
---
Engineers
2020 Engineering and Construction (E&C) Industry Outlook
By Michelle Meisels
Growth Prospects for E&C Firms Remain Upbeat
The E&C industry has had a robust year, and E&C firms have been positioned as active participants in building a smart, connected future. Overall market growth is expected to continue through 2019 as construction spending follows the gross domestic product growth rate. While firm revenues are steadily rising, their bottom lines are still under considerable pressure. Among the challenges the industry faces are sustained cost pressures, ongoing labor shortages that affect productivity, and trends toward fixed-bid projects that often demand a level of pricing and operations precision that is difficult to obtain with traditional systems. While the industry still trails broader digital maturity,1 the continued adoption of digital technologies could alleviate some of these issues. It can also present additional hurdles in terms of successful implementations and upskilling the workforce to absorb the technologies.
Despite these challenges, E&C firms are poised to potentially benefit from several significant opportunities in the industry: the U.S. transportation and infrastructure upgrade initiative and the rise of smart-city mega-projects, to name 2. To remain competitive, industry leaders likely will continue to define a new vision and map a comprehensive digital blueprint to realign their business and operational processes to reflect the opportunities that innovation and technology provide. And a persistent theme throughout all of this is the value of partnerships within and across the ecosystems in which these firms coexist.
Market Disruptions
Intensifying Cost Pressures Are Driving E&C Companies to Plan, Manage, and Execute Projects Better
Most E&C firms continue to experience low profitability and margins.2 Globally, earnings before interest and tax from construction activities is, on average, just 5.5% of sales.3 The industry's traditionally low margins, combined with increasing project complexity, fierce competition from Asian companies, and supply chain constraints, will likely continue to put extra pressure on U.S. companies' profitability in 2020. Construction and input costs for key building materials such as steel are rising, largely driven by limited supply and tariff uncertainties.4 The third-quarter 2019 Turner Building Cost Index, which measures costs in the nonresidential building construction market in the United States, has increased to a value of 1162, the highest ever in its 13-year history.5 Talent shortages are another persistent challenge. Bureau of Labor Statistics data suggest that since 2014, while the number of job openings has almost doubled, the number of new hires has only increased by 14%.6 All these constraints make it important for contractors to be proactive in managing processes and operations that contribute to margins and profitability, adding efficiencies and optimization where possible. One way to achieve this could be through partnerships that enable a firm to expand its capabilities or tap into efficiencies of scale, especially as related to leveraging the geographic strengths of partners.
Among the trends to watch in 2020 that can affect the current profitability and margin challenges facing many E&C firms is the move toward modularization and prefabrication of components. The rise of module assembly yards—strategically located sites for fabrication and assembling building elements that can then be transferred to a building site for rapid assembly—borrows some of the cost-efficient practices of manufacturing for the construction industry. Modularization has potential to significantly affect productivity and margins for E&C firms. In the year ahead, E&C firms could consider evaluating the potential for adding a module assembly yard to production. They can explore the potential cost savings that pre-assembly and modularization could bring to projects. Modularization and prefabrication not only can save on labor costs but may also ensure better quality and shorten the project schedule with less labor required on site. This can avoid rework and help improve safety as well.
Another trend that could affect the bottom line is the rise of smart project management, adopting many of the emerging digital technologies. Digital technology and real-time data enable schedulers to make better informed decisions around scheduling labor and materials for a particular project. Project monitoring is moving beyond documenting cost overruns and construction delays to include more real-time and forward-looking insights. These new technologies can eliminate the need for manual data entry and provide the data required to assess project status and identify trends and areas that should be addressed. Digitally optimized operations can provide actionable data that can put projects back on track quickly. Having state-of-the-art cost budgeting and scheduling tools and technologies is becoming a competitive advantage. Look for some of the industry's merger and acquisition activity in 2020, and even the launch of venture funds, to potentially add these productivity-enhancing digital capabilities.
Digital Landscape
Digital Technologies Are Changing the Way Many E&C Companies Operate
Technology is having an unprecedented impact on the E&C industry. From robots to connected job sites, 2019 saw an incredible array of digital technologies transform how many E&C firms operate. Looking ahead to 2020, these inherently disruptive technologies have the potential to provide the efficiency, productivity, and safety breakthroughs the industry has sought for decades. The following examples highlight some of the digital technology trends that seem to be shaping the future of E&C.
Robots are beginning to enter construction in several areas. From autonomous rovers that can increase the efficiency and quality of site inspections to mechanical arms that can automate highly repetitive tasks like bricklaying, the robotic revolution looks set to gather significant pace in the coming year.
Automation of construction sites, particularly concerning highly repetitive tasks, could significantly improve productivity while creating a safer work environment and helping to address the industry's shortfall in labor. Drones are also set to become increasingly common in construction projects. From performing inspections that would be dangerous for workers to surveying vast areas of land in just a few minutes, the continued use of drones could considerably improve safety and productivity in construction.
The rise of artificial intelligence (AI) is also making its mark on construction. On the engineering side, digital capabilities surrounding predictive design, digital building twins, and the use of augmented and virtual reality during the project planning stage can eliminate costs and speed the development timeline for major projects. On the construction side, many connected job sites are using cloud technology to make information about almost every aspect of a project available to all the relevant parties anywhere in the world. The connectedness that digital technologies enable can also enhance ecosystem relationships, as firms can more easily collaborate and work together on projects. These alliances can drive the future of connected construction, creating systems that link physical and digital assets beyond individual construction sites. Many contractors and builders are adopting these technologies to help them build more efficiently, but they are also driven by the needs of the owner, who can more easily operate the facility with the use of tools like digital twins and other readily available data about the asset.
Digital technologies bring with them some important impacts to E&C work: who does it, how it is done, and even where it is done. Geolocation, remote site monitoring, personnel location tracking, live mark-ups, and the seamless transfer of as-built information can all optimize communications at connected job sites and improve worker safety. An upside of workforce safety digital tools (e.g., wearable sensors) is the mitigation of risk on the job site, which could bring significant changes in costs related to liability and insurance in the future.
Of course, when looking at the workforce, many of these digital capabilities bring with them new skill requirements and eventually could change engineering and construction jobs. Adding robots to handle repetitive tasks, like bricklaying and tying rebar, could redefine the roles that the humans on job sites perform. It will be important for E&C firms to anticipate these changes and get ahead of them whenever possible. Developing a human and robot talent management strategy that accompanies the move toward digital is expected to be an important ingredient for success. In addition, the use of sensors and tracking software will likely be a challenge as it poses privacy concerns among the construction employees. How this is implemented to balance the benefit of safety while also safeguarding privacy could be the key to success.
Infrastructure Projects
U.S. Infrastructure Opportunities Could Require New Partnership Models and Project Structures
2020 will likely see the launch of long-overdue U.S. infrastructure upgrade initiatives, a situation that brings opportunity and challenges to the U.S. E&C industry. America's deteriorating infrastructure—congested roads, unsafe bridges, aging water and wastewater treatment facilities—imposes enormous costs on the U.S. economy, from lower productivity to reduced competitiveness. According to the American Society of Civil Engineers, it will take approximately $4 trillion to repair the current state of the U.S. infrastructure by 2025.7
To meet future demands and restore the country's competitive advantage, the U.S. federal government has agreed, in principle, to spend $2 trillion over the next 10 years, 1 of the biggest infrastructure investments in U.S. history.8 The plan to invest in upgrading infrastructure (roads, bridges, water systems, broadband, and the power grid) brings a significant opportunity to the E&C industry, which could drive revenue and spur job creation in the industry. The 2020 U.S. federal budget allocates $200 billion for infrastructure priorities across a range of sectors, including water infrastructure.9 However, both the impending 2020 U.S. presidential election cycle and the continuation of trade tariffs that are driving up many raw material costs could hamper achieving the potential benefits.
In addition to the federal budget allocations, private funding is expected to be needed, and there is an opportunity for E&C companies to engage in public-private partnerships that are mutually beneficial. 2020 could bring an opportunity for U.S. firms to emulate their global counterparts who have been successful in funding major infrastructure projects over a build-operate-transfer model. For instance, France and Italy have roadways managed by private firms. Look for similar models to be posed as part of the increased activity in upgrading U.S. core transportation and infrastructure assets. Additionally, agencies, with the help of contractors, likely will need to spend money on repair and maintenance instead of upgrades and replacements. This could hinge on contractors inspecting the bridges and working with agencies to forecast the deterioration of these assets and when they will need to be repaired or replaced.
Companies in the infrastructure project ecosystem could focus on choosing an appropriate partnership model for delivery and funding, as well as using a life-cycle approach to project delivery that confers attention to all stages of the project. In addition, making roadways intelligent could facilitate maintenance and enable new monetization opportunities, such as congestion or surge-based roadway tolls as part of the build-operate-transfer model. This smart use case is a prime candidate for using new materials that can perform better over their life cycle, are more sustainable, and are easier to repair or maintain.
Smart Cities
E&C Firms Are Deploying Smart Technologies to Continue Transforming Cities
2019 saw the continued proliferation of digital transformation projects within smart cities around the globe. This aligns with the global megatrend toward urbanization, with 68% of the world population projected to live in urban areas by 2050, growing from 55% today.10 Urban planners are turning to smart solutions to support this trend, and the coming year is expected to continue to present a multitude of opportunities for E&C firms to take part in the activity. Several trends center on environmental sustainability and digital enablement to improve urban quality of life.
As city leaders consider how to create more sustainable, equitable, and resilient communities, many are turning to smart technologies that support urban sustainability. This encompasses the familiar Leadership in Energy and Environmental Design (LEED) certification for buildings and applies it to cities and communities (LEED v4.1). As E&C firms engage with cities to build the smart infrastructure within these smart cities, initiatives likely will range from those addressing sustainable buildings to energy, water, transportation, and many other factors that contribute to quality of life. For example, the rise of intelligent buildings that can self-optimize their operations and all-encompassing building management systems to better serve their inhabitants over time is a rising trend powered by AI.
In the future, data arising from digitally enabled assets could be used to assess trends and inform the design of future buildings. Using these technologies, including sensors and building management systems, could enable communities to better optimize their asset consumption (e.g., water, energy). Insights drawn from these data can then be used by local governments to nudge behaviors toward environmental sustainability. Similarly, sensing and intelligent technology can be used to optimize traffic in urban environments, public transportation, utilization of public spaces, and other aspects of city living.
As E&C firms become further embedded in smart city development, it is expected to be important for them to bring digital capabilities to the smart city planning table. Often this will require an ecosystem approach, where partnerships across the various capabilities and offerings can be presented to city leaders as a cohesive solution. Understanding the landscape of this ecosystem play can help E&C firms identify and invest in those smart technology capabilities that are most strategic for demonstrating proficiency in digital offerings related to smart cities, and subsequently develop expertise and experience in these areas.
2020: New Opportunities Indicate a Dynamic Year Ahead
Given the opportunities and potential challenges facing the E&C industry, the year ahead promises to be dynamic. As several major trends play out at the national and global levels, including infrastructure upgrades and smart city initiatives, E&C firms have opportunities to play central roles. However, sustained cost pressures will not evaporate, and trade uncertainties persist; therefore, firms should consider how to mitigate some of these challenges. Building a solid digital roadmap can help with operational
challenges while also delivering competitive advantage for the early adopters.
Endnotes
Gerald C. Kane, Doug Palmer, Anh Nguyen Phillips, David Kiron, Natasha Buckley, "Achieving digital maturity: Adapting your company to a changing world," MIT Sloan Management Review and Deloitte University Press, July 13, 2017, www2.deloitte.com/insights/us/en/focus/digital-maturity/digital-mindset-mit-smr-report.html.
CSI Market, "Construction Services Industry Profitability,"
https://csimarket.com/Industry/industry_Profitability_Ratios.php?ind=205.
Javier Parada, "Global Powers of Construction," Deloitte, July 2019, www2.deloitte.com/global/en/pages/energy-and-resources/articles/deloitte-global-powers-of-construction.html.
Turner Construction, "Turner's Third Quarter Building Cost Index:
Large Project Starts Continue to Lift Construction Activity," 2019,
www.turnerconstruction.com/cost-index.Ibid.
U.S. Department of Labor, Bureau of Labor Statistics, Construction
Industry: Employment, Hours, and Earnings from the Current
Employment Statistics Survey (National).
American Society of Civil Engineers, "Failure to act: Closing the
infrastructure investment gap for America's economic future," 2017,
www.infrastructurereportcard.org/wp-content/uploads/2016/10/
ASCE-Failure-to-Act-2016-FINAL.pdf.
Annie Karni, Emily Cochrane, Alan Rappeport, "Trump and Democrats Agree to Pursue $2 Trillion Infrastructure Plan," New York Times, April 30, 2019, www.nytimes.com/2019/04/30/us/politics/trump-infrastructure-plan.html.
White House, "2020 Budget Fact Sheet: Deliver 21st Century
Infrastructure," www.whitehouse.gov/wp-content/uploads/2019/03/
FY20-Fact-Sheet_Infrastructure_FINAL.pdf.
United Nations Department of Economic and Social Affairs, "68% of the world population projected to live in urban areas by 2050, says UN,"
May 16, 2018, www.un.org/development/desa/en/news/population/
2018-revision-of-world-urbanization-prospects.html.
Michelle Meisels is a principal in Deloitte Consulting's Technology practice and leads the Engineering and Construction practice. Ms. Meisels brings more than 25 years of consulting experience with a focus on leading large, often global, finance and information technology transformation programs by leveraging technology. She helps clients integrate best-in-class technologies with organizational and process standard practices to achieve both qualitative and quantitative benefits. She can be reached at mmeisels@deloitte.com. To read more, visit www2.deloitte.com/us/en/pages/energy-and-resources/articles/
engineering-and-construction-industry-trends.html.