Gazing into the Crystal Ball: Industry Trends for 2023 and Beyond
Insulation Outlook staff rounded up a selection of forecasts focusing on the full supply chain from our industry partners to help our readers plan and find the data that will drive today's business decisions.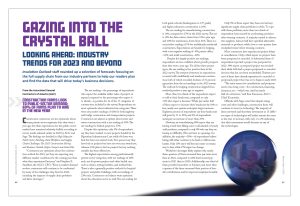 From the Associated General Contractors of America (AGC)
Construction Firms Look to Public-Sector Demand; 69% of Firms Plan to Hire in the New Year
Construction contractors are less optimistic about many private-sector segments than they were a year ago, but their expectations for the public-sector market have remained relatively bullish, according to survey results released earlier in 2023 by AGC and Sage. The findings are detailed in High Hopes for Public Sector Funding Amid Workforce and Supply Chain Challenges: The 2023 Construction Hiring and Business Outlook (https://tinyurl.com/2s4xs32h).
"Contractors are optimistic about the construction outlook for 2023, yet they are expecting very different market conditions for the coming year than what they experienced last year," said Stephen E. Sandherr, the AGC's CEO. "Even as market demand evolves, contractors will continue to be confronted by many of the challenges they faced in 2022, including the impacts of supply chain problems and labor shortages."
The net reading—the percentage of respondents who expect the available dollar value of projects to expand compared to the percentage who expect it to shrink—is positive for 14 of the 17 categories of construction included in the survey. Respondents are most optimistic about infrastructure categories. There were net positive readings of 42% for both highway and bridge construction and transportation projects. Contractors are almost as upbeat about sewer and water construction, with a net reading of 38%. The net reading for federal projects is 37%.
Despite this optimism, only 5% of respondents say they have worked on new projects funded by the Bipartisan Infrastructure Law, while 6% have won bids but have not started work. Five percent say they have bid on projects but have not won any awards yet, whereas 21% plan to bid on projects but say nothing suitable has been offered yet.
The highest expectations among predominantly private-sector categories, with net readings of 28% each, are for power projects and other health care, such as clinics, testing facilities, and medical labs. There is also a generally positive outlook for hospital projects and public buildings, with net readings of 23% each. Contractors on balance were optimistic about the education sector as well. The net reading for both grade schools (kindergarten to 12th grade) and higher education construction is 16%.
The net reading for manufacturing construction is 14%, compared to 27% in the 2022 survey. The net is 12% for data centers, down from 31% a year ago; and 10% for warehouses, down from 41%. There is a net positive reading of 1% for multifamily residential construction. Expectations are bearish for lodging, with a net negative reading of -4%; private office, -21%; and retail construction, -22%.
Despite the largely positive net readings, respondents are less confident about growth prospects than they were a year ago. For all but three project types, the net reading is less positive than in the 2022 survey. The steepest downturn in expectations occurred with multifamily and warehouse construction, both of which recorded declines of 31 percentage points from the net readings in the 2022 survey. The outlook for lodging construction slipped from modestly positive a year ago to negative.
More than two-thirds of the respondents expect to add to their headcount, compared to only 11% who expect a decrease. While just under half of firms expect to increase their headcount by 10% or less, nearly one-quarter anticipate larger increases. Eighteen percent of respondents say their headcount will grow by 11 to 25%, and 5% of respondents anticipate an increase of more than 25%.
However, an overwhelming 80% report they are having a hard time filling some or all salaried or hourly craft positions, compared to only 8% who say they are having no difficulty. (The rest have no openings.) In addition, the majority—58%—of respondents believe hiring will either continue to be hard or will become harder. Only 15% say it will become easier or remain easy to hire, while 27% expect no change.
Workforce shortages likely explain why nearly three-quarters of firms increased base pay rates more than in 2021, compared to 62% that boosted pay more in 2021 than in 2020. Additionally, one-third of firms provided incentives or bonuses; and more than a quarter of the firms increased their portion of benefit contributions and/or improved employee benefits.
Only 9% of firms report they have not had any significant supply chain problems in 2022. To cope with these problems, more than two-thirds of respondents have reacted by accelerating purchases after winning contracts. A majority turned to alternative suppliers. Almost half have specified alternative materials or products, while close to one-quarter have stockpiled items before winning contracts.
Most contractors have experienced project delays or cancellations. Only a third report no projects have been postponed or canceled. A substantial share of respondents reported a project was postponed in 2022: 39% report a postponed project was rescheduled, while 36% had a project postponed or canceled last year that has not been rescheduled. Thirteen percent of firms have already experienced a canceled or postponed project that was set to begin in early 2023.
"The main reason for cancellations and postponements was rising costs—for construction, financing, insurance, etc.—which was cited by nearly half of contractors," said Ken Simonson, AGC's Chief Economist.
Officials with Sage noted that despite rising costs and other challenges, construction firms will continue to invest in technology. The majority of firms surveyed said that their investment in 15 different types of technologies will either remain the same as last year or increase, with only 1 to 2% indicating that their investment would decrease in any of
the technologies.
"Technology plays a critical role in delivering successful and profitable projects," said Dustin Stephens, Vice President of Construction and Real Estate with Sage. "Utilizing the right technologies can help lessen the impact of current challenges and put construction firms in the best position to thrive."
Stephens added that, as in the past few years, the survey revealed that the greatest IT challenge is finding the time to implement and train on new technologies. However, it is vital that firms make the time, as utilizing new technologies—particularly cloud-based solutions with an open application programming interface—can alleviate other challenges. It can help to start slow and prioritize technology that can have the biggest and most immediate impact, then implement new technology in stages.
Association officials called on Washington leaders to resolve the significant uncertainties that exist around the Buy America provisions within the Bipartisan Infrastructure Law, noting the administration has not settled on a uniform interpretation of those requirements. They also called on the Biden administration to act on the permitting reform measures that were included in the 2021 Bipartisan Infrastructure Law. And they called on Congress to pass immigration reforms and boost investments in career and technical education programs.
"We are supporting the industry as it works to overcome the challenges it faces," Sandherr said. He noted that AGC was partnering with its chapters to run digital workforce recruiting campaigns and has signed up more than 800 firms to participate in the association's Culture of Care program, which helps firms better attract and retain talent—particularly diverse talent.
Sandherr said the association would also continue to be a vigorous advocate for the industry in Washington and with public officials across the country. "We will do everything in our power to make sure that 2023 is a successful one for the industry, our members, and the tens of thousands of men and women that they employ," Sandherr said.
Visit www.agc.org for more information.
---
From the American Council for an Energy-Efficient Economy (ACEEE)
Study Identifies States with Best Opportunities to Cut Costs and Emissions by Updating Building Codes Using Federal Climate Funds
States could cut energy use in new buildings by as much as a third—significantly reducing utility bills and greenhouse gas (GHG) emissions—by updating building energy codes with the help of new federal funds. ACEEE identified the top 10 states best positioned to take advantage of the federal funding by analyzing several factors in each state, including energy savings achievable for new buildings under a stronger code, the pace of new building construction, and GHG emissions from buildings. The new analysis allowed ACEEE to evaluate how stronger codes could help states meet their climate targets.
The study comes as unprecedented federal resources become available to states to update
building codes. Last month, the Department of Energy announced the first $45 million of a 5-year, $225 million grant program—established by the 2021 Bipartisan Infrastructure Law—to help states and localities implement updated building energy codes. The Inflation Reduction Act will provide another $1 billion to help states and local jurisdictions adopt and implement stronger codes.
Building energy codes set requirements for building construction, such as those for insulation, windows, or heating systems. Stronger codes reduce energy use in new buildings and thus cut utility costs and GHG emissions from burning fuels in the
buildings and from power plants that provide the buildings with electricity.
"States with out-of-date building energy codes miss out on a cost-effective pathway to reduce energy use and greenhouse gas emissions, leaving residents with higher utility bills," said Michael Waite, Senior Manager in ACEEE's buildings program and author of the study. "States and cities have an unprecedented opportunity to update their codes thanks to federal assistance. The jurisdictions that would see the greatest benefits should not pass up this opportunity."
States that Benefit
The 10 states most primed to benefit from updating outdated building energy codes are listed below.
Louisiana could reduce energy use 20% in new residential buildings and 32% in new
commercial buildings if it implements the latest building codes.
North Carolina is among the top 20 states for potential residential and commercial energy savings, and it is in the top 10 states for building construction, with about average building emissions, providing an opportunity for lower emissions with more efficient new buildings.
Colorado, where local jurisdictions set building codes, has both fairly high building emissions and the fifth-most construction activity among states, meaning it would greatly benefit from local jurisdictions updating building energy codes.
North Dakota has the highest average building emissions of any state, giving it an opportunity for progress with widespread adoption of new energy codes by local jurisdictions.
Minnesota has roughly median building emissions, significant construction activity, and ambitious climate targets, so advancing its energy codes would have meaningful impact.
Virginia needs to see the most emissions reduction of any state to meet 2030 climate targets, so strengthened energy codes should be part of a comprehensive climate strategy.
Wyoming, where localities set building codes, has very high building GHG emissions, so it would benefit from improving building energy efficiency (in addition to reducing fossil fuel generation in its electric grid).
Arkansas could see 30% energy cost savings in new residential buildings—more than any other state—and 33% savings in new commercial buildings if it enacts updated building codes.
South Carolina is fourth among states in per capita construction activity and uses old versions of model energy codes, meaning updated codes would provide major energy savings.
Tennessee has significant building construction, and the state would see the second-highest cost savings from updating its residential energy code, as well as substantial savings from commercial building code updates.
The full ranking and details for all states are included in the policy brief. In addition to identifying states that would benefit most from federal funding for updated building energy codes, the analysis shows the diversity of factors that affect the energy, monetary, and GHG savings of higher efficiency building codes. "Ultimately, the benefits depend on how successfully advanced codes are implemented in states and jurisdictions," Waite said.
ACEEE's analysis found 16 states could cut energy costs in new homes by at least 20%, and 14 states could decrease energy costs 20% in new commercial buildings by adopting the most recent national building energy codes. The research found that residents and businesses in Arkansas, Oklahoma, Tennessee, Kentucky, North Dakota, Missouri, South Carolina, and South Dakota would see the greatest cost savings from updating residential building energy codes. For commercial buildings, Louisiana, Oklahoma, Arkansas, South Carolina, Missouri, and South Dakota residents and businesses would save the most money from adopting new energy codes.
Sunbelt states from the Southeast to the Southwest have among the greatest level of new building construction, meaning those states would see substantial energy, monetary, and GHG savings from updated building codes. Outside the Sunbelt, Colorado, Idaho, South Dakota, and Utah have widespread construction but outdated building codes, giving them the opportunity to make significant progress.
GHG emissions from buildings vary widely across the country. States with higher emissions often rely largely on coal for power generation and have significant heating needs, meaning that improving outdated building codes would have the greatest benefit as part of an overall climate strategy.
Most states that have set GHG reduction targets are not on track to meet them, with only Illinois and Maine on a trajectory to meet 2030 climate goals. Virginia, Oregon, and Rhode Island need to cut emissions from 2019 levels by more than half to meet 2030 climate targets, with eight other states and Washington, DC needing to reduce emissions by more than 40% by 2030.
Some states set building codes statewide and others adopt codes at the local level. The federal funding for code updates is designed to go through states, meaning that in states where localities set building codes, state and local governments will need to partner to ensure they are able to benefit from the federal funding.
Visit www.aceee.org for more information.
---
From the American Institute of Architects (AIA)
Nonresidential Construction Spending Expected to Moderate through 2024
While spending on nonresidential construction picked up momentum toward the end of 2022, construction spending will moderate in 2023 and slow significantly in 2024, according to a new report from AIA.
Despite macroeconomic headwinds such as inflation, rising interest rates, and weak consumer sentiment scores, the AIA's Consensus Construction Forecast panel—comprising leading economic forecasters—is projecting nonresidential construction spending to grow 5.8% in 2023 but slow to fall under 1% in 2024. Similar to 2022, growth in construction spending in 2023 will be uneven, with a projected 2.6% increase in the commercial sector, 15.1% for industrial facilities, and 4.1% for institutional buildings. In 2024, spending on commercial buildings is forecast to decline 1.4%, while industrial projects are anticipated to gain a modest 0.4%, and a 3.8% increase is predicted for institutional facilities.
"The U.S. economy will continue to face serious challenges as we move through 2023, dampening the construction outlook," said AIA Chief Economist Kermit Baker, Hon. AIA, PhD. "However, healthy architect and contractor project backlogs should ease the negative impact of an economic slowdown."
Complete details on the latest "Consensus Construction Forecast" can be found on AIA's website at https://tinyurl.com/3z5nv8fh. Visit www.aia.org for more information.
---
From FMI Corp.
2023 Engineering and Construction Industry Overview
By Chris Daum
In the first quarter of 2023, much has been written about the current economic climate for the built environment. The operating conditions for many firms across our industry remain disrupted and uncertain nearly 3 years after the onset of the COVID-19 pandemic and the resulting market turmoil.
We continue to see near-record inflation, with December's consumer price index reading of 6.5% down from a mid-2022 peak but significantly higher than the prior year. Supply chains still face disruptions across global markets, and companies across sectors of engineering and construction continue to struggle to find the talent needed to execute new and existing projects.
Despite these challenges, many of FMI's clients saw record backlogs, earnings, and revenue in 2022. Total construction spending for the United States is expected to end 2022 up 8%, driven primarily by residential building, multifamily, commercial, and manufacturing.
"Obviously, there's a lot going on in the world related to record-high inflation, supply chain challenges, [and] resource challenges, but yet, construction and building has trudged forward," says Keith Douglas, Chief Operating Officer at Rosendin, a $2 billion, employee-owned electrical contractor. "Owners are still pushing through and wanting to build their projects, but we are starting to see some cracks out there."
Some of those cracks are projected to come from the residential market, which will be the biggest cause of a 2% forecast decline in construction spending for 2023. In contrast, other segments, such as nonresidential building and nonbuilding structures, are expected to grow in 2023, each forecast to climb 8% in 2023, meaning a large portion of the industry will continue to see growth.
Given this uneven landscape, to compete in 2023, it is critical to understand your core competencies, markets, and clients. Knowing your opportunities and challenges, and having a plan for tackling them, will help your company continue to be successful. Furthermore, firms that focus on their people and culture and execute a clear strategy will be more likely to weather the upcoming downturn.
Coping with the Current Operating Environment
FMI clients consistently report that their top three challenges are centered around finding and retaining skilled workers, both in the field and office; creating a cohesive and connected culture to nurture their workers through their careers; and, in the short term, combating project delays.
Recent FMI research around project delays and cancellation backs up what they hear from clients. According to a survey conducted in September 2022, 89% of respondents experienced owner-led project start delays in 2022. Another 44% saw supply chain-related project delays. Only 8% of those surveyed said they had not experienced any project start delays in 2022.
Dan Johnson, CEO at Mortenson Construction, a multibillion-dollar general contractor, agrees, "We are entering 2023 with record levels of backlog, but we have also started to see the plates shift in the last month with projects being canceled and projects being put on hold for a variety of reasons. Tech industry and related projects now are starting to be put on hold. Our renewable energy business is definitely something we see a lot of potential [for] in the long term; but in the short term, our customers are struggling to get solar panels, so the projects are waiting for the supply chain to catch up."
His point about the outlook for different sectors varying greatly is an important one, and something you will see throughout this quarter's forecast numbers. As Jay Bowman, head of FMI's market research consulting practice, says, "Bull markets and bear markets coexist at all times."
Sector-specific information considers inflationary pressures, incoming federal funding from a variety of sources, and the societal shifts that are impacting overall construction spending. It is not enough to look at the initial numbers; you need to delve into economic conditions that fluctuate greatly by sector and geography.
Refine Business Discipline and Operational Execution
While numbers and data are important, they cannot replace having a comprehensive strategy and the tools to implement those plans—from training your people to implementing operational improvements. Now is the time to assess your business and plan for what is ahead. Putting in place the right teams and plans for business development and marketing will be a critical way to make sure you are rebuilding your backlogs with work that you can successfully execute.
Staying focused and being selective about what projects you pursue will be imperative in the coming months and years. To be selective—no matter the market conditions—design, engineering, and construction firms need superior execution skills and strategic clarity around their core competencies.
"As backlogs continue to be strong, the best thing we can do to prepare is to ensure the new work we pursue is the right work," says George Pfeffer, CEO and leadership team member of DPR Construction, a $6.8 billion, self-performing general contractor. "Our early sign, like most contractors, is that a slowdown of some sort is coming as, more than normal, our projects are pushing to later time frames. We need to pursue work that allows us the best opportunity to overcome shortages in skilled workforce as well as the volatility in commodities markets that affects procurement. The best way to do that, we think, is not to pursue new sectors, but to focus on the things we know we're best at."
For many, it can be difficult to know exactly what differentiates their company from others and how to position their teams to win work. That is why it is important to have a clear strategy and to communicate that strategy to everyone on a regular basis to ensure all teams are working toward the same goal. "To be effective in any type of a strategy, it needs to be embraced by every individual within the organization," says Johnson. "If they're not aware of it, then they're not going to be working toward it. So the more that you can communicate the strategy, answer the why, you're going to get a lot more people behind it. You're going to be far more successful."
Focus on Culture
For decades, the industry has been talking about labor shortages; and given the current trajectory, those issues are not going away anytime soon. Experienced field leaders, as well as project managers and company executives, are being lost daily. With many younger workers about to face their first economic downturn in the workforce, having clear, consistent, and confident leadership will be important for helping shepherd those employees through a downturn.
That is where communication becomes even more important. Being honest, transparent, and clear about your business, the strategy you are implementing to be successful, and the culture that drives your business will help every employee feel a sense of ownership and pride in his or her work.
If you have not invested in clearly articulating your company's culture and what you stand for, then how can you expect your workers across various projects to embrace that and act according to your values?
Pfeffer says that it is important to take time to make sure employees are clear on what is driving their decisions and actions. "Culture is simply the actions people choose to take," he says. "Our basic beliefs are that we have to operate from a basis of respect for the individual and we want to change the world. If you're trying to decide instantaneously, and you have got to process all these inputs, the clarity should be in our core values, our beliefs that help drive your decisions and actions."
One critical way to solve the labor challenge is by investing in training and development. Demonstrating to your employees that everyone is valued and taking an interest in making sure they are getting the skills needed to advance in their careers will help retain the workers you have and attract the ones you need.
Don't Forget Lessons Learned from Previous Downturns
For most, this is not the first time they have had to manage through a downturn. But during times like these, it is helpful to remember important lessons from previous recessionary environments. These past lessons include:
Make timely decisions. During the last downturn, FMI heard from many clients that they made the right decisions, but they just did not act quickly enough. Do not wait to make necessary changes to ensure you are implementing your strategy and going after work that reinforces your plans.
Focus on your core competencies. Given the uneven outlook for different sectors in the industry, it might be tempting to move into a hot market. But doing so without proper research, thought, and strategic planning could have dire consequences. Be sure you are going after work that you know you can execute well and make money doing so.
Concentrate on business development. Now is the time to stay close to your clients and truly listen to their needs. Equip your teams with the skills needed to continually win work on the differentiators you bring to the project. Simply reducing margins is often untenable, but it can be especially dangerous in a downturn.
Invest in your people, processes, and systems. While it is important to maintain fiscal discipline and a healthy balance sheet during leaner times, you cannot neglect your people. Labor markets remain competitive, and you need to make sure you retain the critical talent to lead your business now and through the next economic cycle.
Rosendin's Douglas said it best: "Having a strategic plan is vitally important for any business right now. And if they don't have one, I would encourage them to really think hard about that strategic plan because we're going to have to pull a lot of levers over the next few years just depending on certain conditions. And you've got to be ready for those. If something happens over here, you've got to be able to shift and pivot. And I think that's going to be the difference between companies that get through what's going to happen in the next couple years and companies that really thrive."
Chris Daum is the President and CEO of FMI Corp. (www.fmicorp.com). Excerpted with permission from "2023 North American Engineering and Construction Industry Overview." Daum oversees the management of all FMI businesses and services, and leads the firm's strategic growth efforts. To download the full report, visit https://tinyurl.com/5n7askd8.
---
2023 Mergers and Acquisitions Trends
By Tim Huckaby
Given the overall strength of the industry, mergers and acquisitions (M&A) for middle-market companies in the built environment remain relatively active. This is in contrast to larger deals and capital markets activity, which are feeling the effects of uncertainties such as recession, inflation, geopolitical risks, deglobalization, soaring deficits, and volatile financial markets.
FMI attributes this continued strength within its coverage sectors partially to the fact that its typical deal size ($40 million to $600 million in enterprise value) can often be less sensitive to global risk factors when compared to larger deals. More importantly, FMI attributes this ongoing M&A activity to favorable megatrends that are driving the long-term growth of many of its sectors.
Emerging trends such as reshoring and government spending programs focused on infrastructure are also driving growth and M&A interest in many sectors of the built environment. For sectors FMI covers, including construction materials and energy solutions and clean tech, they are seeing increased government funding from bills such as the Infrastructure Investment and Jobs Act and the Inflation Reduction Act drive substantial investment and interest from private equity, pushing companies to become acquisitive to compete.
Overarching and well-established trends helping to drive today's M&A include the energy transition; labor shortages; aging owners; private equity investment; rapid technology advancement; environmental, social, and governance considerations; and deferred maintenance and underinvestment in U.S. infrastructure.
M&A trends move quickly, each sector behaves differently, and every company is unique. FMI remains cautious, given the immediate macro challenges, but optimistic, given the unique opportunities seen in over-coverage areas.
Tim Huckaby is President, FMI Capital Advisors. View the full FMI report (https://tinyurl.com/5n7askd8) for insights by sector on where FMI sees the market trending.
---
From the National Association of Manufacturers (NAM)
Manufacturers Concerned of Recession Threat in 2023
NAM's Manufacturers' Outlook Survey illustrates manufacturers' concerns around a challenging economic environment characterized by inflation, supply chain disruption, and the workforce crisis. The survey also demonstrates respondent's concern over the consequences of Congress's continued inaction on key manufacturing priorities.
"The majority of manufacturers expect a recession this year. Congress failed to act on essential tax reforms, which complicates investment, increases inflationary pressures, and could stifle economic growth," said NAM President and CEO Jay Timmons. "Much-needed permitting reforms and provisions to strengthen our ability to conduct research and development, buy machinery, and finance job-creating investments—which we need to promote growth within the sector—were left on the cutting-room floor last year. Those reforms, combined with manufacturers' ongoing efforts to inspire, educate, and empower the future workforce, are critical to our competitiveness."
Workforce shortages ranked as the industry's number one concern, and there were 779,000 open jobs in manufacturing in the most recent data. This is why the NAM has pressed Congress to address immigration reform—as both a humanitarian solution and to help the sector grow its talent pool—and other solutions outlined in "Competing to Win," NAM's policy roadmap to bolster manufacturers' competitiveness.
Timmons added, "We're looking to the new Congress and the administration for leadership
and to focus on policies that remove barriers to manufacturing growth in the United States and fend off a severe downturn."
Survey Findings
Key findings from the survey include:
More than 62% of manufacturing leaders believed that the U.S. economy will officially slip into a recession in 2023.
More than three-quarters of respondents (75.7%) listed attracting and retaining a quality workforce as a primary business challenge, with supply chain challenges (65.7%) and increased raw material costs (60.7%) the next biggest impediments.
Even in a recession, manufacturers plan on capital spending on new equipment and technological investments (65.3%), upskilling and training of the existing workforce (64.1%), seeing solid demand for their company's products (63.2%), hiring new employees (55.1%), investing in research and development (52.1%), and spending on new structures and existing facilities (38.6%).
More than three-quarters of respondents (75.8%) said pushing back against regulatory overreach should be the top priority of the 118th Congress. Other priorities included supporting increased domestic energy production (69.3%), passing comprehensive immigration reform (65.4%), maintaining and permanently extending tax reform (63.0%), controlling rising health-care costs (55.5%), addressing the skills gap facing manufacturers (50.5%), and modernizing permitting to reduce red tape (40%).
Due to the consistent economic headwinds, manufacturers' confidence has declined, with 68.9% of respondents having a positive outlook for their company, the lowest since the third quarter of 2020.
Conducted by NAM Chief Economist Chad Moutray, the Manufacturers' Outlook Survey has surveyed the association's membership of 14,000 manufacturers of all sizes on a quarterly basis for the past 25 years to gain insight into their economic outlook, hiring, and investment decisions and business concerns. The survey was conducted November 29 to December 13, 2022.
Visit www.nam.org for more information.
---
From Logistics Viewpoints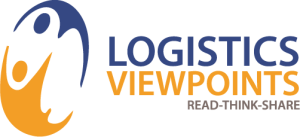 5 Supply Chain Predictions for 2023
By Dr. Madhav Durbha
So much has changed in a year! While the supply chain pressures that have built up over the last 2 years continue to abate as transportation capacity problems ease and consumption shifts from goods to services, newer challenges and opportunities lie ahead. As cost pressures build up, organizations need to get creative in increasing the focus on cost optimization while ensuring resilience and business continuity. Here are five supply chain predictions about what to expect for 2023.
A rough start with positive signs down the road
As businesses face inflationary pressures, slowing customer demand, and a potential recession, expect the first half to be rough. Organizations will be pressured to reduce costs and do more with less. As the United States and European Union are experiencing these pressures, China will pick up some slack. 2022 saw China's economy grow at a historically low level of 3%, owing to the zero-COVID policy and slowing export volumes. However, with the zero-COVID policy now relaxed, the GDP growth is forecasted to be 5%. The aggressive interest rate hikes by the Federal Reserve are expected to ease as the year progresses, improving predictability and helping address rising cost concerns. In a recently published survey conducted by Coupa Software (www.coupa.com/stateofsupplychains/2023), European supply chain leaders cited the ongoing geopolitical conflict in Ukraine as a major concern. Optimists like to believe that the Russian aggression on Ukraine will not be prolonged, given the toll it is taking on the citizens of both the nations. All these factors together place the second half of 2023 in a more positive light.
Supply chain spending will tighten, while building resilience remains a focus
Supply chain spending—broadly categorized into operational expenses; working capital; capital investments; and maintenance, repair, and operations—will be under scrutiny. However, organizations will strategically target de-risking their supply chains by adding optionality and reducing single points of failure. With the disruptions experienced in recent years, Chief Financial Officers are now more educated in the role of supply chain in ensuring business continuity. They will be more open minded and thoughtful about resilience investments even amid budgetary constraints, as long as a valid business case exists, with specifics on how such resilience will reduce the overall risk. The aforementioned global survey by Coupa of more than 1,000 supply chain executives shows that about 80% of respondents expressed the intent to continue investing in digital technologies that bring more resilience and agility.
Proven technology solutions will gain ground as hype gets filtered out
Supply chain technology that offers hype but is not backed with solid, proven capabilities will get filtered out. Meanwhile, tech that solves the practical and the most pressing problems businesses experience will strengthen their hold, especially as companies look to invest more in solutions that help optimize business spend while building resilience. The solutions that focus on delivering efficiencies and cost savings will gain ground. As budgets get pressured, organizations will be much more thoughtful in surgically targeting investments that deliver measurable benefits.
Human-artificial intelligence (AI) collaboration picks up momentum
As organizations look to do more with less and make their workforce more productive, they will continue to prioritize AI that assists humans cognitively and physically. Accelerating investments in smart robots that bring goods to people will reduce repetitive work in warehouses. Decision support systems will serve up insights to human decision makers at the point of decision. On the topic of human-AI collaboration, it would be remiss not to address the topic of generative AI. This very specific application of AI, wherein AI generates entirely new content based on human prompts, has entered the mainstream consumer arena. The recent excitement around OpenAI technologies such as ChatGPT and Dall-E illustrate this trend. However, their usage is expected to be limited in the business arena through this year, barring some niche areas such as content creation in marketing, where such technologies can assist humans. However, it is worthwhile for leaders to keep tabs on how these technologies evolve through the rest of 2023.
Environmental, social, and governance (ESG) priorities remain atop executive and board agenda
ESG remains critical with shareholder and employee activism, tightening regulation, and consumer preferences. However, in an inflationary world, one cannot assume that consumers will pay more for sustainable offerings. Instead, organizations will prioritize sustainability improvements that will also yield cost savings. Thankfully, there are quite a few opportunities within the supply chain that can accomplish both objectives, such as optimizing transportation routes, streamlining inventories, and switching modes of transportation to more sustainable kinds.
While these supply chain predictions are not meant to be exhaustive, they do provide some context in terms of what to expect in 2023. Within the increased desire to gain end-to-end supply chain visibility, overall, one sees cross-functional collaboration across supply chain, procurement, and finance picking up steam; and digital investments geared toward accomplishing such collaboration. Supply chain is a team sport and will increasingly be so!
Reprinted with permission from Logistics Viewpoints (www.logisticsviewpoints.com).
Dr. Madhav Durbha is the Vice President of Supply Chain Strategy, Coupa
Software, where his team helps customers and prospects solve various supply chain challenges. Prior to Coupa, Dr. Durbha held positions at LLamasoft, Kinaxis, JDA Software, and i2 Technologies, Inc. With more than 20 years in the supply chain industry, Dr. Durbha has broad experience in strategy and process consulting, supply chain software, program management, software application development and deployment, machine learning, and data science. He received his Ph.D. in chemical engineering from the University of Florida, and his Bachelor's degree in chemical engineering from the Indian Institute of Technology at Madras.