Global Foamed Plastic Insulation Study
Extruded Polystyrene (XPS) to Expand 4.7% Annually Through 2023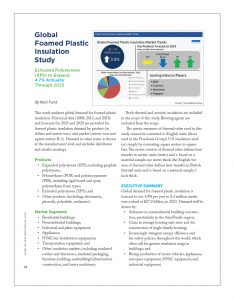 This study analyzes global demand for foamed plastic insulation. Historical data (2008, 2013, and 2018) and forecasts for 2023 and 2028 are provided for foamed plastic insulation demand by product (in dollars and metric tons) and market (metric tons and square meters R-1). Demand in value terms is shown at the manufacturers' level and excludes distributor and retailer markups.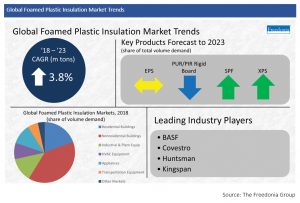 Products
Expanded polystyrene (EPS), including graphite polystyrene;
Polyurethane (PUR) and polyisocyanurate (PIR), including rigid board and spray polyurethane foam types;
Extruded polystyrene (XPS); and
Other products (including, elastomeric, phenolic, polyolefin, melamine).
Market Segments
Residential buildings;
Nonresidential buildings;
Industrial and plant equipment;
Appliances;
HVAC/air distribution equipment;
Transportation equipment; and
Other insulation markets, including insulated coolers and thermoses, insulated packaging, furniture, bedding, nonbuilding/infrastructure construction, and heavy machinery.
Both thermal and acoustic insulation are included in the scope of this study. Blowing agents are excluded from the scope.
The metric measures of thermal value used in this study cannot be converted to English units (those used in the Freedonia Group's U.S. insulation studies) simply by converting square meters to square feet. The metric version of thermal value defines heat transfer in metric units (watts) and is based on a material sample one meter thick; the English version of thermal value defines heat transfer in British thermal units and is based on a material sample 1 inch thick.
EXECUTIVE SUMMARY
Global demand for foamed plastic insulation is forecast to rise 3.8% per year to 8.2 million metric tons, valued at $27.8 billion, in 2023. Demand will be driven by:
Advances in nonresidential building construction, particularly in the Asia/Pacific region;
Gains in average housing unit sizes and the construction of single-family housing;
Increasingly stringent energy efficiency and fire safety policies throughout the world, which often call for greater insulation usage in buildings; and
Rising production of motor vehicles, appliances, aerospace equipment, HVAC equipment, and industrial equipment.
Developing Countries—Led by India and China—Will Offer the Best Growth Opportunities
The sizable stock of substandard housing units in the Asia/Pacific and Africa/Mideast regions—which together account for over 75% of the world's population—presents a significant growth opportunity for insulation suppliers. Governments in developing countries in these regions are working to improve housing quality, including through the adoption of minimum insulation requirements. Additionally, foamed plastic insulation sales in these countries will be fueled by:
Improving income levels and standards of living, and
Rural to urban migration, leading to increasing construction in urban areas, where buildings generally use more insulation than those in rural areas.
India is projected to be the fastest growing major foamed plastic insulation market in the world, as the country's building construction industry continues to grow at a rapid pace.
However, China will record by far the largest absolute gains of any country, accounting for 45% of global volume increases through 2023. Construction of nonresidential building continues to grow in the country, and the Chinese government increasingly requires the installation of insulation to improve energy efficiency and combat noise pollution.
SPF and XPS Expected to Increase
Market Share through 2023
SPF and XPS are expected to increase their respective shares of foamed plastic insulation volume demand through 2023:
SPF's wide availability, high energy efficiency, and ability to be installed in hard-to-reach places will support increasing use of the product in building construction applications.
Higher incomes will support the rising use of XPS in industrial and HVAC production, as it offers greater R-values than EPS, though at a slightly higher price.