How Construction Companies are Leveraging Social Media
One thing in 2015 is quite clear; social media is not going anywhere. From the local coffee shops to Fortune 500 companies, social media will play a large role in nearly every business marketing plan.
While some find using social media to be easy, others struggle to find their place in what can seem like crowded Internet space. For some time, many construction companies fell into that category and wondered if they could leverage social media in a cost-effective way. Now, more than ever, the answer to this question is becoming clear.
The State of Social Media in the Construction Industry
You might not think of the construction industry as tech-savvy, but a recent survey from the Construction Marketing Association might surprise you. According to those surveyed, 97% of construction professionals are active on social media. That is a striking 7% year- over-year growth rate and shows that social media is more than a passing fad.
When compared with the previous year's data, it is interesting to note that blogging, posting videos on YouTube, and Tweeting have increased 8, 12, and 13%, respectively. These are surprising statistics for an industry that was once primarily fueled by word of mouth marketing. Times are certainly changing for everyone, including construction companies.
How Construction Companies Are Using Social Media
With such a large majority of construction companies using social media, it is worth taking a look at how it is being used and which tools are most effective. Accord Construction, one of the leading roofing companies in Oklahoma City says, "We've seen all kinds of creative campaigns and unique strategies over the past couple years. What we've discovered, though, is that customer engagement is the key to everything you do."
Most would agree with this, as the number of likes and shares a social media post gets helps determine how long it is visible in news feeds. Obviously, the longer a post can stay visible, the better. Here are a few strategies commonly used for increasing engagement and reaching customers:
Create a buzz. Anything that draws people in and encourages a second look is great. Many companies find success by creating a buzz around a particular topic by using compelling images, inserting crisp ad copy, and curating fresh, relevant content.
Ask for participation. Social media is designed by nature to be social. It is intended to bring multiple parties together for conversation and engagement. However, many people remain silent observers until convinced they should be an active participant. Companies have found the most success when they implement specific calls-to-action that ask users to make a suggestion, provide an insight, or give feedback.
Become a thought leader. For companies who are extremely knowledgeable, especially in their particular niche, social media provides an excellent opportunity for promoting thought leadership and engaging users. By producing quality content and providing helpful suggestions for users, some construction companies have been able to develop a tight-knit online community.
The 40-40-20 Rule
When using social media, construction companies should remember to follow the 40-40-20 rule as a guideline for what to post. This popular rule of thumb states that on any platform, 40% of communication should involve sharing useful industry information, 40% should consist of direct interaction with users, and 20% should be self-promotion.
Those companies who follow the 40-40-20 rule and effectively engage with customers have been most successful at properly leveraging social media. As any skill does, social media takes time to develop and perfect. It is something that requires daily attention and ongoing effort, so remain patient and give it your best shot.
Succeeding at Social Media
If your construction company wants to remain competitive, it is apparent that social media is one tool you will need. No longer can you simply rely on word of mouth; you will need to take a strategic, dynamic approach to marketing.
For best results, set aside 30 minutes, twice a day for social media. If possible, dedicate 30 minutes around mid-morning and another 30 minutes towards the end of the work day. Use this time to post content, interact with followers, and optimize your pages. After a few months, you will likely begin to see the positive effects of social media on your company.
SIDEBAR
Social Media as a Business Tool
An aspect of social media that is important to recognize is that it is not a replacement for marketing and traditional business development. Social media may help business development efforts—assuming the customer base recognizes its importance within their context—but it is much more than a billboard or mailing campaign used to sell a project.
One of the shortsighted perspectives of social media is that its value can be measured in a firm's bottom line or that it will lead to a direct return on investment. Consider the role of websites in the business world: In the late 1990s, firms questioned the legitimacy of websites and often posed the question, "Will this make us money? " Today, firms without websites tend to lack legitimacy. However, websites quickly evolved from simple ad space to employment sites, company message boards, blog space, and portals for employees to access internal software. Simply put, social media enables firms to communicate with customers, employees, potential employees, and the community.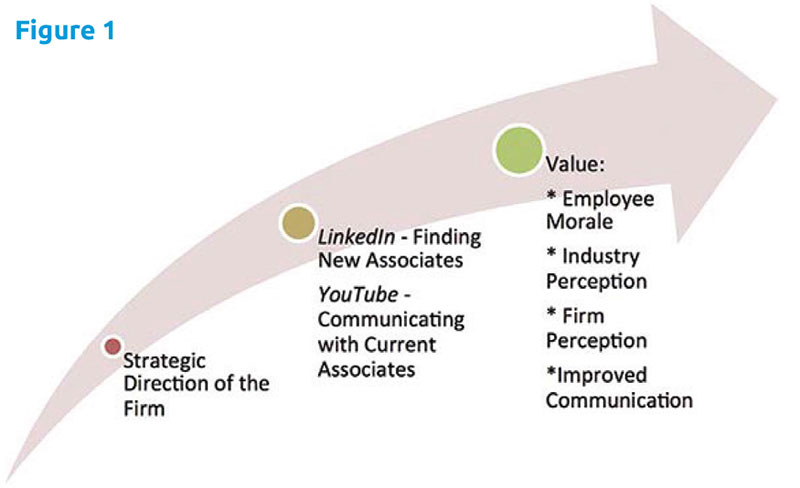 Figure 1 represents a practical application of how firms are realizing the value of social media. For instance, once a company codifies the strategic direction and defines the trajectory, it may determine that LinkedIn will be the best resource to find new associates through its networking applications. Additionally, it may determine that the President should post private monthly video feeds on YouTube to share the company's vision and progress on the annual business plan. By no means should any of these tools be viewed as a substitute for human contact, but as firms expand—in niche, geography, or size— maintaining communication with the office and field associates is imperative. Best of all, these tools are predominantly free or require little investment. How often are multifaceted tools offered to a business with such a low price tag?
Source: Construction Business Owner, "How to Use Social Media to Connect with Customers, Employees, and the Construction Community" by Gregg Schoppman. Available at http://tinyurl.com/oog58p3.