How to Consider Energy in Planning, Design, and Construction
If efficiency is an afterthought, it will wind up being more expensive to implement later… or not implemented at all.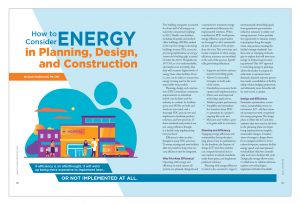 Five building categories accounted for about half of all energy consumed by commercial buildings in 2012. Health-care facilities, including hospitals and medical office buildings (MOBs), ranked in the top five energy-consuming buildings (source: EIA, www.eia.gov/energyexplained/use-of-energy/commercial-buildings.php, accessed October 28, 2021). Hospitals run 24/7/365, so it is understandable, and maybe even inevitable, that they will consume higher levels of energy than other facilities. Even so, care can be taken to ensure that energy is being used in the most responsible way possible.
Planning, design, and construction (PDC) streamline continuous improvements to individual health-care facilities and the industry as a whole. As facilities grow, new MOBs are built and wards are renovated, and a thorough PDC process vets and implements standards, product selection, and best practices. If these standards and products are not energy efficient, though, is a facility truly implementing best practices?
Efficiency is often an afterthought in many PDC practices. To ensure existing and new facilities alike are poised for long-term success, efficiency must be integrated.
Why Prioritize Efficiency?
Operating with energy and efficiency in mind ensures all systems are planned, designed, and constructed to maximize energy and operational efficiencies for implemented solutions. When considered at PDC touchpoints, energy efficiency opportunities are leveraged to drive sustainability into all aspects of the project from the start. This saves time and money compared to when energy efficiency measures are retrofitted at the end of the process. Specifically, prioritizing efficiency:
Supports and drives environmental stewardship goals,
Allows for executable strategies on both sides of the meter,
Standardizes necessary development and implementation,
Drives new and improved technology applications,
Validates project performance,
Simplifies and streamlines the transition from PDC to operations in a project's ongoing life cycle, and
Measures and verifies a project's goals with its outcomes.
Planning and Efficiency
Engaging energy, efficiency, and sustainability during the planning phase is key to optimization. At the forefront, the Internet of things (IoT) and data analytics can compare historical data to new metrics to refresh standards, make them green, and implement preferred solutions.
Planning with energy efficiency in mind is also essential to support environmental stewardship goals, from greenhouse gas emissions reduction measures to utility cost-saving measures. It also provides the opportunity to examine energy consumption along the supply chain. Are partners meeting the facility's energy standards? Are there new or emerging technologies to explore that will save more energy or further improve existing systems? This 360° approach to reviewing energy in planning allows the facility to prepare for reductions in upstream meter demands, demand response generation needs, consolidation of facility utility volume hedging projections, and ultimately, more favorable utility rates across a campus.
Design and Efficiency
Standards, optimization, conservation, sustainability, return on investment, IoT—all these terms are synonymous with comprehensive energy programs. The design phase is where the IoT and data analytics that were used as the basis in the planning phase can begin being implemented as tangible, measurable changes. Consideration of energy in design allows for an integrated effort to lower carbon footprints, optimize facility energy spend, and meet planned sustainability objectives immediately and over a facility's life cycle. Design plus energy allows teams to collaborate to validate solutions, explore new technologies, implement refreshed standards, and work with external consultants on optimizing designs.
Drilling down into the specifics of a facility's utility data can allow a team to make finite, specific adjustments to project requirements that yield alternative solutions that balance and reduce costs. For example, when designing a new surgical wing in a hospital, a facility requested a new chiller be integrated into the design. After examining the data and conducting a survey, it was determined that a new chiller was not necessary because optimizing existing assets would achieve the desired results. This saved more than $1.2 million on the project and allowed for the implementation of two additional rooms in the surgical wing.
Construction and Efficiency
The final step, construction, sees the physical implementation of the planned and designed solutions that support energy efficiency and sustainability. With multiple touchpoints early in the process, energy construction team members should be able to focus on validating final system performance, assisting with project closeout, and providing a seamless transition to the new facility's operators to ensure everything is running smoothly. This phase is crucial in delivering on energy, efficiency, and environmental stewardship objectives. Properly installed energy assets must be validated during construction to yield a positive impact on the environment. Additionally, over a facility's life cycle, its operators must have the knowledge and resources to continue to drive energy performance as planned.
Because PDC touch many aspects of a traditional energy program, it is natural that energy, too, should be integrated to make the common acronym PDC+E. As teams continue to prioritize energy and sustainability in the pursuit of a greener tomorrow, energy is another tool that integrated teams can use to deliver a superior project.