How to Make Your System Easy to Understand
The Benefits from Color Polyvinyl Chloride (PVC) Pipe Jacketing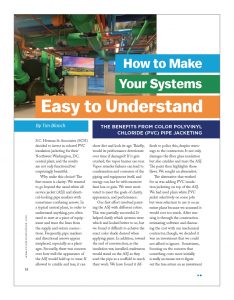 S.C. Herman & Associates (SCH) decided to invest in colored PVC insulation jacketing for their Northwest Washington, DC, central plant, and the results are not only functional but surprisingly beautiful.
Why make this choice? The first reason is clarity: We wanted to go beyond the usual white all service jacket (ASJ) and identical-looking pipe markers with sometimes-confusing arrows. In a typical central plant, in order to understand anything, you often need to start at a piece of equipment and trace the lines from the supply and return connections. Frequently, pipe markers and directional arrows appear misplaced, especially as a plant ages. Secondly, there was concern over how well the appearance of the ASJ would hold up to wear. If allowed to crinkle and tear, it can show dirt and look its age. Thirdly, would its performance deteriorate over time if damaged? If it gets crushed, the vapor barrier can tear. Vapor retarder failures can lead to condensation and corrosion of the piping and equipment itself, and energy can lost be with excessive heat loss or gain. We were motivated to meet the goals of clarity, appearance, and performance.
Our first effort involved painting the ASJ with different colors. This was partially successful. It helped clarify which systems were which and looked better to us, but we found it difficult to achieve the exact color shade desired when applying paint. In addition, toward the end of construction, as the insulation was installed, tradesmen would stand on the ASJ as they used the pipe as a scaffold to reach their work. We have found it difficult to police this, despite warnings to the contractors. It not only damages the fiber glass insulation but also crinkles and tears the ASJ. The paint then highlights these flaws. We sought an alternative.
The alternative that worked for us was adding PVC insulation jacketing on top of the ASJ. We had used plain white PVC jacket selectively on some jobs but were reluctant to use it on an entire plant because we assumed it would cost too much. After running it through the construction estimating software and discussing the cost with our mechanical contractor, though, we decided it was an investment that we could not afford to ignore. Sometimes, focusing on the concern that something costs more initially is really an excuse not to figure out the true return on an investment.
This is true with so many insulation projects. Once we had decided to use PVC jacketing, we got creative and decided to purchase colored PVC and color code our systems.
The next step was to research the color chart for HVAC systems. We were surprised to find a color standard does not exist. ASHRAE does not have one. We found ASME and ANSI color charts, but they did not have the suggestions we wanted for our HVAC systems. Yes, there are safety color charts for selected pipes, such as natural gas being yellow and fire sprinkler pipe being red, but we could not find a standard for HVAC, which surprised us. So, we developed our own standard, and it was more challenging than you might think to assign unique colors for both the supply and return of each piping system. It would be helpful if the industry could develop a standard for this.
We knew we wanted blue for chilled water, green for condenser water, and red or maybe orange for heating hot water. But which shade should be supply and which shade should be return? We decided that lighter colors mimicked the higher temperature heat of a flame. Using that logic, we selected the darker shade of each color for the supply and the lighter shade for the return. Chilled water supply became dark blue, with light blue for the chilled water return. Condenser water supply was dark green, and condenser water return became light green. Since different shades of red were not available for the heating hot water, we selected red for the supply and orange for the return. Potable water used standard white, and non-potable/make-up water became purple.
This brought us to our first challenge with the installation. When the first dark blue PVC jacket was installed, it was difficult to distinguish between it and the light blue. We stopped work on the dark blue and contacted the manufacturer NIA member Proto Corporation to explain our problem, which was not clear to them until we sent a photograph of the situation. As it turns out, Proto did, in fact, offer a third, darker shade of blue and sent that to us instead of the medium blue. Problem solved.
From an appearance standpoint, the results are magnificent. The plant gleams like the Emerald City, even 4 years after it was finished. There is not a single piece of pipe identification or directional flow arrows. They are redundant. But the best part of the color is that it creates a friendly appearance, as if the plant is "reaching out and shaking your hand." The appearance gives the building engineers something to be so proud of, and they have responded beautifully. They actually use feather dusters to clean the dust from the top surface of the colored PVC jacket 3 or 4 times a year to keep it sparkling and highly reflective.
As for clarity—our primary reason was to simplify the plant for daily operations and future modifications, remember—the new central plant achieves that as well without labels. When you walk into the plant for the first time, you instantly feel that you understand it. Red and orange are hot water. Blues are chilled water. Purple is non-potable make-up water supplying the heating and chilled water systems. There is no need to trace a pipe from its pipe labels and arrows. You see it all, from the supply and return entering the plant to the boilers and chillers. It explains itself. Pipe markers are unnecessary. Directional arrows are not even needed since red is leaving the boilers and orange is returning to the boilers (see Photo 1). Dark blue is leaving the chiller evaporator, and light blue is returning to the chiller evaporator (see Photo 2). Dark green is entering the chiller condenser from the cooling tower basin, and light green is leaving the chiller condenser and returns to the cooling tower (see Photo 3).
Pipe riser groups are intuitive and easily understandable (see Photo 4).
Make-up water is self-evident (see Photos 5 & 6 ).
SCH has found that the new central plant is a powerful marketing tool for potential tenants and investors. When a visitor sees the plant firsthand, it is easy for them to understand how important energy and efficiency is to the owner. The message is well received. Most visitors tell us they have never seen a plant like this.
Finally, we have found colored PVC jacketing to be a morale booster. The operating engineers are proud to show off their plant and take pride of ownership in it, and service contractors treat the plant with greater respect and care because it is so nice. It raises everyone's attention to detail when they are working in this environment, helping to extend the life of the colored PVC jacketing and the insulation systems underneath.
A challenge to using colored PVC jacketing is that because it is not standard, not every insulation contractor understands the methods and materials needed. This requires vetting the contractors and craft workers to make sure the manufacturer's installation process is followed. Because there are different acceptable methods of attaching the material (mechanical and adhesive), these methods should be considered, and the preferred method should be specified in the bid documents. It is strongly recommended that a quality control process be specified to ensure proper materials and methods are used by the craft persons, including inspections, training, and certifications. Spare materials in each color should be specified for attic stock.
For SCH, using colored PVC jacketing on the exposed piping in our central plants has transformed them into a delight to operate and maintain, with the surprising added benefit of pride of ownership exhibited by our building engineers. We are so proud of the appearance that we show it to all prospective tenants to let them know the level of care we put into our buildings and our customers.
Implementation Strategies for Color PVC Jacketing
If this is something you are interested in doing at your facility or plant, there are a few ways to tackle the expense. It is a hurdle that can be dealt with during the planning and design phase. A short- and long-term cost/benefit analysis can help determine what is right for your plant/facility this year, next year, and beyond. A possible strategy is to ask for bid alternates for adding colored PVC jacketing. This will provide the price difference for different types of materials, but can lead to de-selection as a "value engineering" saving, as the benefits of colored PVC are forgotten. For this reason, it can make sense to justify the addition during planning and then not back off the specification during the bid process. Another strategy is to implement this color-coded process over time. The colored PVC jacketing can be installed one system at a time or as regular maintenance work is performed each year.