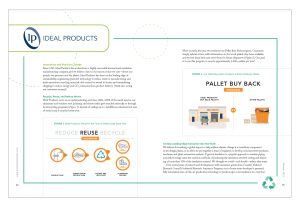 Innovation and Positive Change
Since 1991, Ideal Products has evolved into a highly successful international insulation manufacturing company, and we believe a key to our success is that we care—about our people, our partners, and the planet. Ideal Products has been on the leading edge of sustainability, engineering patented technology to reduce waste in manufacturing and daily operations, recycling materials that cannot be reused in house, and streamlining shipping to reduce energy and CO2 emissions from product delivery (while also saving our customers money!).
Recycle, Reuse, and Reduce Waste
Ideal Product's roots are in metal jacketing, and since 2003, 100% of the metal used in our aluminum and stainless steel jacketing and sheets either gets recycled internally or through local recycling programs (Figure 1). Instead of ending up in a landfill, an estimated 164 tons of metal scrap is recycled every year.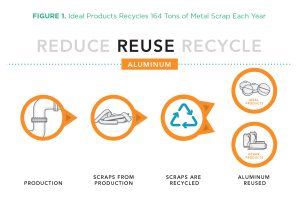 More recently, this year we instituted our Pallet Buy-Back program. Customers simply submit a form with information on the wood pallets they have available, and we buy them back and reuse them for future shipments (Figure 2). Our goal is to use this program to recycle approximately 4,300+ pallets per year!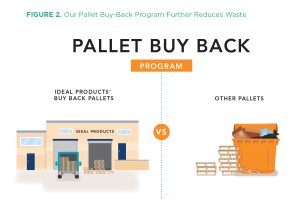 Turning Leading Edge Innovation into the Norm
We believe that making a global impact to help address climate change is a mandatory component in the design phases, so in 2010, we put together a team of engineers to develop new, innovative products, machines, and plant automation systems. V-groove insulation is a popular approach to insulate piping and reduce energy costs, but common methods of producing the insulation involved cutting and disposing of more than 35% of the insulation material. We thought we could—and should—reduce that waste.
Over several years of research and development, with innovation grants from Canada's National Research Council's Industrial Research Assistance Program, our in-house team developed a patented, fully automated, state-of-the-art production technology to produce pipe cover insulation in a way that dramatically reduces waste. Ideal Product's engineers designed the equipment itself as well as the software that runs it. In 2015, our first machine went into operation in Alberta. Today, manufacturing our ThermalJacs547® V-Groove insulation using our patented technology cuts the amount of wasted material down to less than 1%, compared to the previous average of 35% of material wasted (see Figure 3).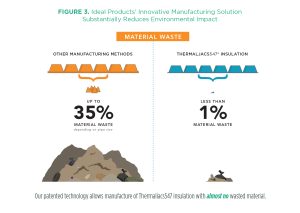 We have plans to roll out the technology in other regions of North America in the future, further reducing our carbon footprint.
Back Office Innovations Conserve Energy and Reduce Waste
Our commitment to apply innovative technology to minimize our impact on the environment goes beyond manufacturing, though. In 2015, part of Ideal Product's long-term sustainability plan was to automate processes to move to paperless operations within 5 years. Our in-house engineers developed proprietary software that encompasses the full life cycle of order and fulfillment, from taking an order through scheduling, production, and delivery. We hit our target in just over 2 years, and today we are 90 to 95% paperless. Where we used to have printers on every desk, each office just has one centralized printer, which means we are saving energy, along with paper!
Save Energy and Cut CO2 Emissions
ThermalJacs547 premium quality mineral wool is not only manufactured with the environment in mind, but it is also shipped flat from the factory, which means more linear feet of insulation can be moved per transport container compared to other pre-formed pipe insulation, eliminating the CO2 emissions from unnecessary delivery vehicles while saving our customers money. Figure 4 translates that into specifics, showing how flat shipping 10,000 linear feet of 2-inch thick insulation for 24-inch pipes saves more than 9,500 kg of CO2 emissions—the equivalent of the emissions given off by 1.29 households over an entire year! And that metric just reflects the environmental savings from shipping it does not touch the impact our product makes over time, reducing emissions at the facilities where it is used.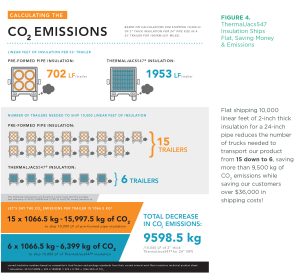 ---
"While insulation may not be a very sexy business on the surface, if you really look at the mechanism behind it and the character of our business, it's about protecting people, partners, and our planet… What fires us up is that we're able to actually do a better job and continue to make a difference."
Robert Bertram, CEO,Ideal Products Group, in an interview with the TIAC Times
---
A Passion for Doing Good
At Ideal Products, protecting people and the environment is part of our DNA. Whether we are designing products and packaging that are safer to make and use, recycling materials used to manufacture and ship insulation, or finding innovative ways to reduce waste in our day-to-day operations, Ideal Products does business with our five core values in mind: act with integrity, support each other, do what it takes, respect all, and always be learning—and that is at least as good for our planet as it is for our business.
About Ideal Products
Ideal Products offers a wide array of innovative services and solutions. Products range from pipe insulation to the metal cladding that protects the system, which include fittings, accessories, and fasteners. In addition to insulation and metal jacketing products, Ideal Products carries an extensive variety of fiberglass reinforced paneling, and accessories, as well as a line of innovative products to help address corrosion under insulation (CUI). For more information, visit www.idealproducts.ca. All images provided by Ideal Products.