Increased Training Efforts Key to Solving Worker Shortage Crisis
Recently the Associated General Contractors (AGC) of America released data from a nationwide survey they conducted earlier this year that gauged the extent of worker shortages in the construction industry. The survey found that 83% of responding firms are having difficulty filling craft worker positions, including carpenters, equipment operators, and laborers; another 61% report difficulty filling professional positions such as project supervisors, estimators, and engineers (see Figures 1 and 2). Shortages are most severe in the Southeast, with 86% of contractors reporting difficulty in hiring qualified workers. There were similar responses in other regions, with 84% in the Midwest, 82% in the West, and 67% in the Northwest reporting issues with hiring skilled workers.

Unfortunately, construction firms have very low levels of confidence about worker availability, with 70% of firms responding it will become harder or continue to be hard to hire construction professionals. Similarly, 82% of firms responded that it will become harder or continue to be hard to locate and hire craft workers in the next year (see Figure 3). Due to the limited pool of skilled workers, construction firms also report that they regularly lose workers to other firms and industries, with 43% reporting the loss of workers to other firms, and 40% reporting the loss of workers to other industries.
Although worker shortages are certainly a problem, there have been some benefits for workers in the form of increased pay, benefits, and overtime. Many firms have responded to the shortage by increasing base pay rates, with 56% increasing rates to retain or attract construction professionals, and 59% increasing rates to retain or attract construction craft workers (see Figure 4). Of course, this may prove to be an issue for the construction industry, as increased costs make it difficult to maintain thin profit margins. Approximately half of construction firms have also responded to this issue by increasing their use of subcontractors, with another 37% turning to staffing firms for additional labor.

Recovering from the Recession
Much of the reason for the shortage of skilled workers was the length and severity of the economic recession. From 2006–2011, the construction industry experienced a 30% decline, and 2.3 million workers left the construction industry. Many laid-off employees found work in other industries, while others chose to retire. Nearly 44% of construction workers are 45 years of age or older, meaning approximately 1.1 million construction workers are likely to retire in the next 10 years, compounding the worker shortage issue.

In addition to the recession, worker shortages are also tied to a longer educational trend of encouraging students towards college-track programs rather than vocational training. In a recent media conference call discussing the results of this survey, Ken Simonson, AGC's Chief Economist, commented, "Considering how much the nation's educational focus has moved away from teaching students career and technical skills during the past few decades, it's easy to understand why the construction industry is facing such severe labor shortages. Too few students are getting exposed to construction careers or being provided with the basic skills needed to be prepared for such a career."
There have been some local efforts to increase the availability and appeal of construction careers at the high school level. One of the ways AGC has dealt with this issue was by creating the Academy for Architecture, Construction, and Engineering (Ace Academy), which provides opportunities for students to work with local training centers and exposes them to different trades.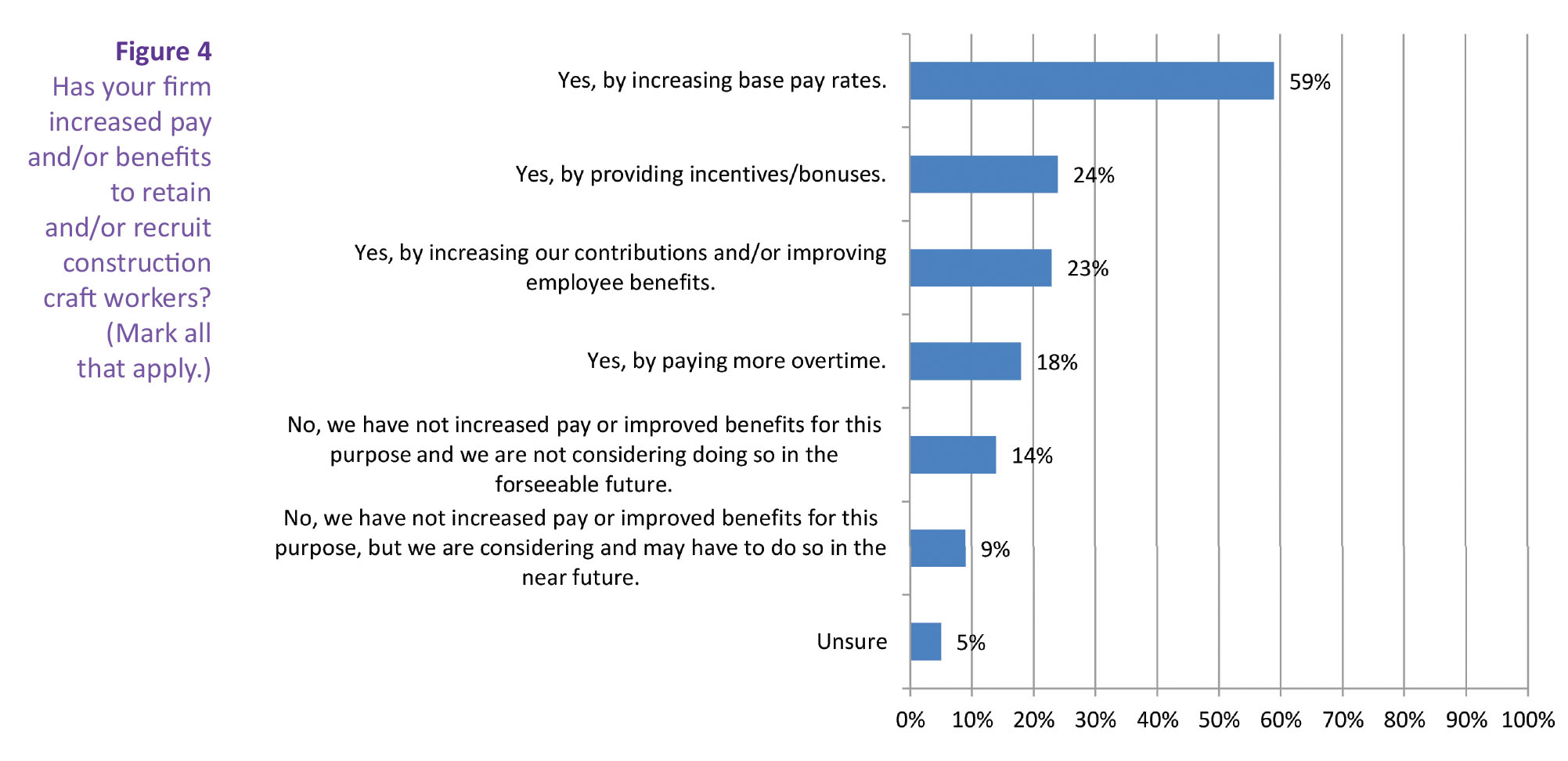 In Oregon, Steve Malany, the Oregon AGC Chapter President, found that one of the issues he faced in trying to build up his business was that many workers have left the construction industry for industries with better perceived benefits. To combat this, Mr. Malany worked at the high school level to promote the fact that the construction sector offers good wages, benefits, and the opportunity for pension plans.
Developing More Educational Opportunities
The Oregon Chapter of AGC also has a workforce committee that brings together representatives from high schools, community colleges, and various construction trades to work toward developing programs in local high schools, and on developing their website, www.buildoregon.com, to help high school and college students learn more about the construction industry. They enjoyed a recent victory when the leadership in a local Portland high school made a presentation to the school board that showed how having technical education in high school can increase graduation rates by 15–20 percent. There are also anecdotal reports that suggest dismantling vocational education opportunities may increase drop-out rates. Local efforts go a long way toward improving technical education opportunities that can provide the workers that the construction industry needs.
Adequate training for workers can also be an issue. There is a decrease in the number of individuals taking advantage of union-based apprenticeship training programs. According to the Bureau of Labor Statistics, union representation shrank 23% among construction workers from 2008 to 2013. Simultaneously, federal and state regulations can often inhibit the ability for open-shop contractors to develop analogous apprentice programs, due to antitrust rules, and also the hesitancy of shops to pay for the cost of training when the worker may go to another firm.

Of course, governmental funding is key to developing more technical and vocational education programs. In the past 8 years, federal funding for career and technical education decreased by 29%. There was a positive development in the recent passage of the Workforce Innovation and Opportunity Act, which directs resources from a federal level that could be used to develop more educational programs. Supporting legislation at both the local and federal levels will be incredibly important to the continued success of these programs. Training deficits are a huge problem in the construction industry; in the survey, 35% of respondents rated the quality of their local pipeline for training new construction craft workers as below average, 20% rated it as poor, and 29% rated it as average (see Figure 5). In regard to the quality of local training for preparing new construction professionals, 41% of respondents rated local training as average, 25% rated it as below average, and 10% rated it as poor (see Figure 6).

AGC Releases Workforce Development Plan
In response to these issues, AGC created a plan titled "Preparing the Next Generation of Skilled Construction Workers: A Workforce Development Plan for the 21st Century," which is available online at http://tinyurl.com/l3w2ftk. This plan details certain actions, such as increasing funding for vocational training and creating more construction-focused schools, to improve the pipeline for new construction workers. The plan also focuses on working to enact legislative and regulatory changes to help the construction industry develop the training and educational resources it needs. In particular, developing opportunities for more apprenticeship programs, both union and open shop, is critically important to training more skilled workers. The following recommendations are taken directly from AGC's report, "Preparing the Next Generation of Skilled Construction Workers: A Workforce Development Plan for the 21st Century":
Updating the Perkins Act—The Carl D. Perkins Career & Technical Education Act is the main funding source for career and technical education programs. Altering this act to allow states more leeway in creating training programs could help provide much-needed training resources. The Act could also benefit from an increase in funding that matches pre-recession levels.
Altering Antitrust Laws—Congress and the Executive branch could help encourage funding for craft training by passing legislation to increase antitrust exemptions to open-shop contractors—similar to the exemptions offered to union contractors—to allow the construction industry to fund more training opportunities. This would also enhance the ability of open-shop contractors to establish more apprenticeship programs.
Enhancing the Workforce Investment Act—Congress and the Executive branch could enact legislation to make it easier for Workforce Investment Boards to collaborate with registered apprenticeship programs. Additional funding for this Act would also help facilitate the necessary skills training required for local job opportunities. Additionally, new legislation should ideally require pre-apprenticeship programs to connect with a registered apprenticeship program to ensure the curriculum is properly preparing participants.
Increasing Opportunities for Veterans—Congress should initiate a process that allows veterans who want to participate in pre-apprenticeship programs to receive educational assistance that is equivalent to the assistance that apprenticeship program participants receive. Congress could also increase the reach of the Work Opportunity Tax Credit, which helps employers to hire veterans.
Incentivizing Collaboration between Registered Apprenticeship Programs and Community Colleges—Officials could encourage more partnerships between apprenticeships and community colleges by requiring that recipients of the U.S. Department of Labor Trade Adjustment Community College and Career Training grants partner with at least 1 registered apprenticeship program that has enjoyed success.
Increasing Federal Apprenticeship Resources and Collecting Additional Data on Apprenticeship Programs—Funding for the Federal Office of Apprenticeship has stayed at the same level in recent years; funding for this office should be increased. Additionally, there should be a focus on evaluating the quantity and performance of apprenticeship programs.
Enacting Immigration Reform—Congress and the executive branch should take action to ensure that the millions of undocumented workers who are active participants in the labor force can find a way to attain legal status. Also, the report recommends that laws be reformed to "[allow] for significantly more construction workers to enter the United States. While legislation recently passed in the Senate includes a number of vital reforms, it also includes arbitrary caps on the number of construction workers entering the country on a temporary basis. Left in place, these caps will undermine the industry's short-term ability to attract workers in sufficient quantity while the other reforms outlined in this plan are enacted and have time to increase the domestic supply of skilled construction workers."
Providing Increased Opportunities for Public Schools to Offer Career and Technical Education—State and local governments in particular can enact legislation permitting the establishment of construction-focused charter schools, as well as giving public schools more freedom to create career academies whose curricula focus on construction.
SIDEBAR
Develop Your Skills with NIA's Educational Tools
The National Insulation Association (NIA) has a special interest in helping to train the next generation of skilled workers, as the demand for insulation workers is projected to grow by 46.5% by 2022, according to the U.S. Bureau of Labor Statistics. Many of the following training and educational resources can be leveraged to increase insulation workers' knowledge and skill sets.
Mechanical Insulation Installation Video Series
NIA recently released the Mechanical Insulation Installation Video Series, an educational video series that provides a general overview, safety precautions, and video demonstrations of common mechanical insulation applications. These videos take viewers through the step-by-step process of installing the specified insulation materials and give in-depth information on the nuances of these systems. The videos cover the following topics:
Calcium Silicate and Perlite: Pipe and Equipment Insulation
Cellular Foam: Pipe and Equipment Insulation
Cellular Glass: Pipe and Equipment Insulation
Elastomeric and Polyolefin: Pipe, Equipment, and Duct Insulation
Fiber Glass: Pipe, Equipment, and Duct Insulation
Mineral Wool: Pipe and Equipment Insulation
Removable and Reusable Flexible Insulation Covers
The videos are an excellent resource for supplementing existing craft training programs, or for new or existing sales or service employees. A preview of the series is available on NIA's YouTube channel at www.YouTube.com/NIAinfo. The series—in a compilation format or as individual videos—is available for purchase at www.insulation.org/products.
Mechanical Insulation Education & Awareness E-Learning Series
NIA's E-Learning course consists of a 5-module online training seminar that helps specifiers, architects, engineers, facility managers, and owners start with a basic knowledge and gain a deeper understanding of how mechanical insulation systems can benefit a company's bottom line. The E-Learning course also includes quizzes so companies can easily incorporate this tool into their training programs. The E-Learning course is available at www.wbdg.org/education/nia01.php.
Fundamentals of Insulation DVD and Workbook—This program was developed by NIA to teach new employees how to optimize their customer service skills. The DVD is formatted into 9 modules—each around 3–4 minutes—that cover all types of insulation environments. The workbook complements the DVD by summarizing each module, asking questions, and providing assignments that allow viewers to apply the information in insulation sales situations. The Fundamentals of Insulation DVD and Workbook are available on NIA's online store at www.insulation.org/products.
Insulation Energy Appraisal Program (IEAP)—For those who have experience in the insulation industry, NIA's advanced IEAP program provides participants with the knowledge of how to determine the optimal insulation thickness and corresponding energy and dollar savings for a project. Students who pass the course exam become Certified Insulation Energy Appraisers—a certification that is valid for 3 years and can help businesses stand out from the crowd by giving them a concrete way to demonstrate insulation's value. For more information about IEAP, visit www.insulation.org/training.
The NIA Insulation Sampler—NIA's Insulation Sampler provides hand samples of 20 generic product types and accessories, with an illustrative product schematic guide that denotes the generic product type. It is an excellent, visual tool for internal training as well as for external sales discussion and presentations to show and explain the differences in insulation materials. NIA's Insulation Sampler is available for purchase at www.insulation.org/products .
The Mechanical Insulation Financial Calculator App—This calculator app helps users quickly determine the financial returns related to investments in mechanical insulation. It can be used for an overall project, or a portion of project, such as insulating a valve or replacing a section of the insulation. This useful tool helps users determine how much energy, money, and greenhouse gas emissions can be saved through the use of insulation, as well as what the return on investment will be. The app is available for Android phone users in the Android Market, just search for "mechanical insulation."
The Mechanical Insulation Design Guide (MIDG)—The MIDG is an online resource designed for both beginners and experienced users looking for information on the design, selection, specification, installation, and maintenance of mechanical insulation. To access the MIDG, visit www.wbdg.org/design/midg.php.