Insulation Economics: Insulating against Recession…and Global Warming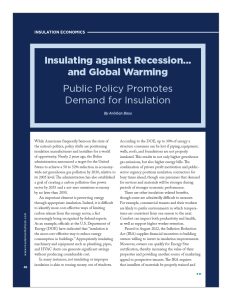 While Americans frequently bemoan the state of the nation's politics, policy shifts are positioning insulation manufacturers and installers for a world of opportunity. Nearly 2 years ago, the Biden administration announced a target for the United States to achieve a 50 to 52% reduction in economy-wide net greenhouse gas pollution by 2030, relative to its 2005 level. The administration has also established a goal of creating a carbon pollution-free power sector by 2035 and a net-zero emissions economy by no later than 2050.
An important element is preserving energy through appropriate insulation. Indeed, it is difficult to identify more cost-effective ways of limiting carbon release from the energy sector, a fact increasingly being recognized by federal experts. As an example, officials at the U.S. Department of Energy (DOE) have indicated that "insulation is the most cost-effective way to reduce energy consumption in buildings." Appropriately insulating machinery and equipment such as plumbing, pipes, and HVAC ducts can generate significant savings without producing considerable cost.
In many instances, not insulating or improper insulation is akin to tossing money out of windows. According to the DOE, up to 30% of energy a structure consumes can be lost if piping, equipment, walls, roofs, and foundations are not properly insulated. This results in not only higher greenhouse gas emissions, but also higher energy bills. The combination of private profit motivation and public-sector urgency positions insulation contractors for busy times ahead, though one presumes that demand for services and materials will be stronger during periods of stronger economic performance.
There are other insulation-related benefits, though some are admittedly difficult to measure. For example, commercial tenants and their workers are likely to prefer environments in which temperatures are consistent from one season to the next. Comfort can impact both productivity and health, as well as support higher worker retention.
Passed in August 2022, the Inflation Reduction Act (IRA) supplies financial incentives to building owners willing to invest in insulation improvements. Moreover, owners can qualify for Energy Star certification, thereby increasing the value of their properties and providing another source of marketing appeal to prospective tenants. The IRA requires that installers of materials be properly trained and certified, and that building owners must be made aware of the potential savings.
The desire to save money while improving global climate outcomes is hardly confined to the United States. According to one estimate, the global mechanical insulation market will grow to $11.1 billion by 2027, translating into compound annual growth of approximately 8% per annum. For anyone concerned by greenhouse gas emissions and global warming, that represents terribly good news.
For its part, smart insulation can provide building managers greater control over their environments. This technology uses sensors to monitor conditions from a central hub. It allows facility managers the ability to adjust temperatures and humidity levels according to changing needs. This helps reduce energy waste and improve indoor air quality. Sensors can be installed in various types of insulation, including those associated with walls and floors, allowing for greater control and versatility.
There are at least two other considerations. First, the economy may be heading into recession, or at least a period of unusually modest growth. Late last year, a monthly survey from Bloomberg put the chance of recession in 2023 at 100%. Households were encouraged to start building up savings to protect themselves financially. During times of economic stress, decision makers, whether heads of households or businesses, are more likely to look for opportunities to generate savings. They may not avail themselves of such opportunities when money is plentiful, but they become significantly more eager when it is not.
Secondly, commercial real estate stands to be among the weaker economic performers under virtually any scenario. The pandemic has produced a set of behavioral changes that have lingered, including remote work, high levels of online shopping, and business meetings held via Zoom. That is likely to continue to impact the fortunes of those who own and operate office buildings, shopping centers, and hotels. Given uncertain revenue forecasts, building owners are likely to look long and hard for cost savings to generate additional net income. Thoughtful investment in insulation will also increase the appeal of structures for potential purchasers.
Looking Ahead
To date, the U.S. economy has managed to fend off recession, but the weight of higher interest rates has steadily impacted forward momentum. Retail sales are slipping. Industrial production has been falling. Inventories have backed up. In short, risk of
recession remains elevated. But insulation contractors and manufacturers are positioned to perform far better than the broader economy. Some of this expectation is shaped by the rates of return appropriate insulation can produce for building owners. Some of this is driven by policymakers who have become increasingly desperate to limit the dislocating impacts of climate change.