Insulation is an Investment and an Asset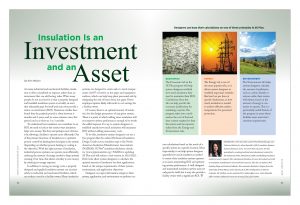 At many industrial and mechanical facilities, insulation is often considered an expense, rather than an investment that can add lasting value. What many people do not account for is that a properly designed and installed insulation system is actually an asset that ultimately pays for itself and may even provide a return on investment (ROI). Numerous studies have found that the payback period is often between 6 months and 2 years; and, in some extreme cases, this period can be as short as 2 to 3 months.
To understand how insulation can contribute to an ROI, we need to look at the various ways insulation helps save money. The first, and perhaps most obvious, is by allowing a facility to operate more efficiently. One of the primary functions of insulation is to optimize process control by limiting heat loss/gain in the system (depending on whether process heating or cooling is the objective). With the right amount of insulation, industrial process systems can operate more efficiently, reducing the amount of energy needed to keep systems running. Over time, this allows a facility to save money by reducing its energy expenses.
In addition to saving on energy costs, a properly designed and applied insulation system can increase safety in industrial and mechanical facilities, which can reduce costs for a facility owner. Many insulation systems are designed to create safe-to-touch temperatures (140°F or lower) on hot pipes and equipment surfaces, which can help keep plant personnel safe by mitigating the risk of burns from hot pipes. Fewer employee injuries likely will result in cost savings for a facility owner.
Of course, there is an optimal amount of insulation for the design parameters of any given system. There is a point at which adding more insulation will not improve system performance enough to be worth the added expense. It is up to system designers to establish exactly how much insulation will maximize ROI without adding unnecessary costs.
To do this, insulation system designers can use a free program like the online Mechanical Insulation Design Guide (www.insulation.org) or the North American Insulation Manufacturers Association's (NAIMA's) 3E Plus® insulation thickness calculator (www.pipeinsulation.org). NAIMA is updating 3E Plus and will release a new version in 2021/2022. Both tools allow system designers to calculate the optimal amount of insulation for their applications based on the unique requirements of their system, environment, and application objectives.
Designers can input information unique to their system, application, and environment to perform custom calculations based on the needs of a specific system in a specific location. More importantly, it can help system designers quantify how much insulation is needed to ensure their insulation system operates as an asset, maximizing ROI and optimizing system performance. A well-designed and maintained insulation system may not only pay for itself, but it may also provide a facility owner with a significant ROI.
Designers can base their calculations on one of three principles in 3E Plus:
Economics
The Economics tab in the 3E Plus program will help system designers establish how much insulation they need to maximize their ROI. Calculations from this
tab can help provide the economic justification for insulating a system. The program takes into consideration the cost of fuel and heat content required to heat the system and incorporates values from the Energy and Environment tabs.
Energy
The Energy tab is one of the most popular tabs, as it allows system designers to establish important variables like heat loss per hour at specific thicknesses, or how much insulation is needed to achieve effective surface temperatures for personnel protection.
Environment
The Environment tab helps system designers calculate the amount of pollutants, such as carbon dioxide or nitrous oxide, their system will release, based on the amount of energy it consumes to operate. This is a particularly useful feature of the program in areas where facilities must meet strict emission requirements.