Introducing the 2020 Premier Industry Manufacturers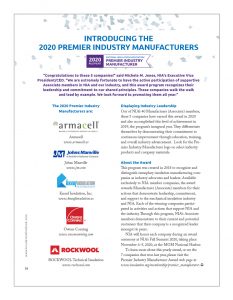 "Congratulations to these 5 companies!" said Michele M. Jones, NIA's Executive Vice
President/CEO. "We are extremely fortunate to have the active participation of supportive Associate members in NIA and our industry, and this award program recognizes their
leadership and commitment to our shared principles. These companies walk the walk
and lead by example. We look forward to promoting them all year."

Displaying Industry Leadership
Out of NIA's 40 Manufacturer (Associate) members, these 5 companies have earned this award in 2020 and also accomplished this level of achievement in 2019, the program's inaugural year. They differentiate themselves by demonstrating their commitment to continuous improvement through education, training, and overall industry advancement. Look for the Premier Industry Manufacturer logo on select industry products and company materials.
About the Award
This program was created in 2018 to recognize and distinguish exemplary insulation manufacturing companies as industry advocates and leaders. Available exclusively to NIA member companies, the award rewards Manufacturer (Associate) members for their actions that demonstrate leadership, commitment, and support to the mechanical insulation industry and NIA. Each of the winning companies participated in activities and actions that support NIA and the industry. Through this program, NIA's Associate members demonstrate to their current and potential customers that their company is a recognized leader amongst its peers.
NIA will honor each company during an award ceremony at NIA's Fall Summit 2020, taking place November 4–5, 2020, at the MGM National Harbor.
To learn more about this yearly award, or see the 7 companies that won last year, please visit the Premier Industry Manufacturer Award web page at
www.insulation.org/membership/premier_manufacturer.
Copyright statement
This article was published in the June 2020 issue of Insulation Outlook magazine. Copyright © 2020 National Insulation Association. All rights reserved. The contents of this website and Insulation Outlook magazine may not be reproduced in any means, in whole or in part, without the prior written permission of the publisher and NIA. Any unauthorized  duplication is strictly prohibited and would violate NIA's copyright and may violate other copyright agreements that NIA has with authors and partners. Contact publisher@insulation.org to reprint or reproduce this content.